(Sports news, volleyball news) Former volleyball beauty Thu Trang quietly contributed to helping BTL Information Club win the national championship for the third time in a row.

Overcoming chemical athletes Duc Giang Hanoi, BTL Information FLC won the championship of the national volleyball championship convincingly. This is the 3rd championship in a row and the 12th time this team is crowned queen of Vietnam women's volleyball.
The former 1m73-tall assistant did not choose a coaching career like his colleagues, but became a statistician. Facebook photo provided by the character
Achievements of the women's volleyball team Information is something that no other women's volleyball team in Vietnam can do. That success comes from owning an even cast of athletes, good technique, focused on training young people, in addition to the application of technology in training and competition.
BTL Information FLC is the first club to use statistical technology in volleyball and up to this point, the person in charge of this job of the team is also considered to be the current No. 1 of Vietnamese volleyball.
Taking on the role of a statistician for the army team is not a strange name, but a former national player, "volleyball queen" for a while, Pham Thi Thu Trang. She belongs to the golden generation of the military volleyball team and has been on the national team for many years.
Pham Thi Thu Trang's statistical work once made many people curious a few years ago when BTL Information FLC was the only team that applied this technology in training and competition.
Without holding a table, Thu Trang sat in a corner to observe all the players
At the present time, from the sharing of the insiders, this work is gradually becoming more known. However, the image of the former volleyball player working in the stands still attracts many people's attention.
It is known that to do this work is not easy. Pham Thi Thu Trang shared that she studied under Thai experts for nearly a year. While taking care of small children and pursuing a job at that time, it was still very strange to Vietnamese volleyball, although very popular in the world.
To do this work is also very complicated. Thu Trang both practice and hone her skills. It is also because of the very high requirements that the number of volleyball statisticians in Vietnam is extremely rare. Among them, only Pham Thi Thu Trang can be considered an expert in this field.
Thu Trang sat on the grandstand, summarizing the details related to athletes, and the whole team
Sharing after the achievement she just achieved with the club in the national championship, Thu Trang said that she chose this job because she is a technology enthusiast as well as likes to learn new things. Especially when it comes to professional football, her sport is truly amazing.
When she went to international competitions, she saw that other teams had statisticians, even a very large team, so she was curious, wanted to learn and try her hand at this job when she was no longer competing. .
Thu Trang shared, she hopes that statistical work will be more and more focused in Vietnam and can help the country's volleyball develop further in the future.
The former assistant gives direct feedback to each athlete of the BTL Club
With high performance, good efforts to play, BTL Information Club has surpassed all rivals in the national championship. Behind the feat of successfully defending the volleyball championship for the third time in a row in the 2021 season, there is the mark of head coach Pham Minh Dung and his assistants, but Thu Trang also contributed to the collective achievement.
Full and detailed statistics on the strengths, weaknesses and performance of each player help the athletes of Information to limit weaknesses and promote strengths. It can be seen in this season that athletes like Hoang Kieu Trinh, Nguyet Anh, Nguyen Thi Phuong … have played much better than last season.
Source: https://tcdulichtphcm.vn/the-thao/nguoi-dep-bong-chuyen-thu-trang-va-cong-viec-la-ho-tro-btl-tho…Source: https://tcdulichtphcm.vn/the-thao/nguoi-dep-bong-chuyen-thu-trang-va-cong-viec-la-ho-tro-btl-thong-tin-bay-cao-c28a22536. html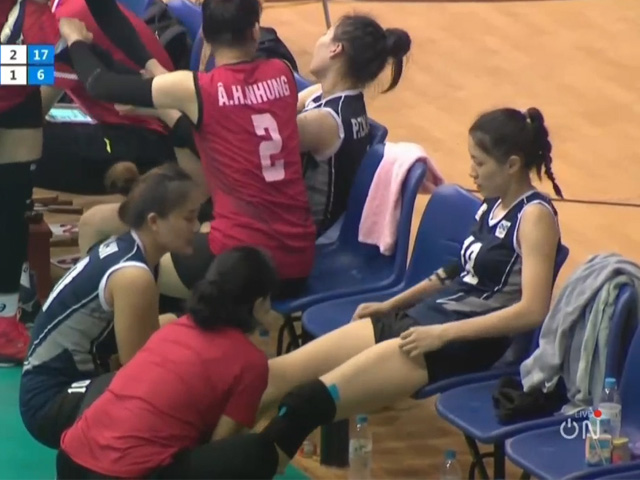 (Sports news, national championship volleyball news) Two beautiful "long legs" Nguyet Anh and Kieu Trinh simultaneously met…
According to the National Assembly (Ho Chi Minh City Tourism Magazine)
.