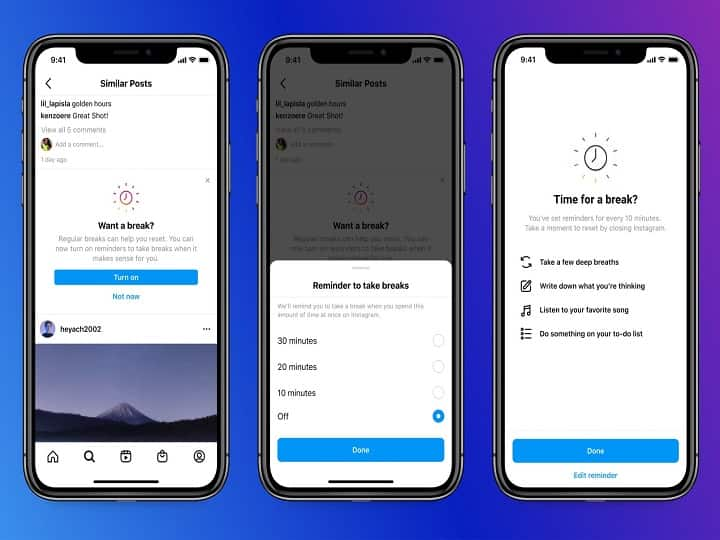 Instagram Take a Break Feature: Instagram has launched a new feature called 'Take a Break', through which Instagram will encourage users to take a break after a certain time. Instagram wrote on Twitter that it is okay to take a break. We want you to have a positive time on Instagram. Starting today, you can now add a reminder to take a break while you scroll through Instagram.
Instagram was facing criticism recently regarding child safety. It was being alleged that excessive use of Instagram was having a bad effect on the minds of teenagers. On Tuesday, the company launched its 'Take a Break Tool', which will encourage users to spend some time away from the platform after a certain amount of time.
In September, Instagram announced this feature. It was said that this feature will come first for users in the United States, United Kingdom, Canada and Australia and in the coming months for all users.
It's OK to take a break.

We want your time on Instagram to be positive and intentional. Starting today, you can now add reminders to take a break while you're scrolling on Instagram.

Learn More: https://t.co/fDrLl1boqw pic.twitter.com/loAeZQzPPa

— Instagram (@instagram) December 7, 2021
Users can select the option of this feature in "Settings". There is an option in this whether the user wants to close the platform after using it for 10 minutes, 20 minutes or 30 minutes. For this, they will get a full-screen alert, which will ask them to close the app. It will suggest that you take a deep breath, write something, check a to-do list or listen to a song. Instagram also announced new campaigns a few months ago to spread awareness on the safety features and platform.
Also read- Farmers Protest: Where is the matter getting stuck between the government and the Kisan Morcha, why is the movement not ending? learn big things
Also read- PM Modi reprimands MPs who are missing from Parliament, said – it is not right to say repeatedly like children
,