Friday, January 22, 2021 12:22 PM (GMT + 7)
Swing for Central region 2021 is the 5th season of charity golf organized by Hanoi Golf Association and Century Golf and Travel Service Joint Stock Company – Cen Golf. As a tournament oriented to volunteering, Swing for Central 2021 attracts many golfers, philanthropists and sponsors by the healthy spirit of sports, cohesion and deep human significance.
Not only an attractive playground, a place for health training, spiritual relaxation, Swing charity golf also inspires and spreads positive values ​​to the community with many practical volunteer activities.
Golfers are excited to participate in Swing for the children's Tet 2020 charity golf tournament.
Mr. Le Hung Nam, Vice President and General Secretary of the Vietnam Golf Association, representing the sponsoring unit, said: Vietnam Golf Association acknowledged and appreciated the activities of the tournament during the past four seasons. The tournament is of great significance in bringing golf closer to those who love sports and are playable.
In particular, the golf tournament aims to charity, making golfers feel very excited. Instead of emotional tension, calculation is more than loss. Participating in charity competitions such as Swing for the Central 2021, golfers play with a more relaxed and connected mind. And especially, feel meaningful for being able to contribute to the community and society.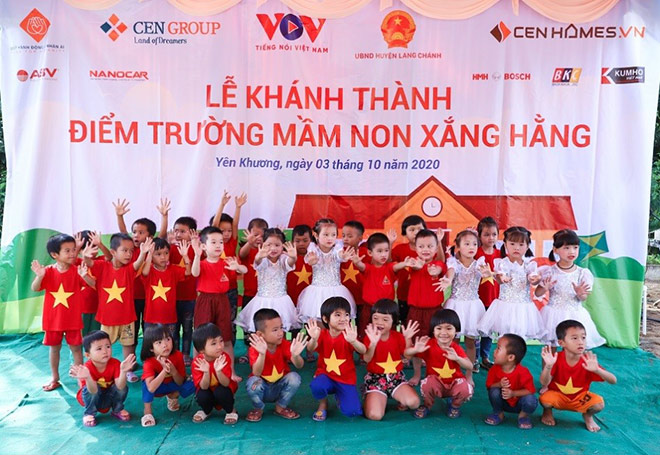 Xang Hang Kindergarten, inaugurated on October 3, 2020, is one of the school sites built with the money donated through Swing for the children's Tet 2020 charity golf tournament.
This year with the theme towards the Central region, the tournament sponsored by the Vietnam Golf Association promises to be an attractive tournament, attracting 180 golfers to attend, of which many golfers are sponsors and philanthropists. …
Swing for the Central region 2021 will take place at 12:00, January 21, 2021 according to the format of one round 18 holes, stroke play directly to calculate Net points based on official handicap under the Vhandicap system at Long Bien Golf Course, district. Long Bien, TP. Hanoi. In particular, at the tournament Gala night, Swing for the Central 2021 also organized meaningful sideline activities with the aim of raising funds, supporting the people of Central Vietnam to soon overcome their difficulties after storms and floods.
Before that, the organizers also auctioned 3 paintings: Painting mi in the winter price; Jasmine rainy night, Early winter. Each painting was drawn and donated by the artists to the Charity Auctions to organize a charity auction, contributing to bringing full warm Tet to the people of Central Vietnam.
Spent 4 seasons Swing for the children's Tet, Loving Heart Fund, represented by Mr. Pham Dinh Quy, Director of the Fund has directly sent the hearts of donors to hundreds of children in upland areas; thousands of difficult and missed situations. In which, unforgettable love-spreading journeys such as: Directly visiting, giving gifts to support after disaster recovery in Ha Tinh, Quang Binh, Khanh Hoa, Binh Dinh (2016); Presenting Tet gifts, building schools in Lao Cai, Quang Binh (2017); Presenting Tet gifts to children at the Central Institute of Hematology and Blood Transfusion (2018); Together with the Heart Understanding Fund and the School Construction Fund to call and raise more than 02 billion VND, help, give gifts over 800 cases, build 20 schools (2019) or Build Xang Hang kindergartens (Xàng Hằng, Thanh Hóa) (2020) and there are still hundreds and thousands of journeys to send love …
Swing for the Central region 2021 is continuing to write journeys to connect, give love, BTC hopes to continue to receive more companionship and support from organizations, individuals and units … Toan The proceeds from the auction will be transferred to the Charity Fund and sent directly by the Fund's Director Pham Dinh Quy to the difficult circumstances.
Source: http: //danviet.vn/swing-vi-mien-trung-2021-lan-toa-yeu-thuong-gan-ket-cong-dong-5020212211221673 …Source: http://danviet.vn/swing-vi-mien-trung-2021-lan-toa-yeu-thuong-gan-ket-cong-dong-50202122112216736.htm
.