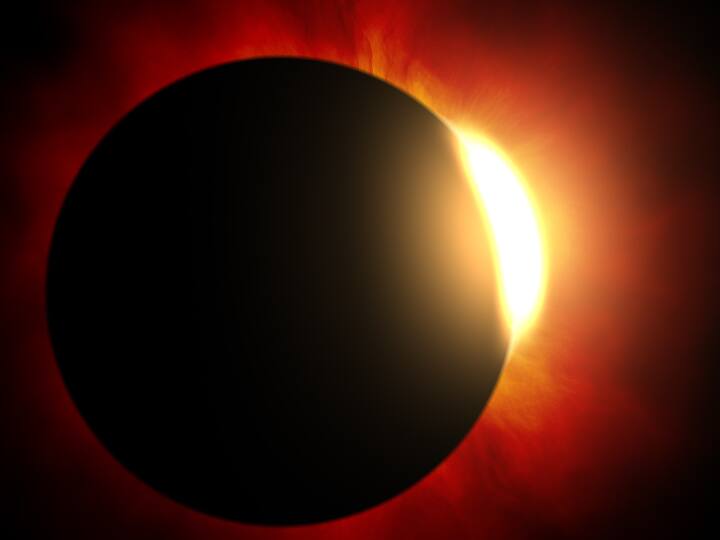 2022 Solar eclipse India: On April 30, the first partial solar eclipse of the year will be visible in many parts of the world. This event is also colliding with another celestial activity called the Black Moon and according to NASA, the Black Moon will block sunlight for some time during the day. The solar eclipse will be visible in parts of the Southern Hemisphere and people living in some areas of South America, Chile, Uruguay, southwestern Bolivia, Peru, southwestern Brazil and Argentina will be able to witness this celestial event.
NASA has also specified that the eclipse will also be visible from the South Pacific Ocean and Southern Ocean regions. People in India will not be able to see this incident. The partial solar eclipse will start from 12:15 at midnight on April 30, 2022, according to India's time, and will last till 4:7 in the morning. Do not see the solar eclipse with the naked eye, but should be seen only with binoculars or glasses.
How to watch the partial solar eclipse online on April 30
In areas where the celestial event will not be visible, people can watch it live online. Its live streaming can be seen on many YouTube channels including NASA's YouTube channel. This solar eclipse will be partial in India. Due to this it will not have any physical effect.
Lunar Eclipse: The situation will be different during the lunar eclipse of May 16, as it will take place during the day. According to Indian Standard Time, it will start at 7.02 am and the total eclipse will start around 7.57 am. The maximum eclipse will occur around 9.41 am, when the Moon will be in the deepest part of the Earth's shadow and the total eclipse will end at 10.23 am.
Also read: Alert: Government Claim! These Android users are at risk of attack on their smartphones, told how to keep them safe
Also read: Smartphone: How is this powerful smartphone with dual front camera and curved display, will fit in your budget too
,