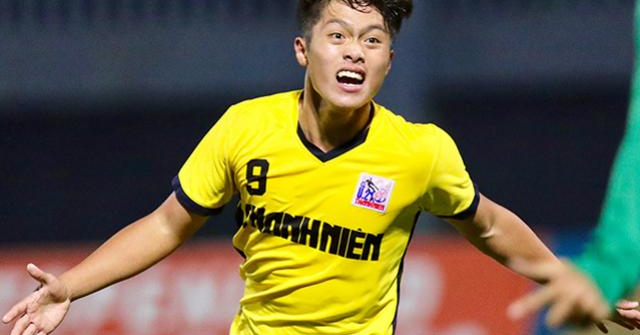 U23 Vietnam will officially start on February 19 when facing U23 Singapore. Coach Dinh The Nam's teachers and students will face the first challenge at the AFF U23 Championship 2022. The match will be broadcast live at 19:00 on FPT Play multi-platform television.

U23 Singapore and U23 Vietnam will join together to enter a thrilling confrontation match at the AFF U23 Championship 2022. This will be a challenging problem for coach Dinh The Nam when Singapore U23 is very thirsty for scores due to being beaten by U23. Thailand defeated 1-3 in the opening match.
Decoding Singapore U23
Singapore U23 is led by coach Fandi Bin Ahmad, a former player of this nation's golden generation and with the experience of a former Southeast Asian champion. The captain born in 1962 always inspires his players to compete. In Singapore U23, they do not have too many famous players and the young talent class is not abundant. So, the brightest star is Coach Fandi. He helped Singapore U23 form a disciplined football style based on extremely good physical strength.
Head coach Fandi Bin Ahmad is the brightest star of Singapore U23 when he won the Southeast Asian championship before (Photo source: Singapore News)
All 3 lines of Singapore U23 have tough and combative players. Typical among them is the 19-year-old striker – Zikos Chua. Possessing two Greek – Singaporean bloodlines, Zikos Chua has a height of 1m82 and an ideal body for ball contention situations that require muscular strength.
Zikos Chua is a new hope in the attack of Singapore U23 (Image source: SPL)
In addition, this player's jumping skills are also really good and explosive at decisive moments. With a 4-5-1 kick, Chua is ranked in the leading position of the center. That means, every pass of the Singapore U23 midfield is focused on this player's position. Zikos Chua can completely make a wall for his teammates and push the ball back to the 2nd line for the players playing behind him to finish. This is really an annoying game because of the unpredictable decision of a "monster" striker like Zikos Chua. Currently, although he has just entered the first team of the host team Geylang International, this player has managed to score 17 goals.
Besides Zikos Chua, Singapore U23's 4-5-1 play also depends on another very important link, that is Daniel Goh. Daniel's ability to pass the ball quickly counterattack is very good and this helps Singapore U23 have the ability to change state from defense to attack very quickly.
The strength of U23 Vietnam
U23 Vietnam under the guidance of coach Dinh The Nam is considered as a candidate for the championship of the U23 tournament. Possessing a group of highly-rated young talents of Vietnamese football with names like Quoc Viet, Quang Nho or Van Cuong… U23 Vietnam has a very good depth of player quality. The players have fought for many years in national youth tournaments and together participated in the U teams at international tournaments before, so there is a good coordination.
Coach Dinh The Nam had an extremely thorough survey of the opponent before the match (Image source: VFF)
Among the players that coach Dinh The Nam owns, Quoc Viet is the most formidable name. The striker on the payroll of JMG Nutifood has the ability to score goals when possessing good speed as well as perfect physical strength. Quoc Viet's ability to seize the opportunity is also an important weapon that coach Dinh The Nam wants to take advantage of in horizontal tension situations and towards the 2nd column areas within 5m50.
Nguyen Quoc Viet promises to shine with his excellent personal speed and technique (Image source: VFF)
Playing behind Viet is teammate Dung Quang Nho. Stubborn, decisive and calm in situations on the ball, Quang Nho is the key to the balance and certainty of U23 Vietnam in the upcoming confrontation with Singapore U23.
The only problem for coach Dinh The Nam at the moment is to build the perfect framework to operate the 4-4-2 diagram in the most smooth way when there are good players in hand. U23 Vietnam should use the proactive imposition of the game on Singapore and use speed and small rebounds to be able to get on the ball and penetrate the opponent's penalty area. With the Singapore U23 players being tall but turning slowly, U23 Vietnam can completely win with this fast, small and high-speed kick.
The match between U23 Singapore and U23 Vietnam will be broadcast live on FPT Play's multi-platform system. Viewers can watch it now at: https://fptplay.vn/xem-truyen-hinh/afc-2 from 19:00 on February 19, 2022.
Download the FPT Play app now and register for an account so you don't miss any matches of the AFF U23 Championship 2022. For details, please contact hotline 19006600.
Source: http://danviet.vn/u23-singapore-doi-dau-u23-viet-nam-lieu-thuoc-thu-danh-cho-hlv-dinh-the-nam-50…Source: http://danviet.vn/u23-singapore-doi-dau-u23-viet-nam-lieu-thuoc-thu-danh-cho-hlv-dinh-the-nam-502022192959146.htm
.