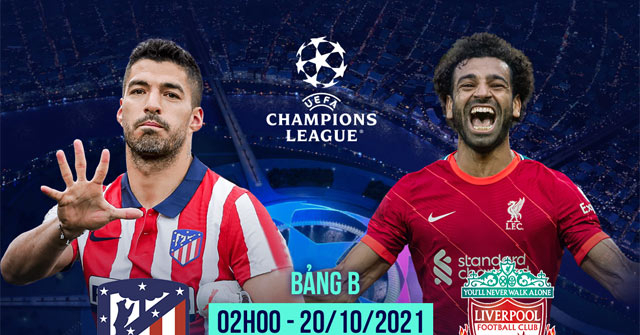 UEFA Champions League matches always contain unpredictable surprises. And what is more interesting when players like Luis Suárez are always ready to make their old team hate.

The UEFA Champions League 2021/2022 series has returned with the 3rd round match, promising a lot of interesting meetings to take place. One of them is the encounter between Atletico Madrid and Liverpool FC at Estadio Metropolitano, Madrid, Spain.
Luis Suárez and his relationship with his old team Liverpool
Atletico Madrid – Liverpool is the most exciting match of the third round of the UEFA Champions League group stage 2021/2022
For the life of Luis Suárez, how special is Liverpool FC? This is a question that any football fan will ask because Liverpool is a team that has influenced Luis Suárez's digital career.
After leaving Ajax, Suárez joined Liverpool and it didn't take long to become an iconic player in the red shirt of the Merseyside team.
The Uruguayan striker has been a symbol of Liverpool for many years
In the shirt of the Liverpool port city team, the Uruguayan player has perfected his skill set. From ball control, finishing ability, high-speed reading of the game to physical strength, all of which he strives to improve and perfect.
It can be said that, with the amount of 26.5 million euros that Liverpool spent to bring Suárez to Anfield, he is really a great bargain for this team. After selling Luis Suárez to Barcelona, ​​Liverpool earned 82 million euros and this money helped this club have more resources to strengthen its force.
Luis Suárez once said that there would be no "friendship or love" between him and his former team whenever the two sides met and this really broke the hearts of those who loved him during his time at Liverpool. .
The image of Suárez excessively celebrating every year has made many Liverpool fans "itchy eyes"
The moment Suárez celebrated wildly when scoring against the red shirt team when Barcelona met Liverpool in 2019 really rubbed salt into the pain in the hearts of Merseyside red Devils fans. And now, when he has come to Atletico Madrid, will Luis Suárez once again show his top level and shoot into the old team's net?
What opportunity does Luis Suárez have when moving in Atletico Madrid's 4-4-2 system?
The home team Estadio Metropolitano was crowned La Liga last season with a 4-4-2 system (variant 4-2-3-1). This is a defense-based system of coach Simeone when Atletico Madrid is ready to give up the field to the opponent and then respond with counter-attacking situations. The extremely sharp spear rebounds from the strikers of this team are always dangerous if their opponents are careless.
Coach Simeone makes the counter-attacking ability of the red-white half of Madrid scary
A philosophy throughout Simeone's years at Atletico Madrid was to control the space, not the ball. After successfully completing the defensive task and stealing the ball, the scheme of this team will expand very quickly.
Wingers like Kieran Trippier or Renan Lodi will push the ball quickly up to Luis Suárez's position because he is the main attack spearhead in attack. This player's speed, ability to penetrate and seize opportunities will really make it difficult for Liverpool's defense if they push too high. Three quarters of the defenders of the England representative team Matip, Robertson and Arnold often tend to go forward and reveal a large area of ​​space in the back.
In fact, that's where Van Dijk will "deal" with strikers daring to penetrate and threaten Alisson Becker's goal, however, having to face a player with the ability to stretch and skill. surf as well as Suárez, surely Van Dijk cannot be subjective.
Luis Suárez is ready to give the stage to Grizzman when playing the role of decoy
Besides, it is not excluded that coach Simeone will use the Uruguayan player as a decoy to disturb Liverpool's defense system. When Suárez caused interference with his ability to move without the ball, causing communication problems between Van Dijk and Matip, Grizzman could completely have comfortable receiving situations in front of 16m50 and make situations. kick the ball.
Not only that, the wing corridor of Atletico Madrid with the appearance of Correa or Carrasco always has quality horizontal stretches for Suárez to cut in.
Obviously, having Suárez in attack, Atletico will have certain advantages on the offensive front against a more appreciated opponent.
Schedule for the 3rd round of the UEFA Champions League group stage 2021/2022
The match between Atletico Madrid and Liverpool will be broadcast tonight, 2pm on October 20, 2021. You and your friends can watch this match fully and exclusively on FPT Play's multi-platform television system. FPT Play is also the unit that fully owns the broadcasting rights of UEFA Champions League, UEFA Europa League, UEFA Europa Conference League in Vietnam. Sports fans in general and UEFA Champions League in particular can easily enjoy the matches here: https://fptplay.vn/xem-truyen-hinh/uefa-4
Not only owning the top football tournaments in Europe, FPT Play is also the copyright holder of other popular sports tournaments such as the 3rd Qualifier of the 2022 World Cup – Asia Region, the World Basketball Championship. European competition Turkish Airlines EuroLeague, Fighting martial arts (Bellator MMA, Professional Fighters League, King of Kings, Combate Global)….
Register now for Max, VIP or Sport service packages of FPT Play to enjoy all the popular sports tournaments on FPT Play. For more information, please contact hotline 19006600.
Source: http://danviet.vn/luis-suarez-chia-khoa-quan-trong-cua-atletico-madrid-khi-dau-liverpool-5020211…Source: http://danviet.vn/luis-suarez-chia-khoa-quan-trong-cua-atletico-madrid-khi-dau-liverpool-502021191017585432.htm
.