Saturday, December 5, 2020 05:00 AM (GMT + 7)
(Sports news, tennis news) Last week Trinh Linh Giang cried after his victory over Ly Hoang Nam. He could not hide his emotions before his "historic" moment, and confidently headed for a new goal in the future.
Tennis in Vietnam last week saw a big shock when for the first time in eight years, No. 1 player Ly Hoang Nam received a defeat in a domestic match. Even more surprised when it was before Trinh Linh Giang, the player just returned to play after 2 months and was a fairly familiar defeat by Hoang Nam in most of the previous encounters.
Linh Giang sobbed after defeating Hoang Nam to take the championship
However, in the afternoon of November 29, Linh Giang played as if this was not only the final match of the VTF Masters 500-2 tournament, but also the "final" match of his career. He choked the tie-break in the first set and completely overwhelmed Hoang Nam in set 3 with a score of 6-1 to win the championship.
Strong on the football field but Linh Giang could not control his happiness. He bursts with emotions and sobs in the hugs of relatives and congratulations from his opponent.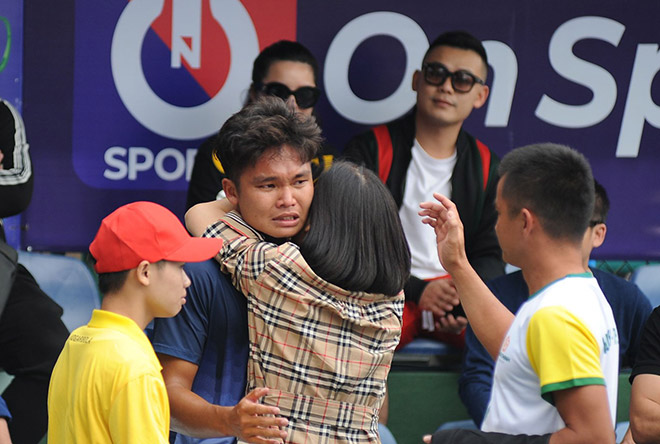 Hoang Nam commented that this was the best match of Linh Giang's career ever
Recalling about his tears, the 23-year-old player shared: "I have many opponents that I want to overcome, including Hoang Nam. He is also a prop to push me to improve. I often have a fear, that is, not being able to overcome myself. But in this match I got through ".
"This tear is the happiness that my comeback efforts during the past time have been successful beyond my expectations. I won against Hoang Nam and above all, won against myself. Can't think about anything, only tears of happiness ", Linh Giang revealed.
After a successful tournament, Linh Giang rewarded herself for a few days to rest before returning to practice for the new season. He did not hesitate to share his goal of conquering the men's singles medal at the 31st SEA Games held in Vietnam next year.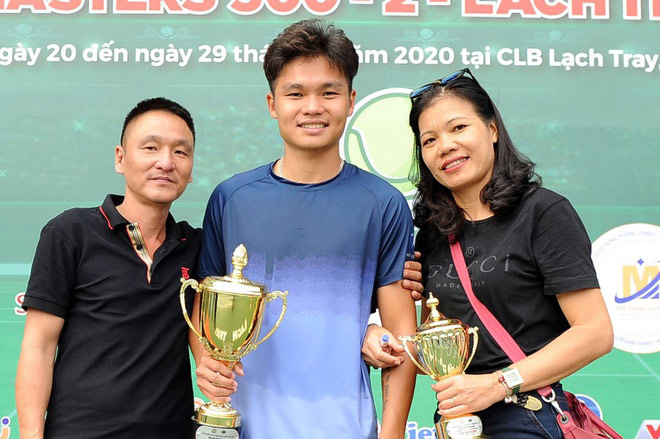 The 23-year-old player aims to win a medal at the 31st SEA Games at home
"SEA Games is an arena where sports athletes always want to play and win medals. I will work hard to maintain the national record. I hope the ATP tournaments will return to play internationally. My goal in 2021 is to win a medal in the SEA Games men's singles singles. I will try my best for that ", Linh Giang revealed.
"Linh Giang can win a SEA Games medal"
Directly witnessing Linh Giang surpassing Hoang Nam, Mr. Truong Quang Vu, head coach of the Vietnamese tennis team, gave praise to the Hanoi tennis player: "This year, Linh Giang has a lot of maturity. in terms of tactical thinking, how to handle the ball is more subtle, especially in the playing attitude ".
"In the past, Linh Giang was quite impatient. Now he can control his feelings. Particularly in the match with Hoang Nam, Giang played with 200% strength. A very great game and Linh Giang deserves to be the champion. If he can keep this form and play style, he can absolutely win a medal at the SEA Games ", Mr. Vu said.
Source: http: //danviet.vn/linh-giang-khoc-nuc-no-khi-thang-ly-hoang-nam-bi-mat-ve-mot-noi-so-50202051245 …Source: http://danviet.vn/linh-giang-khoc-nuc-no-khi-thang-ly-hoang-nam-bi-mat-ve-mot-noi-so-5020205124582714.htm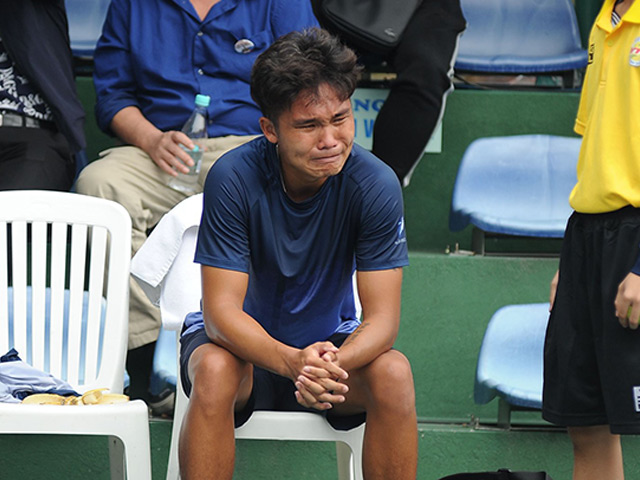 (Sports news, tennis news) Vietnamese tennis has just witnessed a great shock when the number 1 player in Vietnam, Ly Hoang Nam received …
.