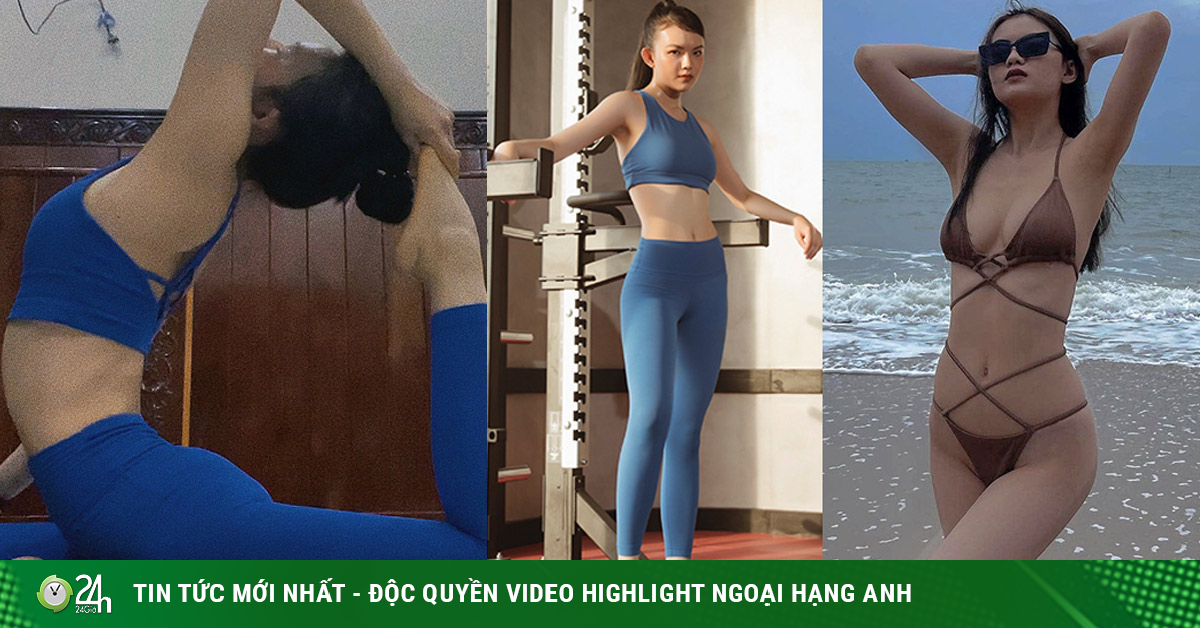 (Sports news) Not only effective weight loss thanks to yoga practice, hot girl Trang Trinh also has a supple body, attractive three-round measurements.

Hot girl Trang Trinh practices hot yoga:
Dang Thi Trang Trinh is one of the faces causing a "fever" at the Miss Sports Vietnam 2022 contest. Not only did she pass the difficult Plank contest, the 20-year-old hot girl had a quick knee-kick. The level and power surprised all coaches and teammates in the challenge of continuous martial arts movements.
The beauty of Binh Thuan countryside is considered to be the name with the most impressive body in the competition with an outstanding height of 1m75 and the desired three-round measurement of 84-60-94 cm.
Trang Trinh revealed that in order to have this supple and vibrant body, she actively practices Yoga every day.
"I love Yoga for a long time, but I only practice it intermittently. When the Covid-19 epidemic broke out, I gained weight uncontrollably, my psychology was also affected a lot. At that time, I decided to practice Yoga more seriously to balance myself mentally and physically," Trang Trinh confided.
However, when engaging in real practice with a subject that requires a lot of flexibility, this hot girl has many challenges when her body is too stiff and heavy.
"At that time I was very discouraged, my body became lazy at first because I practiced alone and did not make much progress. Every day, I tell myself to try a little harder. Must be strong, try a little harder. Gradually, I fell in love with this subject and formed a regular practice habit," Trang Trinh said happily.
Perseverance in pursuing Yoga has helped Trang Trinh achieve unexpected results. She lost from 60 kg to 53 kg in just 2 months. More importantly, Trang Trinh always has a cheerful spirit, loves herself instead of being disgusted and often stressed as before.
Trang Trinh shared that in the yoga movements, handstand is the movement she finds the most difficult.
This is a movement that combines the arm balance chain that requires the participation of both body and mind. The pose is desired by many yoga practitioners because it is both challenging and beautiful. Trang Trinh said that she is still on the journey to conquer this move.
"Although I fell and bruised my limbs many times during practice, I am still glad that I am trying every day instead of giving up in front of difficulties. I believe that I will soon conquer the Handstand movement," said the hot girl excitedly.
In addition to Yoga, Gym is also Trang Trinh's favorite subject, which she spends 4-5 times a week to practice to balance between flexibility and strength.
"Training is now a part of my life. I feel grateful that every day I wake up to practice Yoga and live with passion. Exercise helps my body change, so there are more opportunities at work."
"I practice every day and gradually I love myself more. That is also the reason I decided to register to participate in the Miss Sports Vietnam contest. I want to help young people who are lost in thought and hate themselves like I used to be able to find themselves again and love themselves more," Trang Trinh confided.
Trang Trinh is currently a collaborator of Angel Charity Fund – ACF with the desire to erase technology blindness for children in the highlands. Besides, the beauty said she wants to participate in more sports and community programs and activities in the future.
Source: https://tcdulichtphcm.vn/the-thao/hot-girl-trang-trinh-di-quyen-gay-sot-cuoc-thi-hoa-hau-the-tha…Source: https://tcdulichtphcm.vn/the-thao/hot-girl-trang-trinh-di-quyen-gay-sot-cuoc-thi-hoa-hau-the-thao-c28a35745.html
(Sports News) Once criticized for her appearance because her body was too thin, Thu Tam "makeovers" with an extremely hot body and a beautiful body thanks to her perseverance in playing sports and exercising.
According to Le Phong (Ho Chi Minh City Tourism Magazine)
.