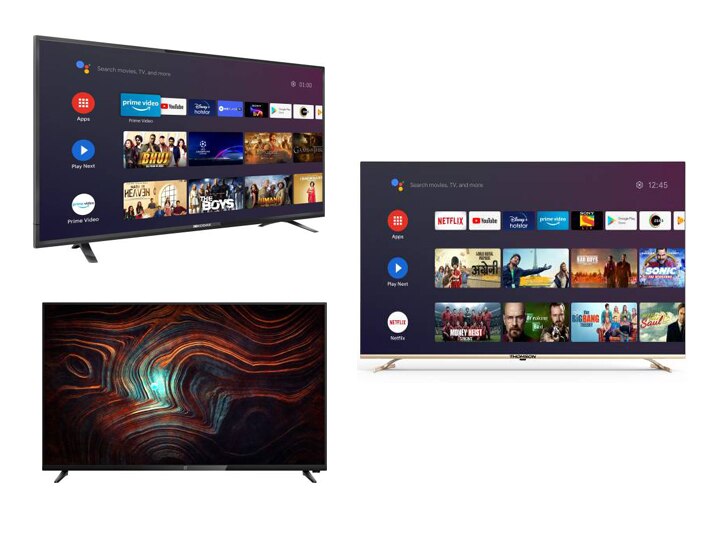 TV Days Sale is going on online shopping sites these days. Up to 65 percent discount is being given for buying TVs on e-commerce websites like Flipkart and Amazon. Apart from this, different companies are also giving special offers. This includes smart TVs from Motorola, Samsung, Micromax, Thomson, Realme and Xiaomi. This cell has started today i.e. January 6. Many companies are also offering gift offers with discounts on their brands. Let's know what are the TV and top deals available in the sale.
Samsung Smart TV discounts Samsung has announced several offers on premium television series of 55 inches and above. Samsung Big TV Days Sale will get up to 20 percent cashback, extended warranty and EMI of Rs 1,990 on buying 55, 65, 75, 82 and 85 inch TVs. At the same time, Samsung Galaxy A51 smartphone is offered with 65-inch Culed TV and 75-inch Crystal 4K UHD TV. The price of this phone is Rs 22,999. At the same time, the Galaxy A31 smartphone will be available on QHD TV's 55 inch and 65 inch crystal 4K UHD TV. The price of this phone is Rs 18,999.
Motorola ZX- You will get a flat discount of 33 percent on buying Motorola's ZX HD Ready Smart TV. You can buy this Android TV for Rs 14,499. This TV comes with 32 inch screen size. Talking about offers, a separate discount of 500 rupees is also being given on this. Axis bank card users are also being given a cashback of 5 percent. If you want, you can also buy it at an EMI of Rs 2,417. The company is also offering you an exchange offer of Rs 11,000. This smart TV comes with HD + display panel, whose resolution is 1366 x 768 pixels.
Micromax HD Ready Smart TV- Micromax's 32-inch HD Ready SmartTV is being given a 48 percent discount. Apart from this, a cashback offer of 5 percent is being offered. You can buy this SmartTV for Rs 14,999. Apart from this, you can buy this TV at an EMI of Rs 2,417. Talking about its features, this TV comes with 1366 x 768 pixel resolution and 20W output sound.
.