Saturday, June 19, 2021 00:41 AM (GMT+7)
Max Verstappen was the fastest runner on the first day of stage 7 – French GP, starting the tripleheader with 3 races in 3 consecutive weeks. However, Mercedes' dominance at Paul Ricard is still unlikely to be overturned, while the home team is determined to "make it up" this weekend.
FP1: Mercedes regains 1-2 form, Bottas fastest
Valtteri Bottas is having a string of disappointing achievements in recent stages, but he is back to leading the first run in the French GP 2021 race.
Driver #77 maintains the streak of leading all races at the Paul Ricard circuit since 2018 for Mercedes. He and Lewis Hamilton will swap the W12 chassis for this weekend's race. Bottas achieved 1 minute 33,448s, a result that is still relatively modest compared to the time of 2019.
Bottas and Mercedes have the advantage at Paul Ricard after day 6
Hamilton ranked 2nd behind his teammate by 0.335s while Max Verstappen was once again in 3rd, losing to Bottas by 0.432s as F1 returned to a regular track after 2 consecutive street races.
The Red Bull driver complained about the RB16B cornering, while Baku winner Sergio Perez was fourth, 0.3 seconds behind Verstappen.
There were a lot of problems in this FP1 run, right in the first minute, rookie Mick Schumacher slipped in corner 3 and lightly hit the wall, then a series of racers made mistakes in turn 2 and turn 15. But in which, Sebastian Vettel was the one with the most remarkable moment when his Aston Martin hit the wall on turn 11, luckily he was able to keep running and get back into the technical area.
The home team Alpine got off to a good start as Esteban Ocon, who just signed a contract extension with the team until 2024, finished fifth while teammate Fernando Alonso also finished seventh.
Interspersed between them is Daniel Ricciardo (McLaren), and another host driver, Pierre Gasly (AlphaTauri) takes the P8 position. The remaining two rankings in the top 10 are held by the two remaining names of McLaren and AlphaTauri – Lando Norris and Yuki Tsunoda.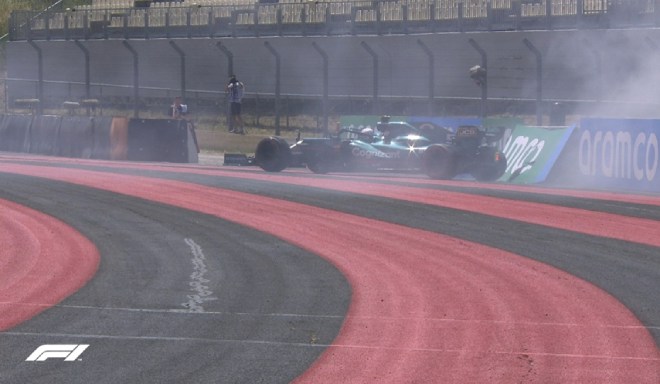 Vettel's wall crash situation
Ferrari predicts they will "get back to the ground" at this stage, as evidenced by the end of FP1, Charles Leclerc ranked 11th, and Carlos Sainz ranked 16th, damaged 1 set of Soft tires due to a slip in corner 2 also got off to a rough start with a modest track record. Roy Nissany, replacing George Russell in this run, completed 16 laps and finished in 20th place overall.
FP2: Verstappen and Bottas have a difference of 0.008s, Alpine is the fastest in the middle
Red Bull's #33 driver is the best performer on Friday, although his 1 minute lap 32,872s is still nearly 2s behind FP2's 2019 results.
Verstappen started the run with Medium tires and damaged the spoiler when he ran over the kerb on turn 2, causing the virtual safety car to appear at 15 minutes. But the effort on the Soft tires helped him to succeed. accumulation above. Bottas ranked 2nd with the best lap on Medium tires and only lost to Max by 0.008s.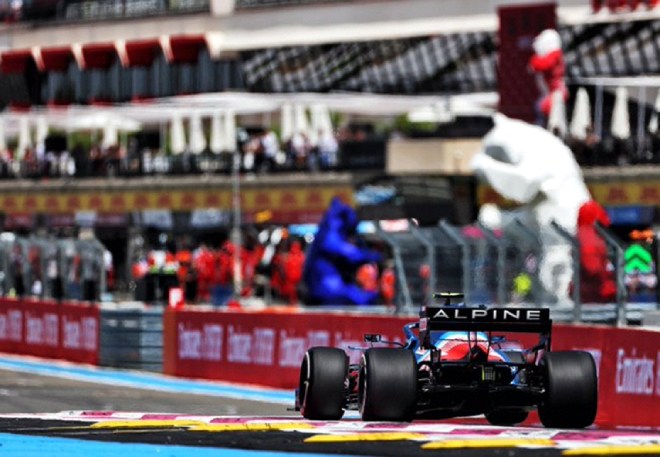 The home team has a successful 6th day
Champion Hamilton placed 3rd, losing 0.253s, complaining about balance problems when running the simulator for the main race. The German team says that swapping the chassis on the two W12s has no impact on their performance.
Perez unexpectedly ranked 12th at FP2, losing more than 1 second compared to teammates at Red Bull. Alpine continues to have a promising record when in turn Alonso ranked 4th, and host driver Ocon ranked P6. Leclerc rose from the disappointing FP1 and finished 5th on Friday.
Gasly, using the new Honda engine for this race along with the duo of "bulls", finished in 7th place, just ahead of Sainz. Ferrari has a different strategy between the two cars in this run, while Leclerc runs on Hard and Soft tires, Sainz runs two sets of softer tires.
"Snowman" Kimi Raikkonen and Norris are the last two drivers in the top 10, the McLaren driver sandwiched between the Alfa Romeo duo, while Antonio Giovinazzi ranked 11th.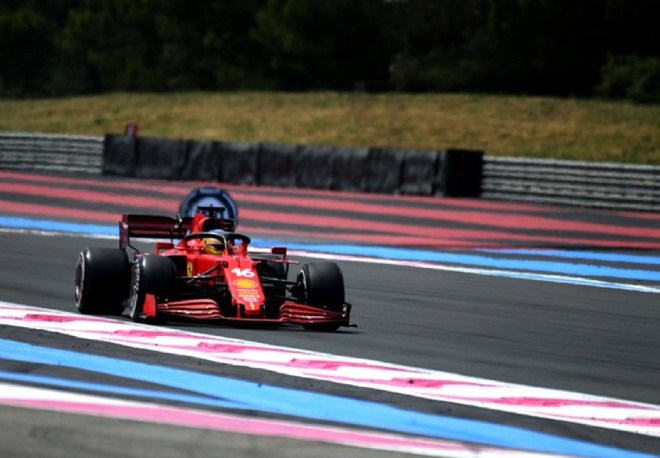 Ferrari "returns" to the top race between
Tsunoda and Ricciardo were in the top 10 of FP1 but only got P13 and P14 in the next run. Aston Martin's duo is right behind and they are also the ones next to Bottas to set the fastest milestone on Medium tires.
Verstappen may have finished sixth day in the lead, but it is Mercedes who has the biggest advantage after day one. However, anything can happen in the immediate important qualifying day as well as the main race Sunday afternoon, which is forecast to have … rain on Paul Ricard.
Detailed results of the first two test sessions of French GP 2021: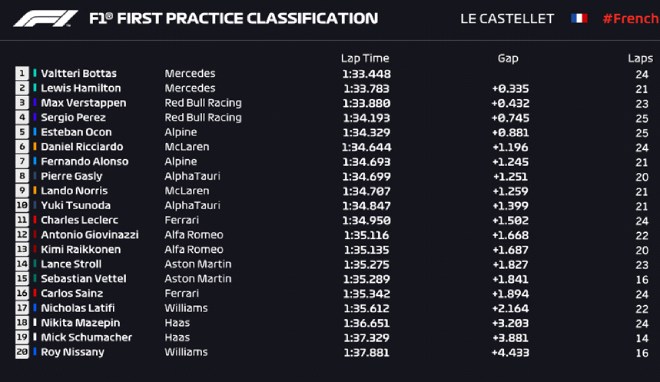 FP1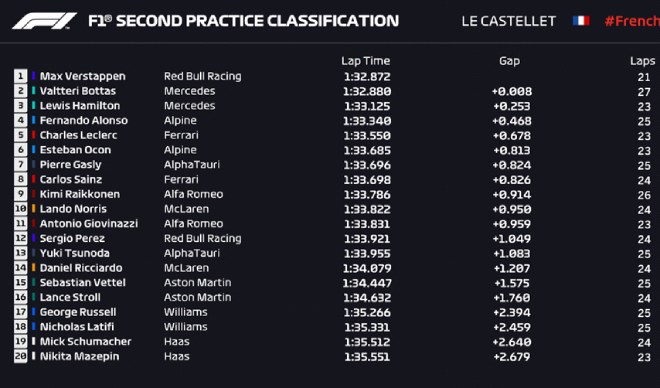 FP2
Source: https://tcdulichtphcm.vn/the-thao/dua-xe-f1-chay-thu-french-gp-mui-ten-bac-co-loi-the-alpine-34q…Source: https://tcdulichtphcm.vn/the-thao/dua-xe-f1-chay-thu-french-gp-mui-ten-bac-co-loi-the-alpine-34quyet-chien34-tren-san- nha-c28a9181.html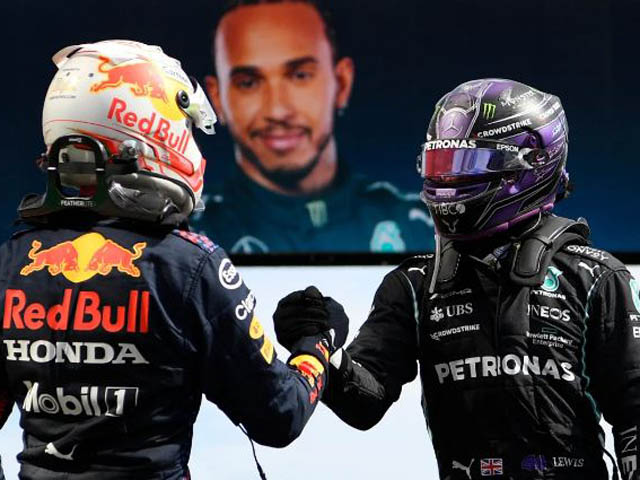 (Sports news, F1 racing news) Paul Ricard Circuit will open 3 consecutive races in 3 weeks at the weekend (Triple Header). One stage…
.