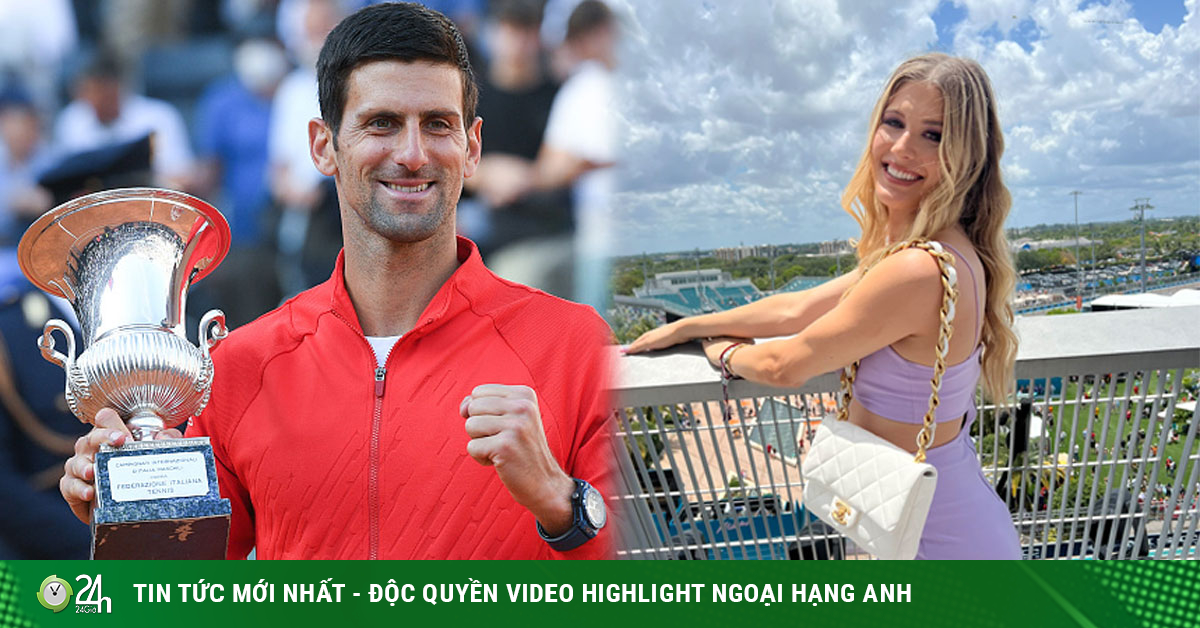 (Sports News, Tennis News) Weekly Tennis Newsletter from May 10-16: Novak Djokovic excitedly revealed that his son was just crowned yesterday when the world No. 1 player just won the Rome Masters. Meanwhile, beautiful tennis woman Eugenie Bouchard shows off sexy photos when coming to the US for summer vacation.

Djokovic shows off himself and his son won the championship on the same day
Video Novak Djokovic beat Stefanos Tsitsipas in the final of Rome Masters 2022: Last night (May 16, Vietnam time), Novak Djokovic excellently defeated Stefanos Tsitsipas 6-0, 7-6 (5) after only 98 minutes to win the Rome Masters men's singles championship this year. This is the 2nd time in the last 3 years and the 6th time in his career that the world No. 1 player from Serbia claims to be king at the clay court tournament in the Italian capital.
Father and son Novak and Stefan Djokovic were crowned together in tennis tournaments in Italy and Serbia yesterday (May 15).
Nole became the oldest champion in Rome, at 34 years and 11 months and 23 days, and increased his impressive record with his 38th ATP Masters 1000 title.
Sharing after winning the Rome Masters 2022 championship, Novak Djokovic revealed that he was very happy when he and his eldest son, little Stefan Djokovic (7 years old) just won the championship on Sunday. 15/5) past. According to Nole. Stefan has just won a title at a small tennis club in his hometown of Serbia.
Revealing to a large number of fans in the stands of Center Court at the Foro Italico tennis complex after winning the Rome Masters 2022, Novak Djokovic said: "My son really won a tournament. Today, this is a tournament. my family's shining double."
"We had a conversation a few days ago about my son's routine and things to do before a game and how I lead him into this world. First official tournament or match is always stay in your memory for a long time."
"We just talked and my son is on cloud nine with all members of the family. It's been amazing. My son has been playing really well so far and he loves the sport very much. This sport. My son stayed up late last night and shared with me how he usually moves on the tennis court. I used to do that with my dad when I was a kid too."
Beauty Bouchard claims to have special luck
Video of tennis beauty Eugenie Bouchard exercising in the gym:
On May 14, on her personal Twitter page that attracted more than 1.6 million subscribers "Follow", tennis woman Eugenie Bouchard posted 3 photos when she came to the US to travel and follow events. major sporting events in the 3 sports of Formula 1 (F1) racing, basketball and hockey. Notably, according to this Canadian tennis player, every time she goes to a tournament, luck will come to her favorite racing team or team.
Eugenie Bouchard excitedly thinks she brings luck to the F1 team Red Bull, the NBA Miami Heat Club and the Florida Panthers hockey team.
Bouchard wrote the photo caption: "When I went to F1 to see the Red Bull Racing team, they won the last race. The Miami Heat gave me a jersey and then they won. Then I attended. watched the Florida Panthers game and they won. Coincidence? I don't think so."
Tsitsipas chooses Djokovic and "new Nadal" to compete for the Roland Garros championship
After a painful loss in the men's singles final of the Rome Masters, Stefanos Tsitsipas still chose Novak Djokovic as the leading candidate for this year's Roland Garros championship (May 2 – June 5). Besides, according to the Greek tennis player, young talent Carlos Alcaraz, who was dubbed the "new Nadal" has the ability to knock Nole down to win the Grand Slam in Paris (France).
According to Tsitsipas, Djokovic and Alcaraz, not Nadal, are the top title contenders at the upcoming Roland Garros
Sharing at a press conference in Rome (Italy), reigning runner-up Roland Garros Tsitsipas said: "Currently, Alcaraz and Djokovic are good candidates for the Roland Garros championship. I have to improve myself. I I don't know if I'm at their level, but I'll try to do it. I'll pay more attention to the details of my play in the next two weeks."
Chinese beauty holds more than 2.3 billion dong when crowned in Spain
On May 15, beautiful 20-year-old Chinese female tennis player Xinyu Wang excellently came back to defeat Russian opponent Erika Andreeva (who was a finalist at Roland Garros 2021 youth tournament) with a score of 3. -6, 7-6, 6-0 to win the VI Torneig Internacional de Tennis Femení at La Bisbal d'Empordá (Catalan, Spain). The reward for Wang is the amount of 100,000 USD (more than 2.3 billion VND).
Xinyu Wang (right) defeated Erika Andreeva to be crowned in Spain
Thiem attended the home tournament for the 9th time
According to prestigious journalist Nikolaus Fink, tennis player Dominic Thiem will attend the ATP 250 Austrian Open (Austrian Open) tournament at Kitzbuhel in his native Austria from July 25-30 this year. The former world No. 3 participated in this tournament in 2011 as a teenager and lost easily to Daniel Gimeno Traver in the first round.
Dominic Thiem won the ATP 250 tournament in Kitzbuhel in 2019
In 2019, Thiem won the first time at the Austrian Open when defeating Albert Ramos Vinolas 7-6 (0), 6-1 in the final. This year will be his 9th year competing at this outdoor clay court tournament.
Source: https://tcdulichtphcm.vn/the-thao/djokovic-khoe-2-bo-con-vo-dich-cung-ngay-my-nhan-bouchard-van-…Source: https://tcdulichtphcm.vn/the-thao/djokovic-khoe-2-bo-con-vo-dich-cung-ngay-my-nhan-bouchard-van-may-ky-la-tennis-24/ 7-c28a31664.html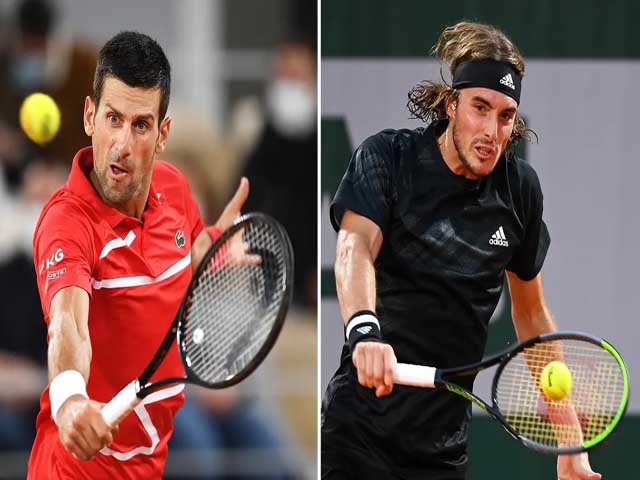 (Tennis video, Novak Djokovic – Stefanos Tsitsipas, Rome Masters final) The Rome Masters final witnessed the bravery and class of the world's No. 1 player, Novak Djokovic in the match…
According to Dang Duc (Synthesis) (Ho Chi Minh City Tourism Magazine)
.