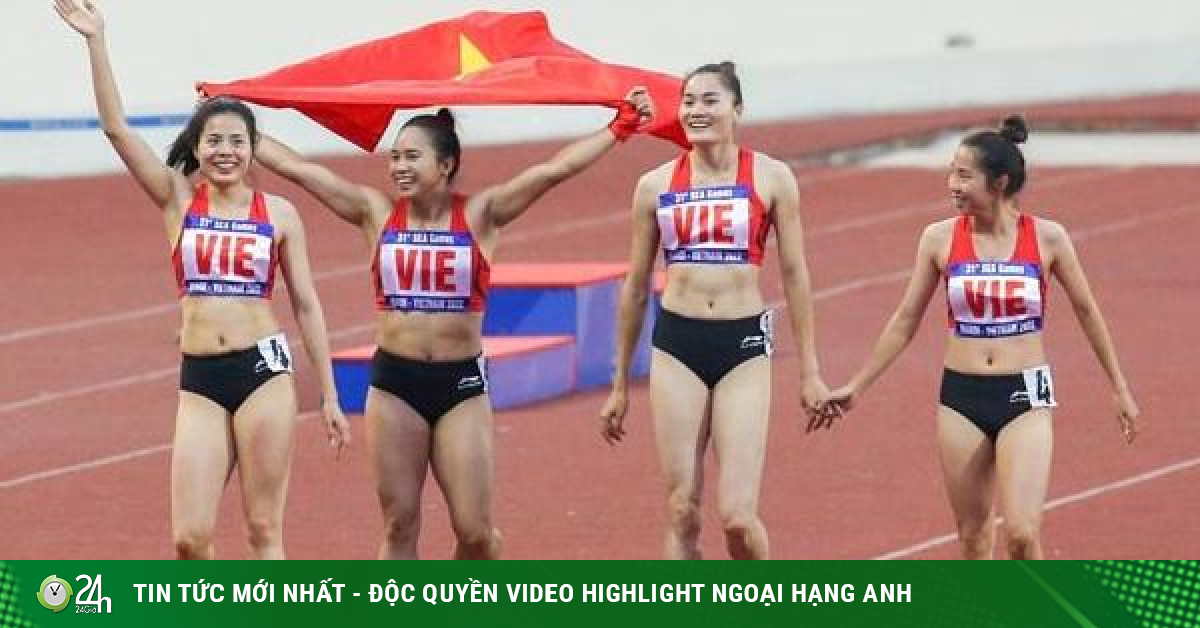 SEA Games 31 ended with great success for Vietnamese sports. In particular, the number of gold medals in Olympic subjects accounted for nearly 60%. In the following, we will head to the ASIAD and Olympic playground with goals that the sports industry will have to carefully calculate.

From the river Gianh fisherman to a record of 5 SEA Games gold medals 31 Closing the 31st SEA Games, convergence, solidarity and great success
According to statistics, the Vietnamese sports delegation finished the 31st SEA Games with 205 gold medals, 125 silver medals and 116 bronze medals. The host country won first place in the whole team and far exceeded the original target of winning 140 gold medals. In particular, Vietnam broke the record that existed for the past 25 years that the Indonesian delegation set at the 1997 SEA Games (194 gold medals). In particular, of the 205 gold medals won by the Vietnamese sports delegation, 119 gold medals came from the subjects included in the competition program at the 2024 Olympic Games, accounting for 58%.
Athletics won big at the 31st SEA Games. Photo: TV
Mr. Tran Duc Phan – Head of the Vietnamese sports delegation said: "SEA Games 31 has fierce competition among the leading countries in the region in 40 competitions, including Vietnam, Thailand, Indonesia… In fact, the Vietnamese sports delegation won 205 gold medals, surpassing Thailand with 113 gold medals (Thailand won 92 gold medals). This shows that Vietnamese sports are superior to Thailand's second-placed group, which is surprising.
In fact, before the SEA Games, we expect that the Vietnamese sports delegation will win from 140-185 gold medals. Only need to win 140 gold medals, Vietnam sports will topped the ranking table. Surprisingly, many athletes in many sports who were not able to attend the SEA Games before competed with great efforts to get achievements. Earlier in the 30th SEA Games, boxing and sailing had very few competitions, even vovinam wanted to bring to the Philippines for only 4 competitions. The athlete I am most impressed with at the SEA Games is Luong Duc Phuoc – gold medalist in the 1,500m run.
Based on the achievements that the Vietnamese sports delegation has achieved, it can be seen that the great imprint of athletics with 22 gold medals can be seen. This is a subject that has brought "unprecedented" achievements to Vietnamese sports. In particular, athletes who won gold medals are: Luong Duc Phuoc (1,500m men's), Nguyen Van Lai (5,000m), Nguyen Van Lai (10,000m), Le Tien Long (3000m obstacle course), Nguyen Tien Trong (men's long jump), Nguyen Hoai Van (men's javelin throw), Nguyen Thi Huyen (women's 400m), Khuat Phuong Anh (women's 800m), Nguyen Thi Oanh (1,500m women), Nguyen Thi Oanh (5,000m women), Bui Thi Nguyen (women's 100m hurdles), Quach Thi Lan (women's 400m hurdles), Nguyen Thi Oanh (women's 3,000m hurdles), Pham Thi Diem (women's high jump), Vu Thi Ngoc Ha (women's long jump), Nguyen Linh Na (7 women's pentathlon), Pham Thi Hong Le (women's 10,000m), Lo Thi Hoang (women's javelin throw), women's 4x400m relay, Hoang Nguyen Thanh (men's marathon), Vo Xuan Vinh (20km men's walk) ), Nguyen Thi Thanh Phuc (women's 20km walk).
The face with the most impressive medal is Nguyen Thi Oanh when she won the championships of the women's 1,500m, 3,000m women's hurdles, and 5,000m women's hurdles and broke the SEA Games record in the 3,000m obstacle course. female. With the above impressive result, she and her teammate Nguyen Thi Huyen, who are athletes in athletics, were invited by the Minister of Culture, Sports and Tourism and the head of the 31st SEA Games Organizing Committee Nguyen Van Hung to My Dinh National Stadium (Ha Noi). Noi) awarded certificates of merit.
In the near future, Vietnamese sports will focus on the ASIAD and Olympic arenas, with the achievements obtained at the 31st SEA Games, the Vietnamese sports delegation is confident of achieving good results. Mr. Tran Duc Phan said: Vietnamese sports have invested heavily in about 30 athletes to win achievements at ASIAD 19 and Olympic 2024. Unfortunately, ASIAD 19 was scheduled to take place in September 2022 in China but was canceled. postponed and do not know when it will be held again. There are so many SEA Games gold medals, but the Vietnamese sports delegation only set a target of winning 3-5 Asian gold medals. We have not zoned out to focus on fully and methodically investing in Asiad in the international way. The number of Vietnamese athletes who can win Asian gold medals is very small. Martial arts such as karate, taekwondo, and SEA Games wrestling are jubilant but coming to Asiad is nothing, going to the Olympics is even more difficult. If you want to win about 10 Asiad gold medals, you need to invest in a strong and methodical way, but this is very difficult. This Asiad 19 won 3-4 gold medals is the same.
There must be a methodical strategy to invest in athletes, the contents in some competitions can win the Asiad gold medal, the Olympic medal. With current strength, in 20 years swimming and athletics, Vietnam will not have an Olympic medal. Swimmer Huy Hoang is excellent, but it's not feasible to only aim for the Asiad, but not to win an Olympic medal."
SEA Games 31 hopes to be a stepping stone for Vietnamese sports to take off on the continent and world arenas.
How does Mr. Park's successor change U23 Vietnam?
After the 31st SEA Games, U23 Vietnam continues to go to the final round of U23 Asia 2022. Coach Gong Oh-kyun will replace his colleague Park Hang-seo to lead the team in this tournament.
Before leaving for the tournament, coach Gong Oh-kyun shared: "First, I want to congratulate the players who attended the 31st SEA Games. Here, the whole team also has the important Asian U23 Championship. Let's prepare well In 2018, I was a member of the Korean U23 coaching staff at the AFC U23 Championship. In that tournament, I knew the situation of other teams very well. , I hope to bring glory to my U23 Vietnam".
Talking about the preparation of the home team, the new U23 Vietnam captain said: "I know that the players were used to one tactic before, but I want to apply my new strategy to the team. In the past time, the players who have trained with me in Hanoi have understood this very well. I hope the rest of you are also happy with my exercises. because of the national flag and colors. I myself will be responsible for the results of U23 Vietnam in the upcoming tournament."
According to the plan, U23 Vietnam will reunite on May 24, then will fly to the UAE to train before the final round of U23 Asia 2022. During this time, the whole team will have a friendly match. rubbing against UAE U23 is expected on May 28. On May 29, U23 Vietnam will continue to move from the UAE to Uzbekistan to attend the 2022 AFC U23 Championship final. (HH)
Source: https://cand.com.vn/the-thao/the-thao-viet-nam-chon-muc-tieu-nao-cho-asiad-olympic–i654846/Source: https://cand.com.vn/the-thao/the-thao-viet-nam-chon-muc-tieu-nao-cho-asiad-olympic–i654846/
(Sports news, SEA Games news) The most impressive moments of SEA Games are encapsulated in a television program.
According to Hung Ha (Police)
.