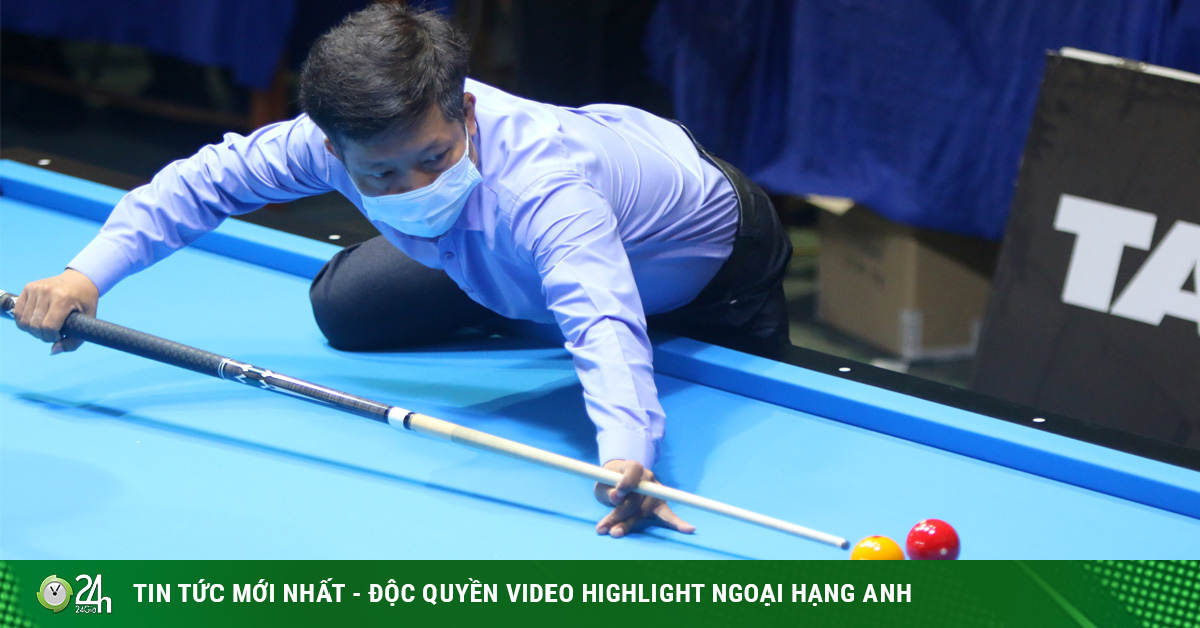 (Sports news, billiard news) Besides the shock when experienced players like Nguyen Huu Tu and Nguyen Si Tuong were eliminated, the toughest billiards tournament in Vietnam witnessed the excellence of many players such as Vo Phuoc Thanh, Do Minh Dong or Tran Phi Hung.

Huu Tu's regretful loss against Kim Long (Source: HBSF Billiards TV)
Record holder Huu Tu was eliminated after "super classic"
Starting from March 6-15, 2022 in Nha Trang city (Khanh Hoa province), the Billiards and Snooker championship of the National Cup round 1 – 2022 is considered the toughest billiards tournament in Vietnam when it comes to billiards. gathered more than 2000 players to compete, fierce competition for tickets to the national finals in June this year.
Record holder Nguyen Huu Tu was eliminated in the first match
Having a large number of athletes makes competition days often held until midnight, requiring players not only to have technique but also to have a good health. In the single carom content alone, there were 356 players present, but only 16 best names were selected for the finals. This means that a player will have to win at least 5 matches to achieve the goal of being in the top 16.
Right on the opening day of the match on March 6, the tournament showed its fierceness when it saw veteran player Nguyen Huu Tu being eliminated early in the opening match. Huu Tu is the top libre player in Vietnam, currently holding the record of scoring 400 points in just one turn in this content.
Skilled player Nguyen Si Tuong also stopped, despite previous impressive victories
Confronted with another top player, Nguyen Kim Long, Huu Tu led 42-29 after the first half. However, in the second half, Kim Long chased very fiercely, creating an extremely tense match. straight. At the end of the game, Huu Tu hit a wrong shot while leading 75-71. Taking advantage of the opportunity, Kim Long scored 9 points to win a spectacular 80-75.
In addition, another veteran player, Nguyen Si Tuong, had to stop after an extremely attractive match with Nguyen Huu Nhon in round 64 that took place late on March 7. The competition was fierce for most of the time, but Huu Nhon was the one who made better use of the 12-point hit to win the final 80-54.
"Super tiger" Vo Phuoc Thanh shows strength
In addition to the shocks, the tournament witnessed the excellence of many of the top players in Vietnam's 1st carom village, including Vo Phuoc Thanh.
Vo Phuoc Thanh shows respectable level
The top player in the country in both libre and single-player categories but could not stay in the relegation last year, Phuoc Thanh is showing fearsome strength with victories like chopping bamboo in this tournament. The most typical is the victory with an overwhelming score of 80-15 after only 6 rounds, including a series of 31 points against Nguyen Van Giau in the 64th match.
SEA Games and Asian champion Tran Phi Hung had 4 victories against Tran Van Hiep, Nguyen Minh Thao, Nguyen Duy Minh and Tran Phu Quy respectively to participate in the third round.
Chiem Hong Thai made an impression after returning from the Ankara World Cup in Turkey
The top young talent of the Vietnamese 3-band carom that has just "caused a fever" at the Ankara World Cup 2022 in Turkey is Chiem Hong Thai, who is showing impressive technique in the 1-band carom with 2 consecutive victories against Nguyen Tat. Bao and Pham Van Minh. In addition, the record holder in the cadre category 47/2 (1 engine scored 200 points) Do Minh Dong kept his form with 3 consecutive victories.
On March 8, the one-band carom content will continue to play until the quarter-finals. In which there are many remarkable "super classics" matches such as Do Minh Dong and Nguyen Huu Thanh, two young stars Chiem Hong Thai against Nguyen Truong Minh Trong, Nguyen Kim Long and Dinh Quang Hai, and Tran Phi Hung clashing against each other. Truong Van Trung or Vo Phuoc Thanh compared to Le Quoc Minh.
Record holder Do Minh Dong
In addition, the 3-band carom content will also start on this competition day. This is the most attractive and fierce content when there are 1062 competitors but only 32 best names are selected to go on to the national finals.
Source: https://tcdulichtphcm.vn/the-thao/cu-soc-giai-bi-a-khac-nghiet-nhat-viet-nam-ky-luc-gia-huu-tu-s…Source: https://tcdulichtphcm.vn/the-thao/cu-soc-giai-bi-a-khac-nghiet-nhat-viet-nam-ky-luc-gia-huu-tu-som-bi-loai- c28a27125.html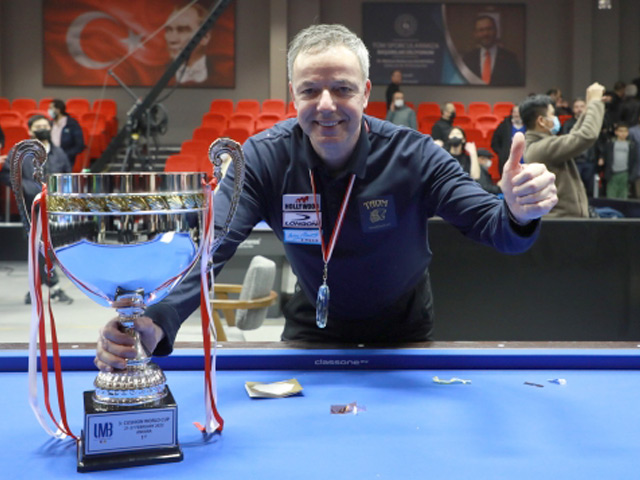 (Sports news, billiards news) Dick Jaspers' coronation at the 2022 Ankara World Cup was likened to a thrilling blockbuster movie when the world's No. 1 player had 3 exits…
According to Le Phong (Ho Chi Minh City Tourism Magazine)
.