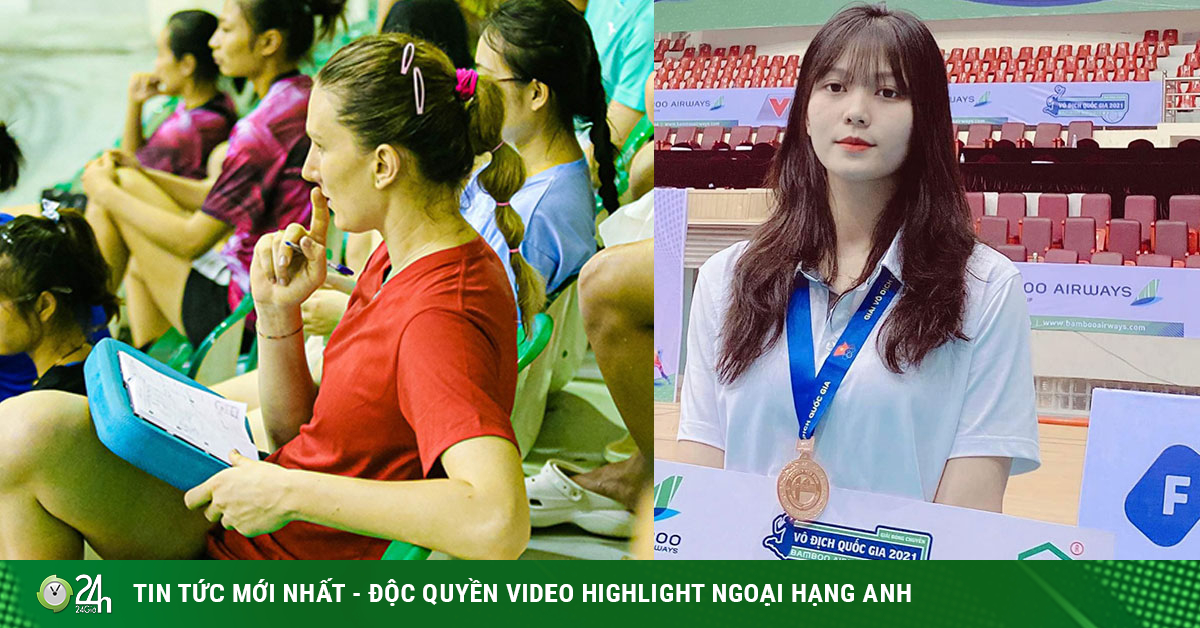 (Sports news, volleyball general news) Foreign soldier Polina 1m98 took a sudden action to "check" the opponents before the great war with Ninh Binh Doveco. Meanwhile, the second line of Than Quang Ninh caused a "fever" with beautiful beauty.

"Dinosaur" Bich Tuyen confronts super foreign soldier Polina Rahimova 1m98
On the afternoon of July 7, Group A "death" of the national volleyball championship 2022 will take place two "extremely hot" matches.
At 4pm, Ninh Binh Doveco will face Geleximco Thai Binh. This will be an extremely attractive competition because Ninh Binh Doveco not only has the opponent who holds the world scoring record Nguyen Thi Bich Tuyen with a height of 1m88 but also has a national team like Dinh Thi Thuy, Luu Thi. Hue, Nguyen Thi Trinh or Le Thanh Thuy.
Bich Tuyen confronts super foreign soldier Polina
Meanwhile, Geleximco Thai Binh has in the hands of super foreign soldier Polina Rahimova, the world's leading female opponent with a height of 1m98. This battle is even more "hot" when both teams are very "thirsty" for points to compete in the top 4 when Ninh Binh has only 1 victory, and Thai Binh still has no points.
Hot girl Thanh Thuy 1m93 competes with the "garden crane" Ly Thi Luyen 1m91
Meanwhile, at 6pm on the same day, July 7, the defending champion of Hoa Luu Cup 2022 VTV Binh Dien Long An will touch Duc Giang Chemical Club Hanoi. This is considered the "early final" of Group A between the two highest rated teams in the group.
Thanh Thuy and VTV Binh Dien Long An compete against Duc Giang Chemical Hanoi
Fans are waiting for the "match-worthy" competition between the 1m93-tall Vietnamese owner Tran Thi Thanh Thuy and the 1m91-tall assistant Ly Thi Luyen. In the last season, Ly Thi Luyen has many times succeeded in "deadlocking" the spearheads of the opponent's attack, including Bich Tuyen. Viewers are eager to see if this "Garden Crane" can shine before Thanh Thuy.
Coach Nguyen Huu Ha is in the hands of many worthy names such as Moma Bassoko, Ly Thi Luyen, Bich Thuy,…
In addition, the defending national runner-up, who also has foreign soldiers with thunderous hits, is Moma Bassoko with an impressive performance in front of Kinh Bac Bac Ninh.
This match will be a battle between many quality names such as Ngoc Hoa, Kim Thanh, Khanh Vy (VTV Binh Dien Long An) or Bich Thuy, Tu Linh, Nguyen Thi Xuan (Hanoi bronze medal). Even in the libero position, there will be a competition between the two best liberos of the tournament, Khanh Dan and Thanh Lien.
Polina 1m98 foreign soldier "looks up" at his opponent, has a sudden action
In the last matches in Group A, especially in the confrontation between Ninh Binh Doveco and VTV Binh Dien Long An, the famous foreign female soldier Polina Rahimova of Geleximco Thai Binh was present in the stands to watch the opponents. mine.
Polina takes careful notes about her opponents
The 1m98-tall female opponent also carefully recorded the playstyle as well as the ability to block the ball of the teams' defense, even the libero. The special and very professional action of this top female athlete in the world received a lot of compliments from the fans.
In her debut match for Geleximco Thai Binh against VTV Binh Dien Long An, Polina played unsuccessfully when she could not maximize her professional capacity. Besides not being passed smoothly by her teammates, the weather was unpleasant, her beatings were somewhat countered by assistant Ngoc Hoa or libero Khanh Dan of the Western team. Certainly Polina does not want this to happen again in the next matches.
Than Quang Ninh's second line causes "fever" with beautiful beauty
Than Quang Ninh women's volleyball team is having a very favorable start at the 2022 National Championship with three crisp victories against Vietinbank, Ha Phu Thanh Hoa and Bamboo Airways Vinh Phuc, respectively. Besides the shining display of 1m88 tall foreign soldier Maria Jose Perez, the audience was also impressed with Ho Thi Thu Trang's double necklace.
Beautiful second line Ho Thi Thu Trang by Than Quang Ninh
Not only having extremely beautiful beauty, the female athlete born in 2000 also has many eye-catching passes, giving the ball just enough for Maria Jose Perez to attack, contributing to the victories of the home team. It is known that Thu Trang was borrowed by Than Quang Ninh from Thai Nguyen football team.
Source: https://tcdulichtphcm.vn/the-thao/dai-chien-nong-bong-chuyen-nu-vn-ngoai-binh-polina-1m98-hanh-d…Source: https://tcdulichtphcm.vn/the-thao/dai-chien-nong-bong-chuyen-nu-vn-ngoai-binh-polina-1m98-hanh-dong-bat-ngo-c28a34685.html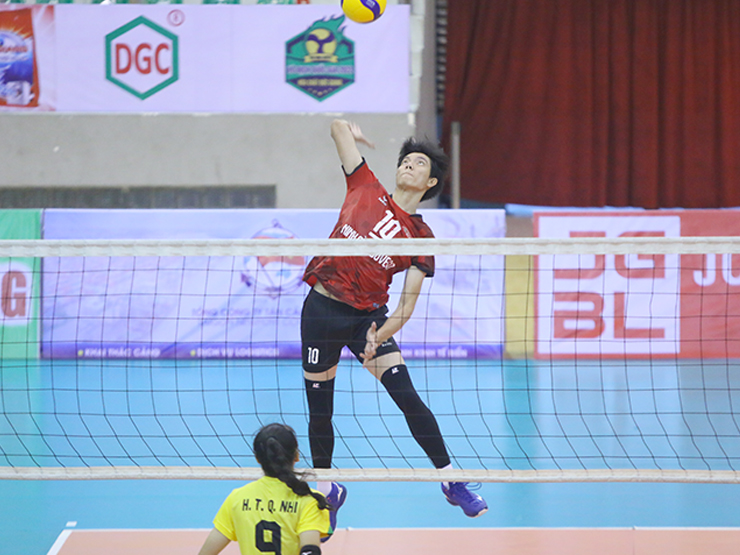 (Sports news, volleyball news) Bich Tuyen and the players of the two teams VTV Binh Dien Long An and Ninh Binh Doveco shared their thoughts after the 5-set great battle at the tournament.
According to Le Phong (Ho Chi Minh City Tourism Magazine)
.