(Sports news, volleyball news) Shining to help FLC Information Command enter the semi-finals of the National Championship 2021, Viet Huong made a strong impression not only by her talent but also by her beauty no less than a model.

Viet Huong plays impressively at the national championship in 2021
In the last match of the group stage of the 2021 National Volleyball Championship taking place on the afternoon of December 19 in Ninh Binh, BTL Information FLC had an impressive comeback against Kinh Bac Bac Ninh with the final score 3-2, although lost in the first 2 sets.
Viet Huong played prominently in the BTL squad FLC Information
This victory helped teachers and students Pham Minh Dung advance to the semi-finals with a 3-match winning streak. In this brilliant performance of BTL Information FLC, beautiful assistant Tran Viet Huong left a very strong impression.
Not only has effective smashing phases and formidable ability to serve, but Viet Huong proved to be beneficial in judgment, firmly helping the home team score points in the opponent's attack phase.
With a height of 1m78, a momentum of 2m86 and especially a shield of up to 2m95, the Phu Tho village assistant is a big challenge for the beaters if they want to overcome the "steel shield" of the Information team. The image of Viet Huong combined with Kieu Trinh, Linh Chi or even owner Bui Thi Nga successfully blocking the ball to score becomes familiar in the matches of BTL Information FLC.
Unpleasant serving, standard smashing, Viet Huong is also beneficial in defensive phases with a range of nearly 3m
In particular, the assistant born in 1998 is considered to be the most beautiful female volleyball player in Vietnam today, also known as "the pearl of the volleyball village".
Born in a family with no sports tradition with her father a teacher and mother a doctor, Viet Huong showed her passion and talent for volleyball quite early. Right from the 6th grade, the girl from Phu Tho was 1m68 tall and decided to apply for the training camp of the Information Command's women's volleyball team. Viet Huong quickly received the absolute support from her family.
With hard training and love of volleyball, Viet Huong has made great progress as well as changed in appearance, range and resilience. She first joined the U18 Vietnam team in 2012 and gradually became a familiar name in the national women's volleyball team competing in Southeast Asian or Asian youth tournaments.
The beauty of the 23-year-old "volleyball village pearl"
Along with the Vietnamese youth team, Viet Huong won 4th place at the Asian U19 Championship, or the bronze medal at the 2017 Asian U23 Championship. Also in 2017, Viet Huong and her teammates entered the history of the Asian U23 Championship with a bronze medal, followed by silver medal at SEA Games 30. At the club, Viet Huong and BTL Information FLC won the national championship in 2019 and 2020.
Besides good professional skills, Viet Huong with her outstanding appearance and pretty face is no less than hot girls, or models, always receiving special attention from camera lenses or photojournalists. She also has a large fan following on her personal page.
Unlike the strong when competing, Viet Huong is quite feminine and dynamic in real life. Hot girl 9x likes to watch movies, listen to music, read books or go to coffee with friends.
Viet Huong hopes her future boyfriend will be taller than her
It is worth mentioning that despite her talent and beauty, Viet Huong is currently single. Sharing about the criteria for choosing a boyfriend, the assistant wearing the number 8 shirt of Information said that her ideal type of lover is quite simple, just … handsome and taller than herself. But with an approximate height of 1m80, the criteria of this hot girl is considered by many fans as "not difficult, nor easy".
Viet Huong confided that she is the one who does not pay attention to criticism or negative comments about herself after each match: "What I aspire to is to play my best, to do my best in each match and with my teammates. successfully defended the championship at this year's national tournament".
Some impressive pictures of the beautiful assistant Viet Huong:
Viet Huong came to volleyball at the age of 12 when she was 1m68 tall
The assistant born in 1998 always stands out on the field thanks to her talent and impressive appearance
Source: https://tcdulichtphcm.vn/the-thao/ngoc-nu-bong-chuyen-viet-huong-chon-ban-trai-khong-kho-cung-kh…Source: https://tcdulichtphcm.vn/the-thao/ngoc-nu-bong-chuyen-viet-huong-chon-ban-trai-khong-kho-cung-khong-de-c28a22125.html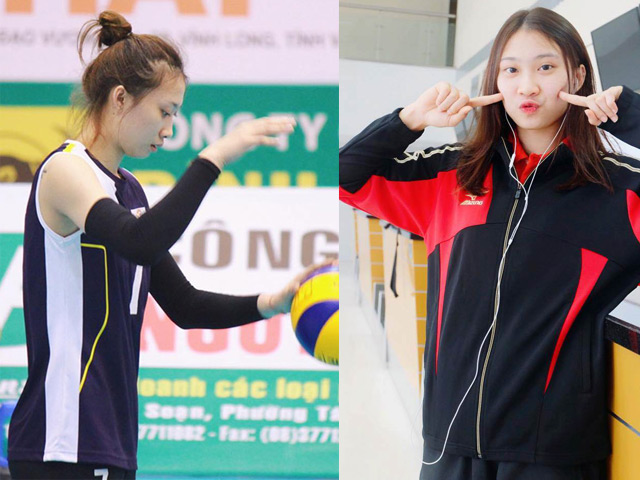 (Sports news, volleyball news) Having had an accident with 3 finger tendons and strong right hand, hot girl volleyball 23…
According to Le Phong (Ho Chi Minh City Tourism Magazine)
.