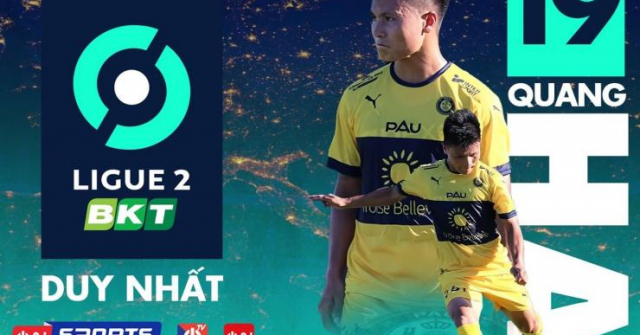 Pau FC has 2 draws and 2 losses after 4 rounds of Ligue 2. The failure to taste victory comes from the weakness of both the attack and the defense of the team.

The total number of goals scored after 4 rounds of Pau FC is only 1 goal, among the 3 teams scoring the fewest goals of the tournament. While the attack proved to be deadlocked, the defense could not become a fulcrum. Pau conceded 8 goals after 4 matches, just above the bottom team Saint-Etienne.
Watch all Pau FC matches in Ligue 2 on VTVcab ON app, ON Sports TV
Playing the role of midfielder, Quang Hai was very active in moving and coordinating with his teammates. However, if teammates do not connect, move well and finish correctly, it is also difficult for the Dong Anh hometown player to leave an impression.
In the program The Champion produced by VTVcab, commentators (BLVs) Quang Huy, Quang Tung, Long Vu, Anh Ngoc made comments on the performance of Pau FC in general and Quang Hai in particular after 4 years. round.
BLV Quang Huy thinks that Pau FC is still searching for "the way": "Watching the recent matches, it is found that Mr. Didier Tholot is still struggling to find the best formula. Every match, they have tests and refinements. We hope the next round Pau will be more stable, the framework will find good people. Every time (Quang Hai) enters the field, everything is better, he also has the opportunity to shine more."
Talkshow Champion football commentary, every Wednesday at 9pm on VTVcab ON, ON Sports TV
BLV Long Vu found that Quang Hai is still a bright spot in Pau FC's squad: "Hai has a good average score of 6.67, has a good pass rate, and every game has a keypass. important pass) and no player in Quang Hai's position has much better stats. Personally, Hai is not a problem."
BLV Quang Tung said, don't just look at the statistics: "These statistics sometimes deceive us. Are the percentages of those passes in line with the coach's tactical vision?"
According to BLV Anh Ngoc, we should not set excessive expectations when Quang Hai still needs time to adapt: ​​"There is a difference between the speed and tempo of Vietnamese football and Pau FC. Watching Pau play with another team, we see a bit of the English First Division, with very fast speed and very few touches. In the fourth match, Hai still touched the ball more than other Pau players.
Talkshow 8 Football with a professional perspective, 6pm & 9pm every Saturday only on On Sports TV, VTVcab ON
Meanwhile, in the program "8 football", coach and former player Trinh Quoc Hung made professional judgments about Quang Hai's performance: "We have watched too many tournaments at this level. high and we underestimate a league like Ligue 2. That's not at all. This is a tournament with a very fast pace and intensity. And Quang Hai has difficulties, of course. I'm happy, I'm glad because Quang Hai is getting better and better every day. It's true".
Journalist Minh Hai commented: "If Quang Hai is invested more, is more trusted and gets more balls, Quang Hai will play better."
Applications VTVcab ON, ON Sports live football Quevilly-Rouen and Pau FC, 0:00 on August 28
Despite many difficulties, the audience can still see the development of Quang Hai through each match and the player wearing the number 19 shirt still shows that he is a good player in his role. However, football is a collective sport, Quang Hai needs good teammates, put in a good frame to be eligible to shine.
In round 5, Pau FC will face a more "breathable" opponent as a guest on the field of Quevilly-Rouen, the team also won only 3 points after 4 rounds. After what has been shown, it is highly likely that Quang Hai will continue to play in the confrontation between Quevilly-Rouen and Pau FC taking place at 0:00 on August 28, live on ON Sports News channel, VTVcab application ON and ON Sports.
Source: https://arttimes.vn/thong-tin-doanh-nghiep/nhan-dinh-bat-ngo-cua-cac-binh-luan-vien-ve-quang-hai…Source: https://arttimes.vn/thong-tin-doanh-nghiep/nhan-dinh-bat-ngo-cua-cac-binh-luan-vien-ve-quang-hai-tai-pau-fc-c60a10599. html
.