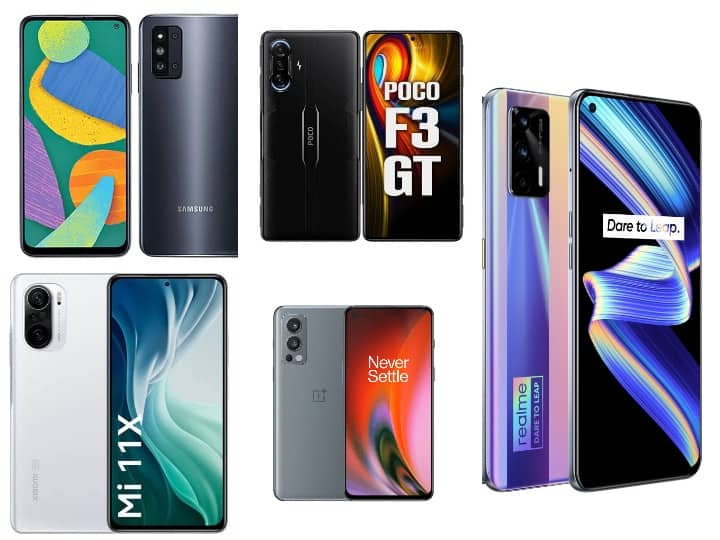 Best Battery SmartPhone: Smartphones are used a lot these days. From gaming to video surfing or the use of many apps, the phone's battery drains quickly. In such a situation, many people look for such a phone, whose battery is strong and can get good backup. Here we are going to tell you about some such latest 5G smartphones whose battery backup is great and they are equipped with fast charging feature. Apart from this, these phones are also the best in terms of other features.
1. Samsung Galaxy M52 5G
This Samsung phone comes with 5000mAh battery. It has the facility of 25W fast charging. Its price is around Rs 24,999. This phone is equipped with the processor of Snapdragon 778 SoC. The screen of the phone is 6.67 inches, which comes with Full HD + AMOLED screen.
2. Poco F3 GT 5G
Poco This phone looks best not only in terms of battery but from storage to processor everywhere. Coming with 5065mAh battery capacity, this phone also has 67W fast charging. The phone comes with 8 GB RAM and 256 GB memory. The camera of this phone is also very good. In this you get a 64-megapixel trill rear camera. Talking about the screen, it comes with a 6.67-inch AMOLED display. The price of the phone is Rs 28,999.
3. Realme X7 Max 5G
In this phone you get 4500mAh battery and 50W fast charging feature. 64 megapixel camera has been given in this phone of about Rs 26,999. This smartphone has a 6.43-inch Full HD + sAMOLED display.
4. Xiaomi Mi 11X 5G
You get 4520mAh battery in this phone. It comes with 33W fast charging. The price of this smartphone is Rs 29,999. The camera in this is 48 megapixels, while this phone runs on Qualcomm Snapdragon 870 SoC. The phone has a 6.67 inch Full HD + E4 AMOLED display.
5. OnePlus Nord 2 5G
The biggest feature of this 5G phone is its fast charging. You can fully charge the battery of this phone in half an hour. The phone packs a dual cell 4500mAh battery and supports Warp Charge 65T. The price of this phone is around Rs 29,999. The phone has a triple rear camera of 50 megapixels. The screen size of the phone is 6.43 inches. It comes with Full HD + AMOLED display.
read this also
Instagram New Feature: Instagram will soon get the feature of uploading music, the company is testing
Best Recharge Plan: Now no tension for recharge when mobile data runs out, Jio is giving data loan
,