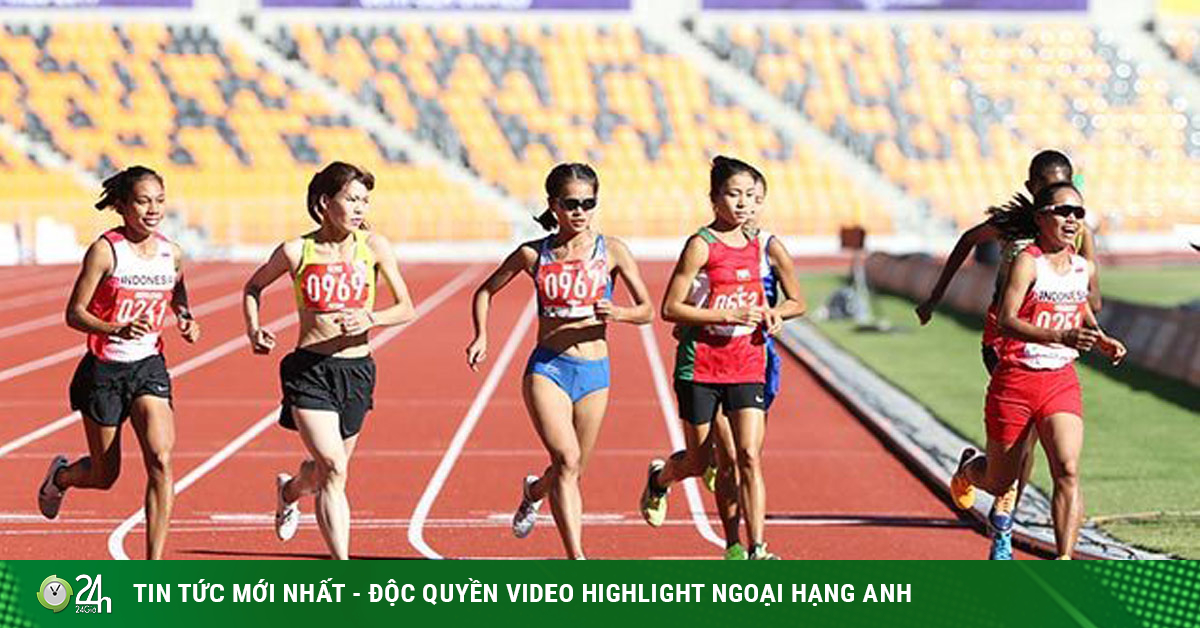 (Sports news, athletics news) The Vietnamese sports world was stirred by the news that the country's track and field athletes have not been equipped with training shoes, or have not been given tonics to prepare for the 31st SEA Games.

At the upcoming 31st SEA Games, athletics will compete at My Dinh National Stadium (Hanoi) from May 14-19 with 47 sets of medals. In particular, the Vietnamese athletics team participated with 66 athletes, aiming to win 15-17 gold medals and topped Southeast Asia. This number can surpass the achievement of 16 gold medals that Vietnamese athletics stars achieved at the 30th SEA Games held in the Philippines 3 years ago.
Some Vietnamese athletes have not received enough training shoes or supplements yet
It is worth mentioning that before this big goal, the Vietnamese athletics team is having problems in the preparation stage when at the beginning of this April, some athletes have reported that they still have not been given sports shoes, as well as functional foods and medicines. supplement for training. Especially when functional foods need time for athletes to absorb. Athletes also need at least 1-2 months to get used to the shoes.
"Following feedback, some athletes have received shoes, but there are still athletes who have not yet had competition shoes, or were given shoes but last year's shoes, depending on different centers. Personally, I spent my own money buying shoes, preparing myself. Because it's an important tournament, it's hard to practice if you wait and rely on it," a female player who won a gold medal at the SEA Games who was practicing at the National Sports Training Center in Hanoi (Nhon) shared.
Vietnam's athletics set a target of 17 gold medals at the 31st SEA Games
Meanwhile, coach Nguyen Van Sy (long-distance coach), male walking player Nguyen Thanh Ngung or members of the middle-distance running team said they had received supplements and competition shoes in recent days. and the training situation is quite good.
However, according to research, currently the players have only received a part of the total number of medicines distributed (due to slow delivery), as well as some athletes who do not have all the registered shoes. In addition, because the number of drugs is not much, only a few athletes who are able to compete for medals, or candidates for gold medals, are given priority to distribute drugs and supplements first.
Mr. Nguyen Anh Minh, Deputy Director of the Hanoi National Sports Training Center (Nhon), said: "Functional foods have been distributed to athletes since last weekend. Shoes have been available to some athletes, and Others are on their way home. All will be on schedule for athletes to practice for the SEA Games."
Tu Chinh and his teammates will have to compete fiercely with naturalized athletes
Meanwhile, the players gathered at the National Sports Training Center in Ho Chi Minh City have not yet received the above regimes.
"Usually, about 2 months before the SEA Games, leaders will send us supplements, supplements, shoes or sponsored exercise equipment to Ho Chi Minh City. However, this year to date we have not received anything yet. However, this is not too important because the cost of taking vitamins is already included in the athlete's salary. Besides, now taking medicine is not enough time to absorb for the SEA Games", a national coach in Ho Chi Minh City said.
With the above sharing from coaches and athletes, perhaps experts and fans are wondering if the athletes are best prepared to wholeheartedly aim for the No. 1 goal of Southeast Asia in athletics. Vietnam at the SEA Games right at home, especially when some other countries have formidable naturalized athletes.
Source: https://tcdulichtphcm.vn/the-thao/thuc-hu-chuyen-tuyen-thu-dien- Kinh-vn-khong-co-giay-tap-truoc-…Source: https://tcdulichtphcm.vn/the-thao/thuc-hu-chuyen-tuyen-thu-dien- Kinh-vn-khong-co-giay-tap-truoc-sea-games-31-c28a28993.html
25 Gold Medals were brought home by Anh Vien for Vietnamese swimming in the 2013 SEA Games, 2015, 2017 and 2019. And when there was no longer a "little mermaid", Vietnamese swimming at the 2021 SEA Games…
According to Le Phong (Ho Chi Minh City Tourism Magazine)
.