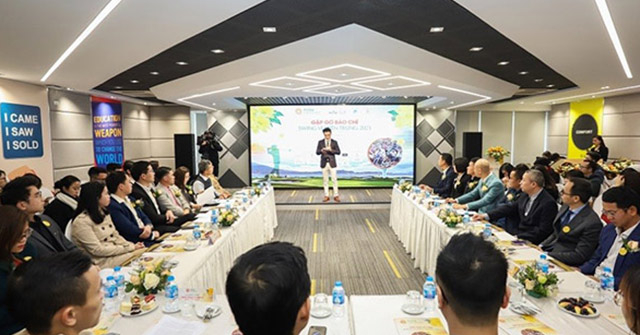 Wednesday, January 20, 2021 11:57 AM (GMT + 7)
On the morning of January 19, 2021, at the Event Center, 2nd Floor, Nguyen Ngoc Vu Building, Trung Hoa Ward, Cau Giay District, City. In Hanoi, the press meeting for the "Swing for the Central 2021" golf tournament officially kicked off. This is an annual charity tournament initiated by Cen Group, Hanoi Golf Association and Century Golf and Travel Service Joint Stock Company (Cen Golf).
Mr. Nguyen Xuan Trung – General Director of Cen Golf, Head of the organizing committee spoke at the event.
Over the past four successful seasons, Swing for the children's Tet has helped hundreds of children in highland, remote and isolated areas to welcome Tet, to study in new, spacious and warm schools; thousands of difficult circumstances and timely support. Continuing that compassionate journey, this year, towards the central part of the intestine, heavily affected by natural disasters, storms and floods, the 5th season of charity golf was held with the theme "Swing for the Central 2021".
Inspired by the image of a yellow chrysanthemum, a familiar Tet flower in the Central region with the meaning of intense vitality and full of happiness, Swing for Central 2021 wants to join golfer and philanthropists to help. unlucky pieces of life, empowering people to overcome the consequences of natural disasters, rebuild schools, clinics … bring Tet full and full, bring spring back to the land that suffers a lot of pain. this love.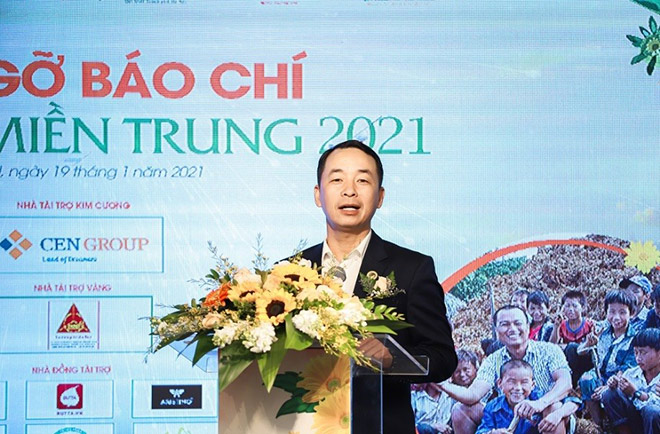 Mr. Le Hung Nam, Vice President and General Secretary of Vietnam Golf Association acknowledged and appreciated the tournament's performance during the past four seasons.
Mr. Le Hung Nam, Vice President and General Secretary of the Vietnam Golf Association shared: "Swing for the Central 2021 golf charity tournament in particular and Swing for the children's Tet in general are highly appreciated by the community for its humanistic meaning. practical action. The golf tournament attracts a large number of golfers by its healthy playground, and at the same time creates a special connection between golf sport and philanthropic activities for the community.
Before that, after receiving many donations and support from golfers, the Manh Thuong Quan are businesses, organizations, individuals … in the 2020 season, the Charity Fund (formerly the Fund Act for compassion), represented by Engineer Pham Dinh Quy, Director of the Fund, on behalf of sponsors to send affection as well as the amount raised to many cases in need of help. Warm volunteer projects must be mentioned such as: Building Xang Hang kindergarten (Xang Hang, Thanh Hoa); Support for people in the Central region in Ba Long commune, Dakarong district, Quang Tri; Building ATMs of rice distributed free of charge for difficult circumstances during the Covid-19 epidemic; Donating essential medical equipment for medical examination and treatment, supporting Covid -19 epidemic prevention and control …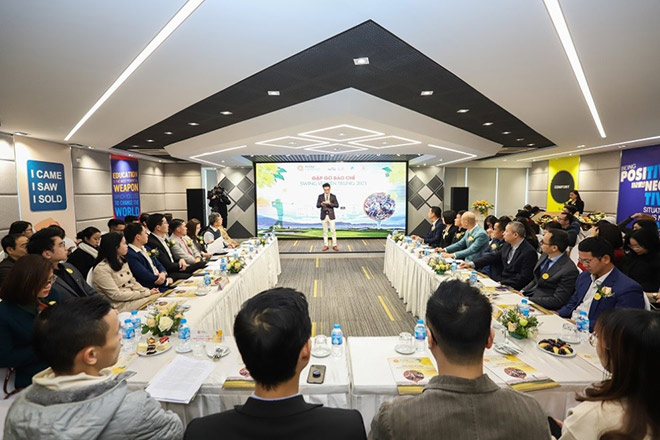 Swing for Central Vietnam in 2021 hopes to bring warm Tet to the people of Central Vietnam.
With the aim towards a lofty human meaning and spirit of "mutual love", for a better society, Swing for the children's Tet becomes one of the volunteer golf tournaments that have received a lot of support. , a companion of golfers and philanthropists across the country. Continuing the 5th volunteer season through golf sports activities, Swing for the Central region 2021 will be a bridge, helping donors turn love into action. In particular, in this season, before the official match date, the Organizing Committee will have an online auction of some pictures, all the auctioned money will be transferred to the Charity Heart Fund to perform activities. Volunteer action.
Swing for the Central 2021 will take place on January 26, 2021, at Long Bien golf course, Hanoi with the participation of more than 180 golfers who are representatives of golf clubs, real estate businesses and other national press news agency.
The tournament was played in an 18-hole round; Stroke play directly calculates Net score based on official handicap according to Vhandicap system. In which, Tables A, B, C calculate Nett scores according to official Handicap, separately Table Female Nett score based on Handicap dated System 36 and technical solution.
The organizers would like to thank Kim Cuong sponsor: Cen Group; Gold sponsor: Tico Group; Silver sponsor: Long Bien Golf Course; Dong sponsor: Kim Bang Golf Course, Balenga Fashion Brand, Butta.vn Buddhist Social Network, 88 Golf Club, Viet Gift Trading and Service Co., Ltd and sponsor Hole in one: Public Century House E-Commerce Company Limited – Cen Homes; Son Popa brand.
Golf tournament organizers, Cen Golf Company, Hanoi Golf Association are looking forward to continuing to receive the support and companionship of golfers and the Manh Thuong Quan to reduce the look of thorns on the journey back to the game. The normal life of the people of Central Vietnam is like the meaning of this year's tournament, "Tet brings full, Spring builds happiness".
Source: http: //danviet.vn/giai-golf-tu-thien-swing-vi-mien-trung-2021-chinh-thuc-khoi-dong-5020212011158 …Source: http://danviet.vn/giai-golf-tu-thien-swing-vi-mien-trung-2021-chinh-thuc-khoi-dong-50202120111584940.htm
.