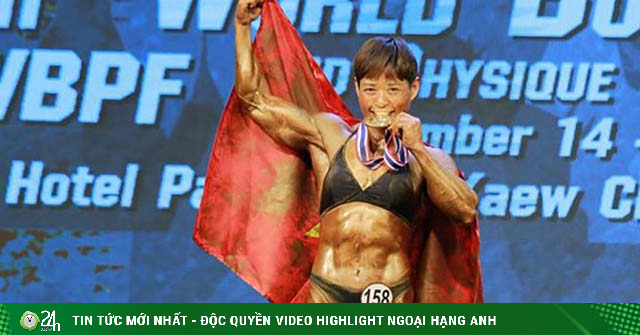 Both won the almighty gold medal at the National Bodybuilding Championships 2021, but the most regrettable thing for both Ton Hoang Khanh Lan and Nguyen Duy Binh is that they were not summoned for national duty at the 31st SEA Games. .

Seeing Khanh Lan practice daily at Chau Thoi mountain (Dong Nai), no one thought that she was over 40 years old and still ran twice a day up and down Chau Thoi mountain with thousands of stairs within 2 hours every morning, then every morning. maintain tremendous amounts of movement in hours rather than specific weights of irons raised and placed. "The coach's lesson plan requires practicing 200 times, I practice a thousand times. Only diligence, patience, plus passion can hope for success in sports" – the 2018 female world bodybuilding champion shared.
Ton Hoang Khanh Lan won gold at the 2018 World Championships
While studying taekwondo and working as a caddy at Thu Duc golf course, she was selected to join the youth line of bodybuilding in Dong Nai province in 2001 and has been attached to this arduous sport ever since. Every day cycling more than 10 km from work to the gym, receiving a subsidy of only a few hundred thousand dong per month, but Khanh Lan is always focused on training.
After only about a month, she won an individual silver and a gold medal in mixed doubles at the national championship. She has been unchallenged in the over 52 kg class since 2015 and is the all-around female champion of the year out of the last eight national seasons. Not to mention Khanh Lan also "dominated" the weight class forte during 4 consecutive National Sports Festivals since 2006!
What bothers Khanh Lan the most is that she does not have a predestined relationship with the international arena. She can only bring home bronze medals, or maximum silver medals in times of participating in continental or world tournaments. It wasn't until the age of 41 that this energetic and persistent female athlete reached the peak of her career when she won a gold medal at the 2018 World Bodybuilding and Fitness Championships in Thailand.
Away from home, a single mother taking care of her 10-year-old daughter living right in a small room at the Dong Nai Sports Training Center, Khanh Lan is content with the income of a sports official (she is currently an athlete). cum coach of Dong Nai fitness team) and always try to do the best possible while pursuing a competitive career. It is this that helps her to be highly appreciated by her colleagues and it is believed that Khanh Lan deserves a higher level of treatment from the Dong Nai sports industry for a passionate and dedicated sportsman. yourself for your career.
Vietnamese bodybuilding since 2001 until now has owned more than 20 world championship titles, there have also been many female "ants" crowned, but for Khanh Lan, she is the oldest Vietnamese person step by step. World bodybuilding champion. With the victory of the female all-round champion at the 2021 National Championship, Khanh Lan is the oldest female athlete in Vietnam to touch this title and she does not hide her ambition to become the only Vietnamese athlete participating in the championship. participated in 5 consecutive National Sports Festivals as well as won championships in all 5 of these Games.
If Khanh Lan is the oldest all-round champion, including both men and women, Nguyen Duy Binh is the youngest face ever to be crowned number one in the bodybuilding village. This 30-year-old guy is considered an athlete with the most fundamental and sure development process, going through the path of a young athlete, specially trained in the field of classical bodybuilding before going straight forward. number one in body-building content.
As noted by experts, few athletes have a perfect skeleton and body rigidity like Nguyen Duy Binh, one of the rare almighty champions in the "heaviest" weight class of the system. national competition – 90kg.
When Duy Binh was called up to the national team in early 2020, it was hoped that this guy would have the opportunity to shine in the international arena, especially at the 31st SEA Games at home. However, the Covid-19 pandemic caused all sports activities to be suspended and with Duy Binh, his own plans also fell apart.
He would like to withdraw from the national team ahead of time and therefore, no longer called up for national duties in 2021 and 2022, will certainly not be able to attend the 31st SEA Games, where bodybuilding returns to the competition system. match of the congress for the first time in 8 years.
Talking to Duy Binh, he said that it is not necessary to feel guilty because the sad story is because it is a personal decision, stemming from personal circumstances, so it is not possible to blame the situation or anyone. The road to promotion still has many turns, he will focus on the continental and world tournaments with all his determination. If successful, it is also his personal contribution to bodybuilding and sports in Vietnam.
Source: https://nld.com.vn/the-thao/chuyen-giu-lua-nghe-cua-hai-nha-vo-dich-the-hinh-toan-nang-quoc-gia-…Source: https://nld.com.vn/the-thao/chuyen-giu-lua-nghe-cua-hai-nha-vo-dich-the-hinh-toan-nang-quoc-gia-20220206163247772.htm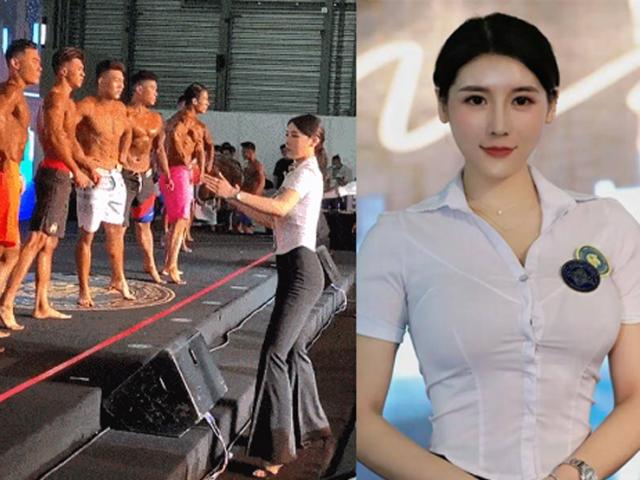 (Sports news, behind-the-scenes news) China's "3rd round" super goddess has just "taken the wave" of a bodybuilding competition in the country…
According to Dao Tung (Employees)
.