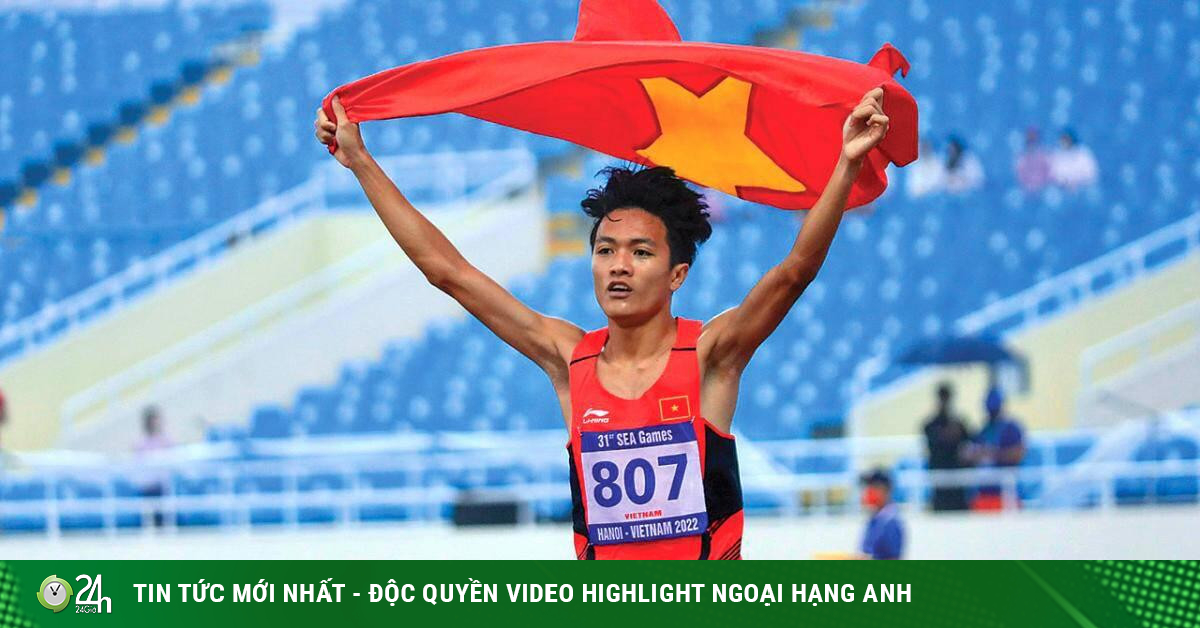 Many athletes did not receive many expectations, but suddenly shone at the 31st SEA Games.

From a place little known by the media, Nham Manh Dung, Nguyen Thi Huong, Pham Thanh Bao, Lo Thi Hoang or Luong Duc Phuoc really became stars at SEA Games 31 thanks to their efforts and persistence.
Luong Duc Phuoc won the men's 1,500m gold medal, the biggest surprise in the 31st SEA Games athletics. Photo: Ta Hai
The stars above shine
In the 80th minute of the 31st SEA Games men's football final, from the left wing cross of Phan Tuan Tai, Nham Manh Dung jumped higher than everyone else and headed the ball into the A corner of Thailand's U23 goal in the helplessness of the goalkeeper. Kawin subject.
This goal changed the game, helping U23 Vietnam successfully defend the gold medal. The goal of the player on the staff of Viettel FC made him immediately a hero in the eyes of the public.
If Manh Dung's headshot caused My Dinh yard to explode, the rush to the finish line on the 1,500m track of the brand new runner Luong Duc Phuoc made many people really surprised. Head of the Vietnamese Sports Delegation Tran Duc Phan joked: "Blessed is like coming up from the ground".
At this distance, Tran Van Dang is the number 1 hope of Vietnamese athletics. It was he who defeated Duc Phuoc in the national championship in 2020, 2021. Both maintained a chase, but Phuoc performed well in the last 100m to win gold.
Experts consider Phuoc's gold medal as one of the biggest surprises of the 31st SEA Games. Dong Nai runner himself does not believe he has won at the first appearance in the largest playground in the region.
"I don't think I will surpass Tran Van Dang, but only aim to finish second or surpass my own performance in the previous national championship," Phuoc shared.
Rowing athlete Nguyen Thi Huong also attended the SEA Games for the first time, but made a stronger impression with 5 gold medals both individually and as a team.
Among the 4 athletes proposed by the Ministry of Culture, Sports and Tourism to consider and award the Second-class Labor Medal, only she is a true "newcomer". From where no one knew her name, the female athlete from Vinh Phuc became the focus of both professionals and the media.
It is even more surprising that this petite girl has not participated in any international tournaments at the team level.
In 2019, she attended the World Cup and Southeast Asian Youth Championships, but the highest achievement was only silver. However, after only 3 years, Huong has made all opponents admire.
Unlike her three colleagues, female javelin thrower Lo Thi Hoang, who won gold and broke the SEA Games record, competed for the second time at the Southeast Asian Games. In 2019, she won silver, behind the Thai athlete and this time, even though she competed at home, she was still underestimated than her opponent. However, the Thai ethnic girl did the unthinkable, won the gold medal and broke the record that has existed for 15 years.
"In the history of the SEA Games, Vietnam has never had a gold medal in women's javelin throwing, and Vietnamese athletics is also underestimated in throwing and pushing due to physical fitness. That's why Lo Thi Hoang's gold medal is especially meaningful," shared Mr. Nguyen Manh Hung, General Secretary of the Vietnam Athletics Federation.
Similar to Lo Thi Hoang, swimmer Pham Thanh Bao has just had the 2nd SEA Games in his career and he has impressed by breaking 2 records (100m frog, 200m frog). Although it is a bit of a pity that he could not complete the double gold medal (losing to the Singapore athlete in the 200m breaststroke) but this is still a memorable Games for Thanh Bao.
In both of the above contents, Bao is assessed as not having much potential. At SEA Games 30, Bao also received 2 silver medals. And when he won the 100m frog content, the fans at My Dinh Aquatic Palace were disturbed by too few people under the name of the boy from Ben Tre.
Behind the aura are drops of sweat
Nguyen Thi Huong shares the joy of winning with her parents. Photo: NVCC
One thing in common of the five SEA Games champions just mentioned is that they all have to go through thousands of days of persistent efforts. The belief in victory is also something they always carry as an indispensable baggage.
Lo Thi Hoang said, on the day of the 31st SEA Games, she wore long pants (athletics often wear short pants, creating a comfortable feeling) because she did not want people to see her knees wrapped in bandages.
"I have had this injury since 2021, and sometimes it hurts terribly. In addition, the injuries to my back and hands during the past 10 years of sports, I have encountered almost often, but I have to compress the pain to practice", female athlete Son La confided.
After winning the gold medal, Hoang ran to the stands to find his parents and sobbed in the arms of the two parents. She said that it was not easy for her parents to come down to Hanoi to cheer for their daughter.
But at least she is luckier than fisherman Pham Thanh Bao because his parents are so poor that they cannot arrange money to cheer their son to compete.
"At home, both of my parents worked as hired laborers. In the past two years, there was little work due to the pandemic, so there was no income. Seeing many friends encouraged by their families also made me feel sorry for myself, but this made me even more determined to win gold to help my parents. I will send all the money from the SEA Games to my parents to make ends meet," said Ben Tre fisherman.
According to the boy born in 2001, it is poverty that motivates him to strive every day: "If you want to have a better life, there is no other way but to compete and win. I had faith that I would win gold and I succeeded."
If talking about perseverance and efforts, the petite girl Nguyen Thi Huong is definitely a shining example. Despite possessing a rather modest body, the internal resources of this female athlete are extremely strong.
Huong has been involved in sports since the age of 14 with a starting point in wrestling, but after only 1 year, Vinh Phuc Sports Training Center quit this sport and she was targeted by teacher Luu Van Hoan to switch to boat racing. For the past 6 years, she has always worked hard to look forward to shining in the international arena.
"For 6 years, I almost didn't pay attention to anything but eating and exercising," shared the athlete who won five SEA Games gold medals.
Like Hoang or Bao, in addition to the desire to conquer herself, Huong tries her best in practice and competition to help her family: "My parents in the countryside only work in agriculture, life is very hard. After receiving the SEA Games bonus, I will give my parents a large sum to renovate the house and buy more necessary items."
Nham Manh Dung emerged from the 2017 National U17 Championship with the title of Top Scorer. Unfortunately, the career of the guy from Thai Binh was then average at both club and national team levels, partly because he was dragged down to play central defender.
Manh Dung was once doubted about his ability after bad tournaments, questioned about his expertise right at the SEA Games, but always had a burning desire in every training session and match. Therefore, the super product that entered Thailand's net did not fall from the sky.
Meanwhile, Duc Phuoc is also only considered as the foundation for Tran Van Dang after 2 consecutive defeats in the national championship, but he did not give up. In addition to practicing in the yard, Phuoc also actively chooses places with steep terrain to run or even run on the sand to exercise his ankles. Such training was extremely tiring but the performance was high and his tears were not in vain.
Source: https://www.baogiothong.vn/chuyen-ve-nhung-ngoi-sao-vut-sang-o-sea-games-31-d556424.htmlSource: https://www.baogiothong.vn/chuyen-ve-nhung-ngoi-sao-vut-sang-o-sea-games-31-d556424.html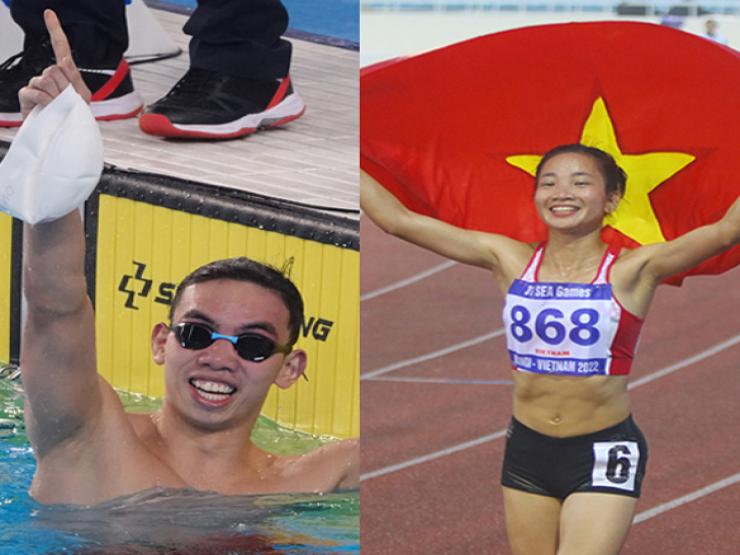 (Sports news, SEA Games news) Vietnam's achievements at the 31st SEA Games are so great, but looking back at ASIAD, Olympic everything is completely different.
.