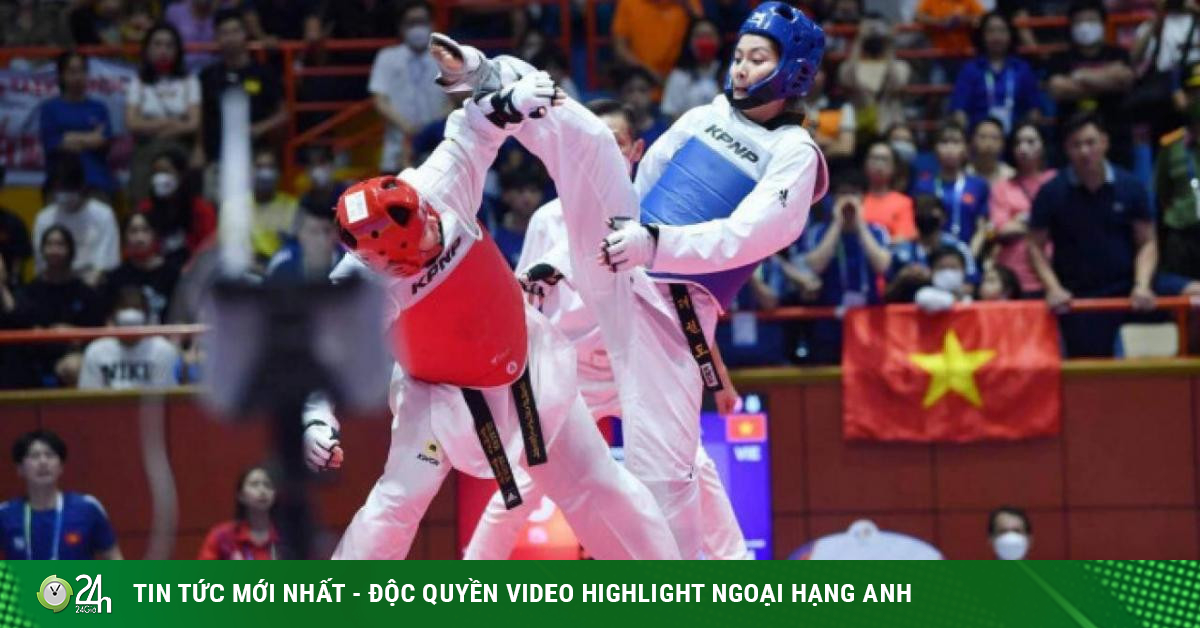 A family in Thanh Hoa has two brothers and a niece who won 10 SEA Games gold medals (HCVs) in taekwondo.

​At the 31st SEA Games, female taekwondo fighter Nguyen Thi Huong (26 years old, from Nghi Son town, Thanh Hoa province) was one of the athletes who won gold for the Vietnamese sports delegation.
Nguyen Thi Huong competes in Taekwondo at the 31st SEA Games against women in the 73kg weight category
Athlete Nguyen Thi Huong, born in 1996, has come to Taekwondo since her high school years. However, it was not until 2022 that Huong really reached the threshold of glory.
In March, Nguyen Thi Huong won the gold medal in Southeast Asia in Ho Chi Minh City. Ho Chi Minh. Two months later, at the 31st SEA Games, she continued to win the top place in the 73kg weight class for Taekwondo women's fighting.
Before a strong opponent, Huong won with a score of 10-8
Huong's victory in the final was even more convincing when she had to meet a very strong Filipino opponent at the continental level.
Athlete Kirstie (born in 1989) won gold medals at the 2011 and 2013 SEA Games and is the reigning runner-up at the 73kg SEA Games.
In the past, Kirstie also won the ASIAD bronze medal and participated in the Olympics. In front of a strong opponent, Huong followed the instructions of the coaching staff and competed with determination to win with a score of 10-8 to win the gold medal.
Coach Nguyen Van Hung (white shirt) with his brother and niece show off 10 gold medals that their family has won through the SEA Games
"Before the final match, I also had a little pressure because the opponent was strong, but with the enthusiastic support of the fans and the guidance of the teachers, I overcame and won," said athlete Nguyen Thi. Huong shared.
Right after Huong got a gold medal in taekwondo, on her personal page, coach Nguyen Van Hung (currently the head of Taekwondo department of Thanh Hoa Sports Training and Competition Center) shared: "In the picture are 10 SEA gold medals. Games of Taekwondo Thanh Hoa belong to the descendants of Mr. Le and Mrs. Lam, Thanh Son commune, Nghi Son town", accompanied by a picture of 3 grandchildren spreading 10 fingers. Many people congratulated and shared this rare story of Vietnamese sports.
Nguyen Thi Huong won a gold medal in Taekwondo, contributing to Vietnam's sports industry
It is known that the family of Mr. Nguyen Trong Le and Mrs. Pham Thi Lam in Thanh Son commune, Nghi Son town is famous for having 2 sons who used to be the pride of Thanh Hoa sports with Taekwondo in the SEA Games. .
Specifically, Nguyen Van Hung won gold medals 5 times in a row (in 1999, 2001, 2003, 2005, 2007) and his younger brother Nguyen Trong Cuong won 4 gold medals at the SEA Games.
Coach Nguyen Van Hung is also known as the "lonely and defeated" because in his weight class in Southeast Asia, there is no opponent.
In addition to 5 times standing on the top podium of the SEA Games, Nguyen Van Hung also won 2 Asiad medals and many other international titles.
Coach Nguyen Van Hung added: "Since I was in high school, Huong has a good height and qualities, so the boys have oriented her towards a sports career.
The day he won gold, I cried because of happiness. This is also the family's 10th gold medal. My parents are 80 years old this year, they are more happy to hear the news than when their two sons won gold before," Hung said.
Immediately after winning the gold medal, in addition to thanking the national Taekwondo team's coaching staff, Nguyen Thi Huong shared a lot about her family, especially her two biological uncles who brought her to a sports career.
"In my eyes, you guys are… idols. The achievements you guys have won are the motivation for me to come to the martial arts career, but at the same time, they are too big shadows that force me to make many times more efforts. My achievements today always have merit in guiding and instructing a lot of you", Huong confided.
It is known that in addition to participating in taekwondo training, Huong has graduated from Hong Duc University in sports pedagogy and is studying for a master's degree in cultural management at Thanh Hoa University of Culture, Sports and Tourism.
At the 31st SEA Games, Thanh Hoa had 19 athletes competing in 14 subjects. The good news is that the achievements that Thanh Hoa athletes have won fall in Olympic subjects, strength subjects with 10 gold medals, 4 silver medals, 3 bronze medals.
Source: https://www.baogiothong.vn/chuyen-ve-nha-noi-o-thanh-hoa-gianh-10-hcv-o-cac-ky-sea-games-d55333…Source: https://www.baogiothong.vn/chuyen-ve-nha-noi-o-thanh-hoa-gianh-10-hcv-o-cac-ky-sea-games-d553333.html
(LDO) – Head of the Vietnamese sports delegation at the 31st SEA Games Tran Duc Phan, shared with the press that the host's record of 205 gold medals, far surpassing the 2nd place, Thailand with 113 gold medals, was a surprise.
According to Phuc Tuan (Traffic Newspaper)
.