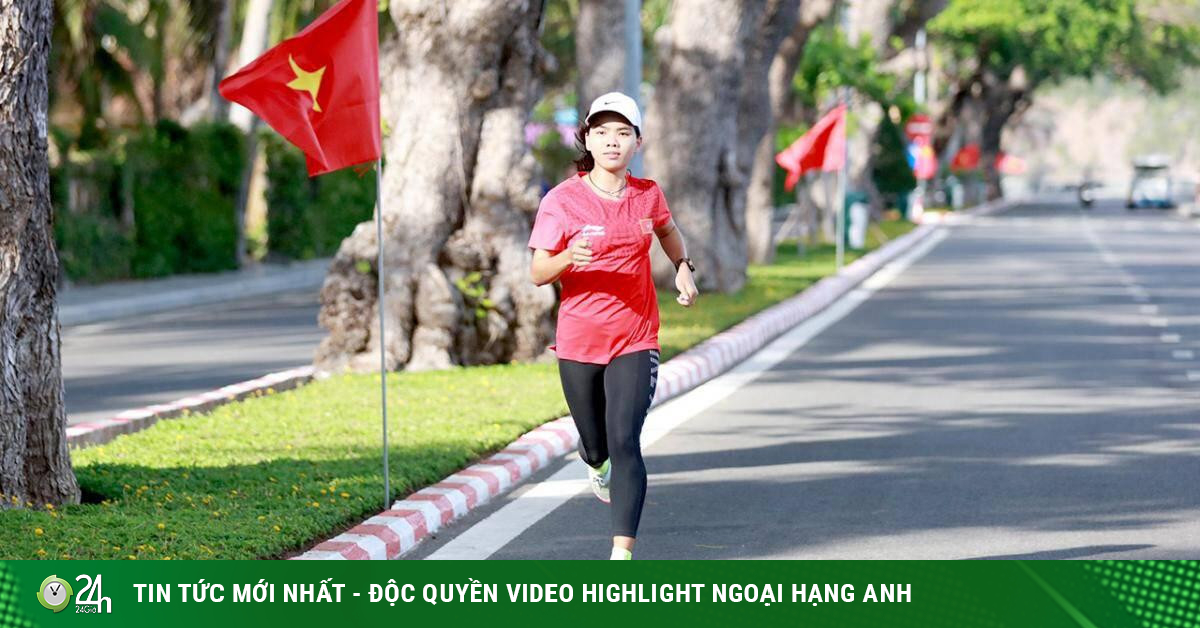 Possessing a body that is not tall, but marathon champion Hoang Thi Ngoc Hoa (SN 2000) eats up to 4 bowls of rice each meal, not to mention food and fruit.

She said she had to eat a lot to recharge after hours of competition and exercise to squeeze out energy.
Hoang Thi Ngoc Hoa in training session before Tien Phong Marathon 2022. Photo: Nhu Y
Golden hope of Vietnamese athletics
At the Tien Phong Marathon and the long distance race, the second excellent Hoang Thi Ngoc Hoa won the third time participating. The first time took place in 2020, when she surprised by surpassing senior Hong Le to finish first.
This year, when Hong Le did not participate in the marathon content and Ngoc Hoa showed that she has no opponent. Her achievement is 2 hours 53 minutes 56 seconds, far ahead of runner-up Nguyen Thuy Y Tien (3 hours 16).
This achievement is also slightly better than herself in the last two tournaments (3 hours 01 minutes 17 in 2020, 2 hours 56 minutes 15 in 2021).
The above perfect momentum helps the girl from Binh Phuoc become the golden hope of Vietnamese athletics at the upcoming 31st SEA Games at home.
In the last SEA Games, athlete Hallasgo won gold with a record of 2 hours 56 minutes 56 seconds. Obviously, this is a parameter that Ngoc Hoa can completely reach, especially when she always shows progress in each tournament.
In theory it is like that, but Ngoc Hoa herself said that she felt pressured by the great expectations of teachers and fans. However, the girl born in 2000 shared, she will be determined to turn pressure into motivation to shine on the home field.
"SEA Games 31 at home is also my first time attending such a tournament. I am very excited, proud and will strive to overcome all obstacles to achieve the highest achievement", she shared.
"Born to Run"
The short, dark-skinned girl said that when she was in school, she ran very fast, always finishing first at gym class. Seeing that the young student was gifted, the teachers immediately assigned her to the running team of the school and the district.
In 2014, thanks to the recommendation of a friend, Hoa came to compete in the athletics team of Binh Phuoc Sports Center and was accepted and has been with her ever since.
At Binh Phuoc Sports Center, under the guidance of legend Bui Luong, Ngoc Hoa progressed quickly, becoming a formidable runner in tournaments inside and outside the province.
"
I came up with running simply, like I was born to run. Up to this point, running is like my breath, every day that I don't run makes me very uncomfortable. Therefore, even when I rest, I have to "swallow" less than ten kilometers.
Athlete Hoang Thi Ngoc Hoa
"
Until now, when he is no longer a coach, coach Bui Luong still remembers the student he personally selected and fostered.
"To talk about qualities, Hoa is not an excellent athlete. She even has the disadvantage that her body is a bit thick, which is different from long runners, who are usually toned. But in return, I am very industrious, hardworking and have the will to rise," the coach acknowledged.
Assessing the starting point is not as good as his teammates, but coach Bui Luong said that, through many tournaments, Hoa has become one of the best marathon runners in Vietnam.
"Professionalsally, Hoa basically knows how to use full-body strength in important moments. At the age of 20, if I continue to practice hard and improve my tactical skills, I can improve even more than my current achievements," coach Bui Luong shared.
For her part, Ngoc Hoa also considers Coach Bui Luong to be a person who has had a great influence on her career: "He has been my guide since I was a toddler.
The teacher said that I am suitable for long distances due to my good endurance. He taught me a lot of techniques related to the legs and upper body to compete effectively and especially gave me confidence every time I entered the competition."
Eat well… champion
Born and raised in Dong Phu district, Binh Phuoc, where there is only sunshine and red basalt soil all year round, it is considered a favorable condition for Ngoc Hoa to have blessed health since childhood. In addition to having to work to support her parents while at school, the golden girl seems to be used to harsh conditions.
That's not it, she said, since the day she became a professional sportswoman, she has never had an injury. Even with a rare distance that people dare to try like a marathon, in all competitions she completes it without the concept of giving up.
To run and run well in marathon content, the requirements for physical strength, especially endurance for athletes are very great. To maintain these two factors, in addition to exercise, Hoa's diet is also very special.
"I eat according to my own menu and eat very well. This menu is taught by the instructors plus I researched it myself, focusing on protein and protein.
Every meal I can eat four bowls of rice, not to mention meat, fish, shrimp and fruit. In addition, I also add functional foods to support the body's metabolism," shared Tien Phong Marathon champion.
Because she eats very well, every time she has the opportunity to gather with friends, the female athlete born in 2000 makes her friends round and flat. However, she said, there are still exercises that are too tired to eat but still have to try to regenerate energy.
"Tiredness and loss of appetite are normal for long-distance runners. But I never skip a meal, I also try to eat when I'm tired because if I don't eat, I can't make up for the large amount of energy consumed and it's difficult to practice the next day," Ngoc Hoa said.
Also because of the special diet, Hoa said that her income from sports is not much. "I myself do not have too much need to use money because almost all year round practice and activities in the team.
However, I want to help my parents with a spacious and solid new house to replace the old house built a long time ago. For that, I have no choice but to win many tournaments."
Talking about the family, Hoa's parents are both farmers, so their family life is not rich. When she asked for a career in sports, her parents loved her but still agreed because they thought she would have a better life.
"Because of this thought of my parents, I will definitely make efforts and rise up constantly, both to create a career and to make my parents proud of me," she confided.
The 31st SEA Games athletics will take place from May 14 to 19. The marathon content is scheduled to be held on May 19, each country can register 2 athletes to participate. Ngoc Hoa and Pham Thi Hue (Quang Ninh) were chosen to represent Vietnam at this distance. Particularly Pham Thi Hong Le will move down to compete in the women's 10km event.
Vietnam has only won one women's marathon gold at the SEA Games arena, thanks to Pham Thi Binh's work in Myanmar in 2013.
Source: https://www.baogiothong.vn/chuyen-an-khoe-cua-nha-vo-dich-marathon-ngoc-hoa-d547628.htmlSource: https://www.baogiothong.vn/chuyen-an-khoe-cua-nha-vo-dich-marathon-ngoc-hoa-d547628.html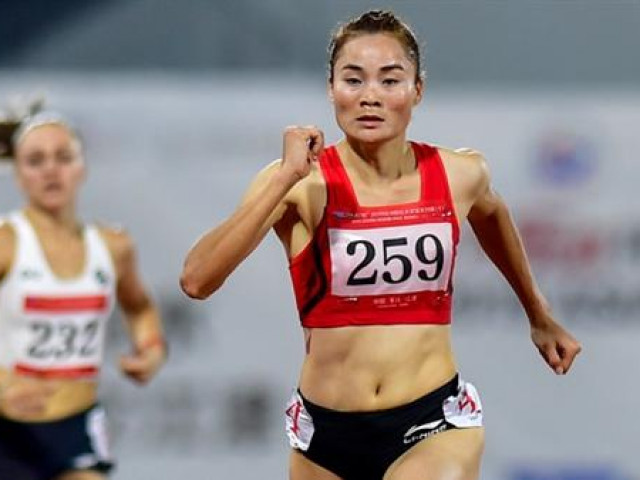 In the near future, the teams of 40 subjects participating in the 2021 SEA Games will have to close the preliminary list. Many days before, athletics – one of the gold mines of the Union…
.