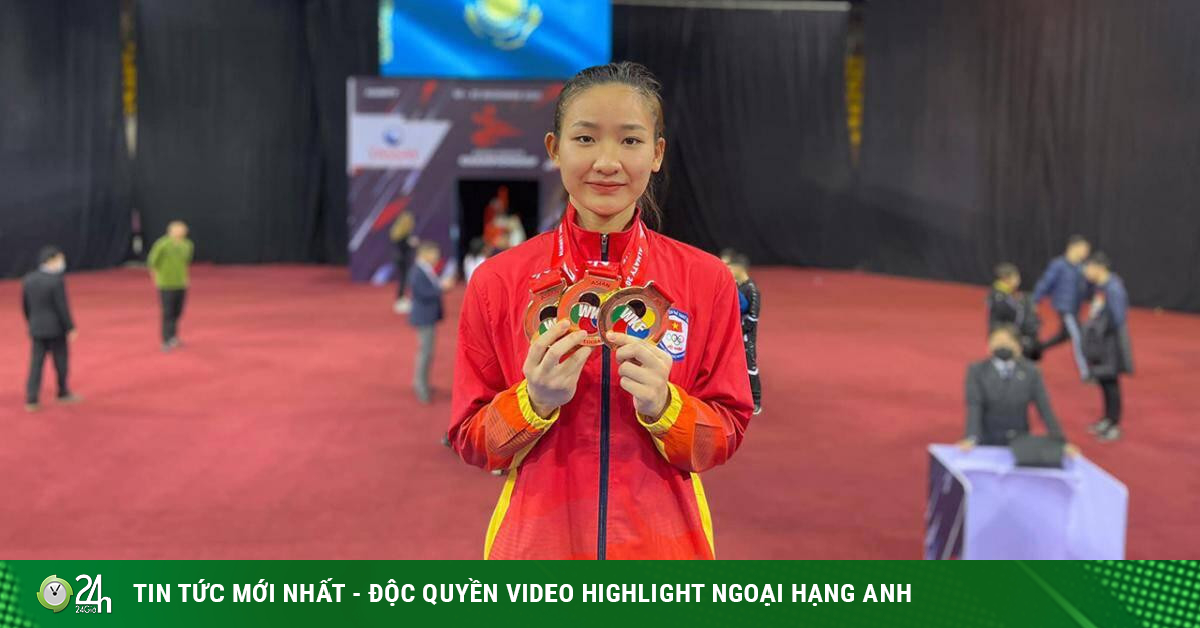 At the age of 18, Hoang Thi My Tam surprised the regional karate village with three gold medals at the Asian Championships at the end of December 2021.

The career path of this golden girl also has many special features, most notably her determination to rise up and become a talented athlete.
Hoang Thi My Tam with gold medals at the Asian tournament 2021. Photo: NVCC
Hope in the world arena
In the list of typical Vietnamese athletes in 2021, Hoang Thi My Tam is the strangest name and also the youngest name.
However, it is not a coincidence that the girl born in 2003 joined famous colleagues such as Nguyen Quang Hai (soccer), Nguyen Thi Oanh (athletics), Ho Van Y (futsal), Nguyen Thi Thu Nhi (boxing)…
At the 2021 Asian Karate Championships taking place in December, My Tam excellently won 3 gold and 1 bronze.
Notably, the girl from Ha Tinh also helped Vietnam karate to set a historic milestone when becoming the first boxer to win gold in both the fighting content for youth (U21) and adult age (55kg weight class). ) in the continental arena.
Asking Tam about the secret of such a successful competition even though it has only been two years since she competed internationally, the young girl smiled and said: "I have no secret at all, I just determined to play hard to improve my level. . Perhaps because of my relaxed mentality, I have achieved some achievements. However, I personally think that I still have many points to improve if I want to develop more in the future."
Meanwhile, teacher Vo Manh Tuan, head coach of Ha Tinh karate team, who has coached Tam since the early days, could not hide his pride with his little student: "I joined the team in 2015 and I realized that she has The most impressive and special qualities are the extremely good resilience and the serious and hard-working spirit. My classmates only practice until 17 pm, I practice until 17:30 or 18:00.
Even, there was a time when I couldn't do the movement the teacher directed, so I was ready to practice later. Thanks to that, Tam's one year of practice was equal to that of other friends who practiced for 2-3 years and right in 2016, she won a gold medal at the national tournament. We also determined a key investment for him, sending him to compete in many international youth tournaments with self-sufficient funds and he did not disappoint us with what he achieved."
Mr. Tuan also predicted, My Tam will definitely go further, but not satisfied with the current success.
"Tam is still very young, has a lot of time to aim for higher goals. It is difficult to say anything in advance, but I believe she will reach new milestones, because she always has the will to rise in practice and competition."
Head coach of the national team Le Tung Duong commented that, in addition to the fighting spirit, Tam has the ability to transform tactics very well: "I hit well with both hands, feet, swings and consecutive attacks, so when I hit the floor, I hit the floor well. I play very flexibly, surprising the opponent. From here, the coaching staff can easily make tactical adjustments to bring high efficiency."
However, Mr. Duong said that if you want the 18-year-old female boxer to be able to step up to new heights, you need strong investment in the future.
"There is no other way but Tam has to compete in many and continuously high-level international tournaments. With good investment and standard orientation, Tam will be the hope of Vietnamese karate in the regional arena, beyond the world.
A bruised childhood makes a champion
My Tam took a photo with the coaching staff after winning the Asian gold medal in the 55kg weight class. Photo: NVCC
Born and raised in Thach Ha district, Ha Tinh, Tam's childhood was like many children in the countryside. However, the difference is that, even though she is a girl, she is very active, mischievous and often likes to play with male friends.
"When I was a child, I was very naughty, more naughty than my son. What, running, climbing walls, climbing trees with me is regular. Because of that, I fell countless times, torn clothes, scarred limbs. My father still said that the midwife must have mistaken me for a girl," recalled the Asian karate champion.
Being active, Tam loves to play sports and is always the "nucleus" of the class during each school-level health and fitness festival.
The girl born in 2003 said, she can play many different sports from football, volleyball to track and field, tug of war, but especially likes martial arts.
"That day near my house, there was a sister who practiced karate, I often followed her to class and was fascinated by the decisive and powerful movements. When I was in 7th grade, I asked my parents to let me join the school karate club. In the same year, the teachers in the Ha Tinh karate team became the chief of staff, I was selected after the test and from there, I started moving away from home to the center of activities and training", the Nghe girl shared.
In the early days of getting acquainted with the professional sports environment, Tam said that she found it very difficult, especially with physical exercises.
"At school, I just practiced for good, but once I joined the team, everything had to follow the pattern. Many training sessions are so tiring, I always lie on the floor when I have a break, but then everything gets used to it. As for today's injury here, tomorrow's bruises elsewhere, it's normal because karate is a fighting martial art. Up until now, I really can't remember how many times I've been injured.
I am lucky when my parents are very supportive and encouraging me from the time I was a toddler to karate until later. Once, when I felt too pressured by my achievements, I wanted to leave the team to go home, but when I called, my father encouraged me to persevere in pursuing my chosen path. So I was determined to stay and get where I am today", the female athlete born in 2003 confided.
My Tam added that, after being away from home for many years, she was used to being independent, but every time her parents sent gifts, her heart would return: "I'm an adult, but my parents still take care of every little bit. Always afraid that the girls on the team won't eat enough, so they send supplies every few meals for a fortnight. My parents sell pork, so all kinds of sausages and rolls are sent the most. Other times it is rice paper, dried beef or fruits. Every time I receive the result, I miss home and miss my parents so much."
Tam's family situation at home is not difficult, his parents did not ask him to help financially, but since he has a salary and later bonuses, Tam has saved all of his money and sent it to his parents: " I don't spend any money other than trinkets. I don't even need to dress up, so it's easy to buy clothes, mainly sportswear. Usually, I save my salary and bonus until the end of the year and bring it back to my parents. My parents told me to keep it for me until I get married, then I will pay it back" (Laughs).
"In karate, the expertise at the youth level is completely different from the adult level. It is extremely rare for an athlete to win gold at both levels. It's even more remarkable that Tam's opponent in the final has won the Asian championship many times, surpassing me in terms of battle experience."
Coach Le Tung Duong
"I have many teachers who have trained me, each of whom cares, helps and teaches me in a different way. But the most impressive to me is probably Ms. Pham Hong Ha, head coach of the national youth karate team. Between me and you is not only a teacher-student relationship, but also like a mother and daughter, you are the place where I can talk about everything. The years of being guided by her are also an important stepping stone for me to rise."
Hoang Thi My Tam
Source: https://www.baogiothong.vn/chuyen-nu-vo-si-18-tuoi-lam-nen-lich-su-cho-karate-viet-nam-d538376….Source: https://www.baogiothong.vn/chuyen-nu-vo-si-18-tuoi-lam-nen-lich-su-cho-karate-viet-nam-d538376.html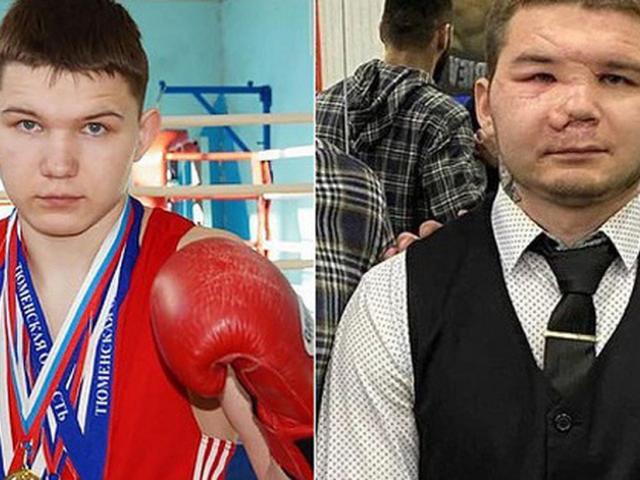 (Sports news, martial arts news) After a terrible fight with a fierce bear, the male boxer's face was so deformed that no one recognized him…
.