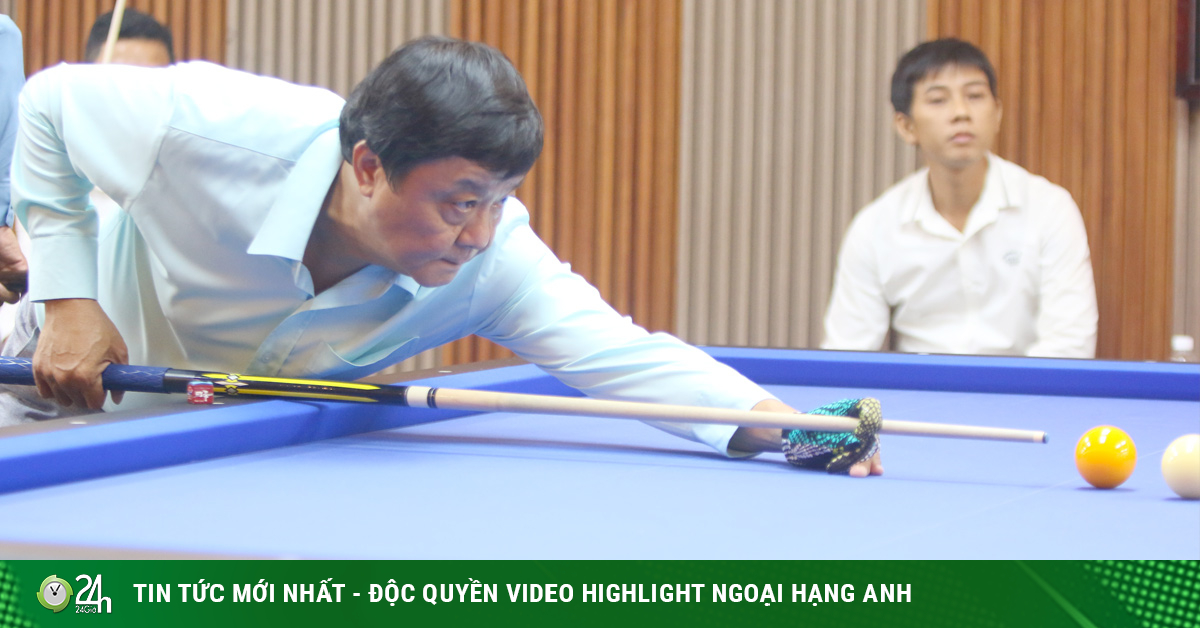 (Sports news, billiards news) 57-year-old player Tran Ty excelled in scoring all 60 points in the super-difficult Cadre 47/2 category to win an important victory at the Royal Championship, the tournament with the most money. up to 400 million dong is going on in Binh Duong.

The excellent 60 points of the old general Tran Ty before Nguyen Phong (Source: VuiVui TV)
Cadre 47/2 is a variation of Billiards Libre (free) that limits hits to two target balls that are located close to each other with squares drawn on the playing field making it difficult for players to create large series compared to other balls. with regular Libre. This is a rather difficult genre but has extremely high appeal.
57-year-old veteran Tran Ty played impressively at Tour 1 Royal Championship with a shot that scored all 60 points to end the match.
Therefore, the Royal Championship tournament held in the Cadre 47/2 category with the form of 3 sets of 2 wins, 60 points each set received the participation of a large number of domestic players. Especially, this is the first time, Vietnam has a Cadre 47/2 Billiards prize organized in the form of a Tour.
Specifically, Royal Championship has a total of 5 Tours with a total prize value of up to 400 million VND and has ranking points for participating players. At the end of the first 4 tours, the 32 players with the highest scores on the chart will enter the final tour with an expected championship of nearly 100 million VND, a record number of the Vietnamese billiards village.
This old master mechanic has a main job as a curtain business and has never had the grace to be crowned in movement tournaments even though he has played billiards for many years.
In particular, the first tour kicks off from March 26-28 in Thu Dau Mot city, Binh Duong province with about 110 players participating. On the first day of competition on March 26, 57-year-old veteran Tran Ty shocked when he defeated two strong opponents, Nhat Truong and Nguyen Phong, respectively, to be in the top 16 of the strongest players in the tournament.
Especially in the match with Nguyen Phong in the 32nd round, the player born in 1965 excellently scored 60 points in just one hit in the decisive 3rd set to win the final. It is known that the old general Tran Ty has the main job of selling curtains. He has been playing billiards for many years but has never won a tournament, whether it is a movement or a national tournament.
"King of billiards though" Minh Quan won a dramatic victory over SEA Games champion Tran Phi Hung
Besides, it is impossible not to mention the dramatic super classic match in round 32 between "King of billiards" Nguyen Cao Nhan Minh Quan and SEA Games champion Tran Phi Hung. In the first set, Phi Hung was led by Minh Quan 25-30 after 5 turns. Immediately afterwards, Phi Hung suddenly launched a series of 35 points to straighten the first set with a difference of 60-30.
Starting set 2, Phi Hung continued to be led 15-31 by Minh Quan after 3 turns. This time, "King of billiards though" made no mistake when launching a shot that scored 29 points to win 60-15. In the deciding set, Phi Hung decided to score 11 points. Minh Quan responded with a 28-point hit. After Phi Hung shortened the gap to 23-28, Minh Quan immediately had another 30-point series leading 58-23, before ending the super classic match with a score of 60-25.
Hoang Viet (nickname Viet Can Gio) shows extremely high performance
In addition, another player who also showed extremely high performance on this competition day is Hoang Viet with victories like "chipping bamboo" with the same score of 2-0 within just 3-4 turns against opponents. other to receive hot rewards from the organizers.
With this result, Minh Quan's opponent in the quarter-final match taking place on March 27 is the old general Tran Ty. This next competition day will have matches in the remaining 2 CD groups with a series of players playing together such as Nguyen Long (Long Nho), Vo Phuoc Thanh (Thanh Thoo), two record-holders Nguyen Huu Tu. (Tu Mo), Do Minh Dong (Dong Map) and SEA Games 30 runner-up Pham Canh Phuc.
Source: https://tcdulichtphcm.vn/the-thao/ong-chu-ban-rem-cua-gay-soc-tai-giai-bi-a-tien-thuong-khung-o-…Source: https://tcdulichtphcm.vn/the-thao/ong-chu-ban-rem-cua-gay-soc-tai-giai-bi-a-tien-thuong-khung-o-binh-duong-c28a28427. html
(Sports news, billiard news) Two representatives of Vietnam, Nguyen Huynh Phuong Linh and Ma Minh Cam, both unfortunately stopped in the 1/8 round of the PBA World Championship 2022 before the…
According to Le Phong (Ho Chi Minh City Tourism Magazine)
.