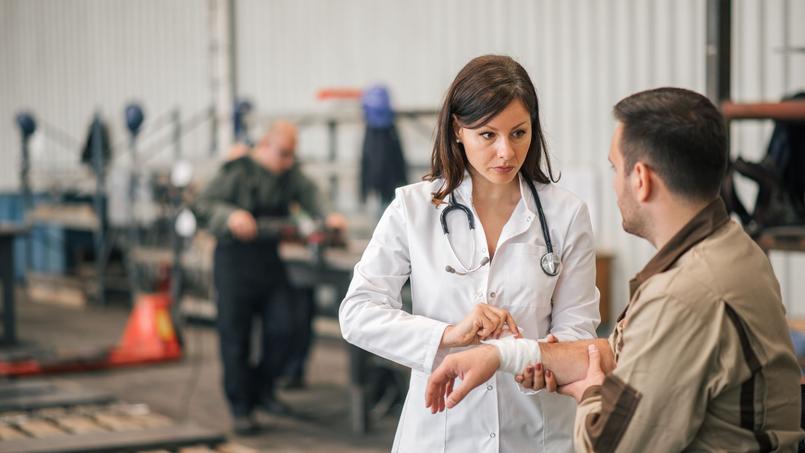 Interface between management and staff, this specialist in the prevention of work-related risks preserves the health of employees throughout their professional career.
Difficulty, health risks, harassment … The occupational physician is on all fronts, including in the face of Covid-19, since he is authorized to vaccinate volunteer employees. However, he is a doctor who does not treat: he does not provide care, does not issue prescriptions, or sick leaves.
Since the law of October 11, 1946, which makes the creation of occupational medical services financed by employers and accessible to all employees compulsory, it has practiced preventive health. It is then easy to caricature his role and accuse him of being on the "side of the employer". It would be an insult to him.
Even if his missions are provided for by the labor code, the occupational doctor is above all a doctor, independent in his decisions, even if he is bound in his professional practice by a contract or a statute to an administration, a community or any other public or private body. It should be noted that a new law aimed at "strengthening prevention in occupational health" should come into force no later than March 31, 2022.
READ ALSO »Occupational physicians at the bedside of managers
1) Preventive action
The role of the occupational physician is exclusively preventive. It consists of preventing any deterioration in the health of workers, in particular by monitoring their hygienic conditions at work, the risks of contagion and their state of health. Within the occupational health services, and with the support of a multidisciplinary team that he coordinates (nurses, psychologists, ergonomists, toxicologists, etc.), he leads health actions, with the aim of preserving health physical and mental workers throughout their professional career. He monitors their state of health according to their age and occupational risks.
As such, he examines them, makes diagnoses, prescribes the additional examinations necessary, for example to determine the compatibility between the workstation and the state of health, or to detect an occupational disease. The occupational physician also offers solutions to keep workers in employment, for example, he helps disabled employees to adapt their workstation. It also contributes to the traceability of health exposures and to health monitoring. Notably, the employee cannot choose his occupational doctor.
To know: Depending on the size of the company, the occupational health service is provided either by one or more company doctors, or by one or more doctors common to several companies, or an inter-company health service.
READ ALSO » More than 10,000 "mental" accidents at work per year in France
2) An advisory mission
The occupational physician advises employers and workers on the necessary measures to control occupational risks, improve working conditions, prevent addictions (alcohol and drugs), sexual or moral harassment, hardship at work ( chemicals, repetitive gestures, handling …).
To accomplish these missions, he has free access to the workplaces and may be required to make visits there, on his own initiative or at the request of the employer or the Social and Economic Committee (CSE). In principle, a third of his working time is devoted to actions in the workplace. In particular, he is responsible for drafting and updating a company file that he sends to the employer. This document mentions the company's occupational risks and the workforce exposed to them. He also drafts an annual activity report, notably informing the CSE and the employer of the company's occupational risks.
To know: It is subject to medical confidentiality. Secrecy covers everything that has come to the knowledge of the doctor in the exercise of his profession, that is to say not only what has been entrusted to him, but also what he has seen, heard or understood. Therefore, he does not have the right to transmit to the employer medical information concerning the employee.
READ ALSO »Playing sports in a polluted city: good or bad idea?
3) Information and prevention visit
The occupational physician – or a nurse – meets the employee during the information and prevention visit (VIP) which replaced the hiring medical examination. During this visit, he asks him about his state of health, informs him of the possible risks related to his workstation and the means to prevent them and informs him of his right to benefit, at any time, from a visit at his request with the occupational physician. It also constitutes the employee's occupational health medical file. At the end of the visit, he issues him a follow-up certificate. This visit is carried out at most 3 months after the date of hiring (or before hiring for minors and night workers), unless it has already been carried out during the previous 5 years.
A visit must then be carried out at least every 5 years in general. For disabled workers, workers with an invalidity pension, and night workers, the maximum period between two visits is set at 3 years. Employees exposed to certain risks (asbestos, lead, carcinogenic agents, hyperbaric risk, etc.) benefit from other medical examinations for their reinforced individual follow-up: medical aptitude exam every 4 years at most and intermediate visit every 2 years .
To know: Visits ending no later than August 2, 2021 and postponed due to Covid-19 must be held before August 2, 2022.
READ ALSO » Cancer: is continued employment desirable?
4) The recovery and pre-recovery visits
The employee must meet the occupational physician each time he resumes his activity following a health problem. The return visit is carried out when he returns after a work stoppage of at least 30 days due to illness or accident at work, after a sick leave (regardless of its duration), after maternity leave . It must take place, at the latest, within 8 days of the employee resuming work, and aims to ensure that his position is compatible with his state of health, to propose adjustments if necessary, or even his reclassification on another post. The pre-resumption visit is organized by the occupational physician at the request of the employee, his or her attending physician or the social security advising physician for a stoppage of more than 3 months.
To know: The medical examinations carried out by the occupational physician are carried out during working time, without deduction of wages. Otherwise, they are remunerated as actual working time. The transport costs and all other costs that may result from the medical examination are borne by the employer.
---
Occupational medicine: vocations crisis
With less than 5,000 medical specialists in occupational health for 25 million employees, France is suffering from a real shortage. And, there are more departures from the profession than entries. The balance of entrants and exits between 2010 and 2019 is eloquent: – 832 occupational physicians, according to the National Council of the Order of Physicians. In addition, the majority of occupational physicians are over 55 years old. The profession suffers, in fact, from a vocations crisis. Blame it on a devalued image and ignorance of medical students, who hardly hear about this specialization during the clerkship. It is only after the sixth year that the future practitioner learns the specificities of his profession and this, during his 4 years of internship specializing in occupational medicine.
.