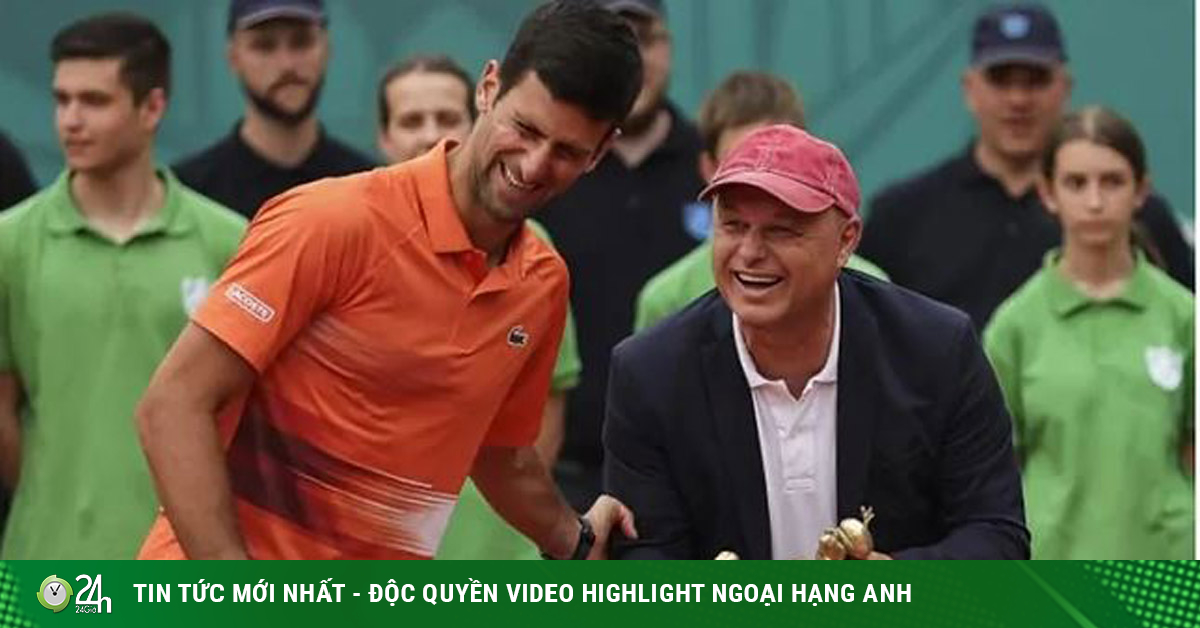 (Sports News) Not long after parting ways with coach Marian Vajda, world No. 1 male tennis player Novak Djokovic will soon confront his old teacher who has had great merit in helping him develop his career.

Djokovic soon confronts his old teacher at Roland Garros
Video of the match between Novak Djokovic and Yoshihito Nishioka in the first round of Roland Garros 2022:
Novak Djokovic has just had a smooth start on the journey to defend his Roland Garros title when he defeated Yoshihito Nishioka 6-3, 6-1, 6-0. The world No. 1 tennis player from Serbia will face Alex Molcan in the second round of this year's tournament at 7pm tonight (May 25, Vietnam time) at Suzanne Lenglen court.
Coach Marian Vajda, former teacher of Novak Djokovic is leading Alex Molcan, the opponent Nole will face tonight in the second round of Roland Garros 2022.
Notably, the 24-year-old Slovakian tennis player Alex Molcan is currently led by coach Marian Vajda, the old teacher who has coached Novak Djokovic for many years and helped Nole reach the peak of his career.
Speaking about breaking up with Djokovic not long ago, coach Vajda said: "Novak (Djokovic) only wanted a single coach and he chose (Goran) Ivanisevic. He wants to focus on the Grand Slam tournaments and it doesn't make sense for a coach to just prepare him to focus on those tournaments because I think he needs a longer journey."
Nadal shines at the door of 300 Grand Slam wins, chasing Federer and Djokovic
Video Rafael Nadal easily defeated Jordan Thompson in the opening match at Roland Garros this year: 5th seed Rafael Nadal has just started well at Roland Garros 2022 when he won 3 sets with Jordan Thompson with a score of 6-2 after 2 hours and 2 minutes of play.
If he defeats Corentin Moutet (the French host has just eliminated Stan Wawrinka) in the match scheduled to take place at 1:45 a.m. on May 26 on the main court Philippe Chatrier, "King of Clay" Nadal will have a total of 300 victories in the tournament. Grand Slam tournaments. Before that, only Roger Federer (369) and Novak Djokovic (323) had achieved such a respectable number of Grand Slam victories in their careers.
Former Ukrainian boxing champion died while serving in the army to defend his homeland
According to Marca, Oleg Prudky – a former Ukrainian amateur boxing champion who died at the age of 30 yesterday (May 24) while he was fighting in the special forces of the Cherkasy Police to protect defend their homeland Ukraine against the war waged by Russia.
The Cherasky Boxing Federation announced the sad news in an Instagram post: "Another tragedy in our boxing family has just arrived. One of the best boxers from the Cherkasy region, Oleg Prudky, died fighting in the East. The boxing family of the Cherkasy region sends its sincerest and deepest condolences to his family and friends. Please rest in peace!"
Stunned: Russian child player assaulted 2 referees right on the hockey field
Video of child hockey player Artemi Akshumov hitting two referees on the ice:
Recently, the news site RT (Russia) has just posted a shocking video clip recording a 10-year-old Russian hockey goalie boy named Artemi Akshumov punching his stomach, then hitting his back with a stick, then swinging his arm. punch one referee in the face before hitting another with a stick.
The incident happened just five minutes before the end of a match at a children's hockey tournament in Kurganovo, just outside Ekaterinburg (Russia).
Child goalkeeper Artemi Akshumov hit two umpires on the hockey field
At that time, the hockey team of the 19th Ekaterinburg Youth Sports School, Artemi's team was losing 1-10 to the opponent and the boy was "crazy" when the referee punished him for pretending to fall. Severe punishment probably awaits Artemi.
Brazilian female volleyball star banned for 4 years because of doping scandal
After the trial lasted until 8 hours on Monday (May 23), the Court of Justice of Anti-Doping Sports sentenced the Brazilian women's volleyball team to a 4-year ban from playing Tandara Caixeta because of the results of the trial. test positive for a stimulant.
Accordingly, the 33-year-old player was tested on 7/7 last year at the training center of Brazil in Saquarema (southeast state of Rio de Janeiro) and the results announced on August 5 showed that her body had the presence of ostarine, a banned substance in the Brazilian doping list.
Being positive for doping caused Caixeta to miss the semi-finals of the Tokyo Olympics when Brazil beat South Korea 3-0 and then also did not attend the final when her team lost to the US in 3 sets. Caixeta announced that he will appeal to the end of the 4-year ban to vindicate himself.
Source: https://tcdulichtphcm.vn/the-thao/nong-nhat-the-thao-sang-25/5-djokovic-som-cham-tran-thay-cu-o-…Source: https://tcdulichtphcm.vn/the-thao/nong-nhat-the-thao-sang-25/5-djokovic-som-cham-tran-thay-cu-o-roland-garros-c28a32298.html
(Tennis video, tennis results, Facundo Bagnis – Daniil Medvedev, first round of men's singles Roland Garros 2022) Second seed Medvedev showed that even though he had to play on clay, he still…
According to Dang Duc (Synthesis) (Ho Chi Minh City Tourism Magazine)
.