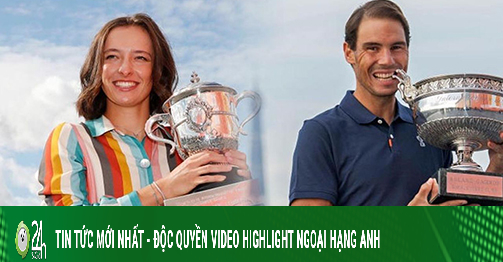 (Sports News) Andy Murray recently confirmed that he will attend the Laver Cup in the European squad, along with Nadal and Federer.

Murray teamed with Federer, Nadal in Laver Cup
The Laver Cup team tennis tournament will take place in London from September 23 to September 25 this year. Like every year, there are 2 teams participating in the tournament, the European team and the World team. This year's European team will feature Andy Murray, a former Wimbledon champion and three-time Grand Slam winner. Murray will team up with Nadal and Federer.
Meanwhile, the World team has also confirmed the first 3 players to attend, which are Taylor Fritz, Diego Schwartzman and Felix Auger Aliassime.
Expected 155 members to attend ASEAN Para Games 11
On June 29, information from the General Department of Physical Education and Sports (Ministry of Culture, Sports and Tourism), the 11th Southeast Asian Para Games (ASEAN Para Games 11) will take place at Indonesia from July 26 to August 7 with 14 sports (907 contents). Athletes from the Vietnam Disabled People's Sports Delegation have carefully prepared and determined to compete with high achievements to accumulate points and qualify for the Paris 2024 Paralympic Games.
According to the General Department of Physical Education and Sports, the Vietnam Paralympic Association, the number of members of the Vietnam Sports Delegation is 155 people, including: 122 athletes; 18 coaches, 2 doctors, 13 union officials. The delegation will participate in 8 sports: Athletics, Swimming, Weightlifting, Badminton, Table Tennis, Chess, Judo and Archery.
The world's number 1 "pink ball" praises Nadal for being extraordinary
1 female tennis player in the world, Iga Swiatek recently said that Rafael Nadal is an example for all tennis players in the world to learn. Besides, the Polish star affirmed that what Nadal has done in his career is the most extraordinary thing possible for a sports athlete.
Nadal receives admiration from Swiatek
"It's unbelievable what Nadal has accomplished so far. I watched the Australian Open final live earlier this year. I could see him maintaining his strength and determination at the highest level. Nadal is a great inspiration to me and other players. The way he deals with injuries is also extraordinary, "swiatek shared.
Rumors of McGregor rematch with Mayweather denied
An anonymous source believed to be close to Conor McGregor has officially denied rumors that he could rematch Floyd Mayweather in the MMA ring once the Irish boxer returns. This rumor comes from a YouTube channel that has ties to Mayweather, but the source said that fight will not take place.
McGregor vs Mayweather in 2017
Isner reveals he avoids court 18 at Wimbledon
John Isner said he still has a "nightmare" with the 18th court at Wimbledon because this is the court where he had the longest match in tennis history against Nicolas Mahut in 2010. After defeating Enzo Couacaud in the first round, Isner "I lost five sets at that court but won today. I can't ask myself to play on another court, but I always pray that I won't have to return to this one."
Ronda Rousey is not sure to return to the UFC
Ronda Rousey is currently on the payroll for the wrestling company WWE but has told Dana White that she will return to the UFC if she can face Gina Carano, who is now retired and turned to acting. However, Carano responded that she has no intention of confronting Rousey: "In the next 6 months I will have a lot of work to do so I can't say anything. I thought maybe Ronda would be invited to play in one of my movies."
Kyrie Irving will stay at the Brooklyn Nets
In a disappointing news for Brooklyn Nets fans, star defender Kyrie Irving will stay at the team to enjoy a salary of $ 37 million in the 2022/23 season. Irving angered fans last season by refusing to play because he refused to get vaccinated against Covid-19, and when he returned, he played quite badly, causing the Nets to be eliminated early from the first round of the playoffs. Irving has in the past few years been branded as a "crazy guy" for believing that the Earth is a flat surface and that vaccines contain chips to track other people.
Source: https://tcdulichtphcm.vn/the-thao/nong-nhat-the-thao-toi-29/6-murray-chung-doi-federer-nadal-ol…Source: https://tcdulichtphcm.vn/the-thao/nong-nhat-the-thao-toi-29/6-murray-chung-doi-federer-nadal-o-laver-cup-c28a34253.html
(Tennis live, Rafael Nadal – Francisco Cerundolo, first round of men's singles Wimbledon 2022) Nadal had an important break at the end of the first set to take the lead.
According to QD (General) (Ho Chi Minh City Tourism Magazine)
.