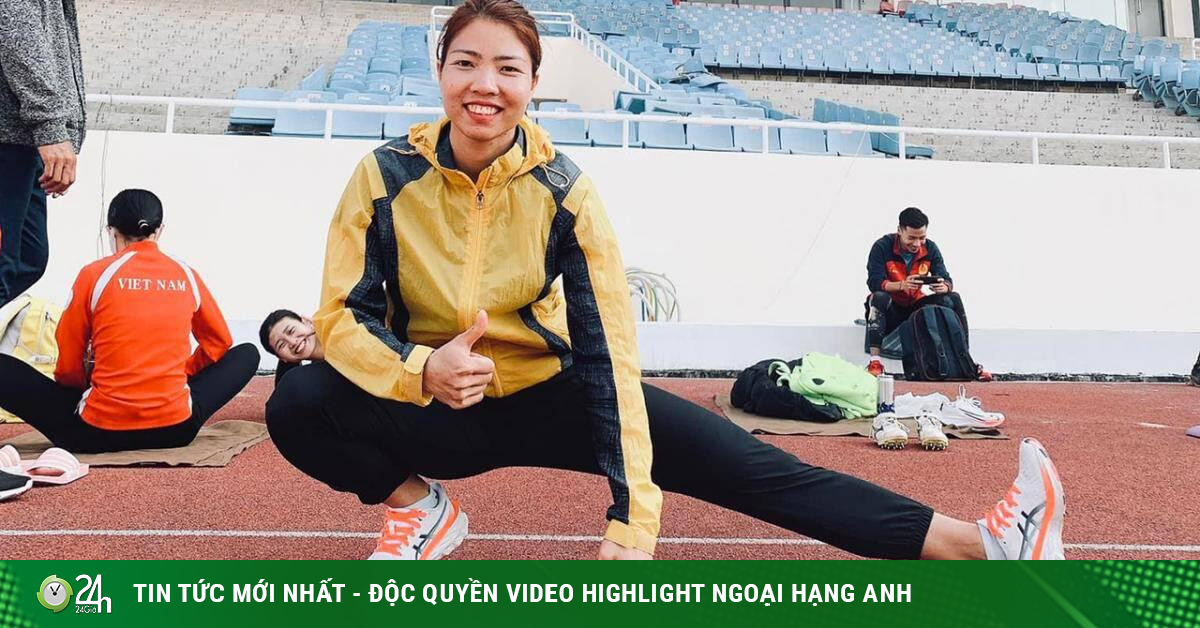 After two years of injury treatment and childbirth, long jump athlete Bui Thi Thu Thao has come back strong.

She affirmed, the gold medal at the National Athletics Championships in 2021 is the premise for her to aim further at the 31st SEA Games at home.
Thu Thao warms up before entering the competition at the National Championships in Athletics 2021
Double goal at SEA Games 31
Usually, women after giving birth return to work that requires a lot of effort. For athletic girls, that effort must be multiplied many times over.
And the story of former SEA Games 29 long jump champion Bui Thi Thu Thao, who returned to the sandpit after two years of recovering from injury and fulfilling her motherhood, is a typical example.
Vietnamese athletics fans in general, and long jumpers in particular are no strangers to Thu Thao. In 2018, she became the first Vietnamese athlete to win gold at the Asian Games (ASIAD).
She also won the gold medal at the 29th SEA Games held in Malaysia in 2017 along with many other impressive achievements.
However, in 2019, on the eve of the 30th SEA Games (Philippines), she withdrew from the team to completely treat a knee injury and give birth to her first daughter.
After two years away from the jumping hole, at the end of 2021, the girl from Ba Vi, Hanoi re-appeared and immediately made an impression with a gold medal in the long jump at the National Athletics Championships with a record of 6m27.
She confided that this achievement is still far from what she has done at ASIAD 2018 (6m55) and SEA Games 29 (6m68), but it is the result of great efforts.
"After giving birth, my physical strength dropped a lot, my endurance and strength were not as good as before. However, I am still young and have many ambitions to fulfill, so I decided to give it a try."
The female athlete, born in 1992, added that when she first re-appeared, she had many difficulties in pursuing the lesson plan: "I lost my breath when practicing with young children, sometimes I felt discouraged and wanted to give up, but then I I think I can't let go, I have to try my best because now I have a baby. I want her to know how strong her mother is in the future.
That thought helps me persevere every day and gradually get into the rhythm of the intensity of training. In addition to the general lesson plan, I take advantage of getting up early in the morning to practice more, and also practice more in the evening to catch up with my teammates."
The hard work of the mother of one child finally helped her get the gold medal of the National Athletics Championship as mentioned at the beginning of the article.
Before participating in the National Athletics Championships, she had to take a break for 2 months, only practicing for 2 months due to the Covid-19 epidemic, and the dancing was not as good as expected. "I will work hard to improve my performance at the 31st SEA Games," she asserted.
According to experts, if she practices well, Thu Thao is completely capable of competing for the SEA Games gold medal.
However, because she has not competed internationally for more than 2 years, she cannot grasp the strength of her opponents. Besides, she also has problems with her kneecap, having to limit exercise in the past few days.
"I am working hard every day to come back, sooner or later, if not, it will be difficult to ensure high results," the long jump queen shared.
The 29th SEA Games champion also said that, in addition to aiming for good results at the home tournament next May, she also set a goal to surpass the ASIAD standard of 6m35: "This is the goal I am required to achieve. achieve. At the age of 30, I don't have many opportunities to compete in Asia's No. 1 playground. I yearn to burn myself out one more time."
"Trying to please Dad"
The moment Thu Thao celebrates gold at ASIAD 2018
Also in the conversation, the writer learned that Thu Thao's father had just passed away not long ago due to illness. She said it was such a big shock that she wanted to give up everything, including her career.
"Four days before my dad passed away, I started to hurt my leg. I thought if my father died, my road to sports would end. But then I thought, when I was alive, my father's only wish was for me to live with passion and be happy.
Dad was the one who encouraged me to pursue this path when I was a toddler, lifted me up when I fell, became a great source of strength for me to overcome all challenges.
In response, I always try to make my dad proud of me. This time too, I told myself to keep moving forward so that my dad could be at ease at the top. Although my father is no longer in this world, I believe he will smile when he sees his daughter's success, "Thao confided.
If the father is the past, the daughter is the present of the female athlete born in 1992. She said, since the day she had a child, her life has become busy but also full of laughter. She also understands more about the merits of the birth.
"I feel like my child is like my second life, what I do for him is what I have received from my parents," the former SEA Games champion shared.
However, the girl who helped famous Vietnamese athletics soon had to send her children to her parents-in-law to return to top sports. Although it was less than 60km from Nhon National Sports Training Center, due to the influence of the epidemic, Thao rarely had the opportunity to visit her children during her re-export.
"I miss you so much, but I still have to work hard to practice. It's okay during the day, at night nostalgia will rise strongly, remember to cry. I limit video calling home because when I see my child, I just want to rush out of the Center door. The days when I heard that my child was sick and had a fever, I could hardly sleep.
Now, the epidemic prevention and control regulations have been relaxed, but I have entered the sprint to prepare for the SEA Games, so I cannot often go home.
When I'm tired and can't exercise, I always think of my child, bring my child's picture to see, mother's love has given me strength. I will have to work harder for her to have a good life," said Thu Thao.
About athlete Bui Thi Thu Thao
– Born on April 29, 1992 in Ba Vi, Hanoi.
– Height: 1m64, weight: 58kg.
– Notable achievements:
+ Gold medal in the long jump at the 2016 Asian Beach Games.
+ Gold long jump at SEA Games 29 2017.
+ Gold long jump at the Asian Athletics Championships 2017.
+ Gold long jump at the 2018 Asian Indoor Athletics Championships.
+ Gold medal in the long jump at the 2018 Asian Games (ASIAD 2018).
Source: https://www.baogiothong.vn/khao-khat-chay-cua-nu-hoang-nhay-xa-thu-thao-d548448.htmlSource: https://www.baogiothong.vn/khao-khat-chay-cua-nu-hoang-nhay-xa-thu-thao-d548448.html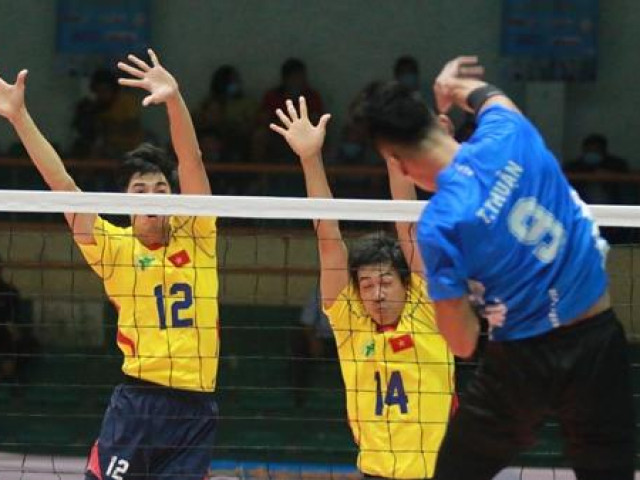 If setting the target of ranking 2nd in the whole team of Vietnamese women's volleyball is considered appropriate when Thailand is too strong and Indonesia is only at the challenge…
According to Thanh Ha (Traffic Newspaper)
.