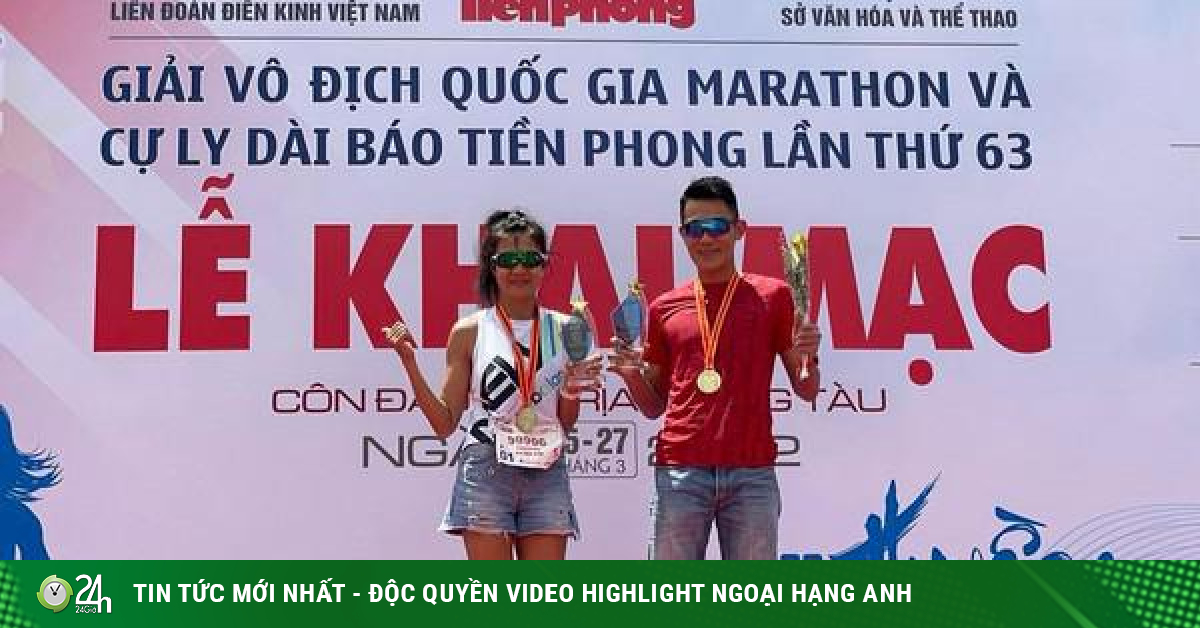 Mr. Dong Dinh and Ms. Thu Trang are a couple of "elite" athletes, especially in the 63rd Tien Phong National Marathon and Long Distance Championship in Con Dao.

In Con Dao, Mr. Dinh completed the marathon with a time of 2 hours 56 minutes 35 seconds, ranked first in the age group over 45 men and ranked 5th overall. More amazingly, Mr. Dinh is the only athlete of the 7X generation in the Top 10 movements, in the middle of the "encirclement" are young healthy young adults of the 8X and 9X generations.
Meanwhile, Thai Thu Trang's wife reached the finish line after 4 hours 3 minutes and 2 seconds, the champion of the over 45 female age group and ranked 10th overall. This couple is also probably the first couple in the history of Tien Phong Marathon (TPM) to win the championship of the age group and in the Top 10 final movements of men and women.
7X super family: The couple ran the Vietnamese record marathon
On the S-shaped strip of land, it's rare for a couple to both have such a good marathon record in the same race or in the same year. Mr. Dinh and Ms. Trang are recognized by the running community as the 7X couple running the fastest Vietnamese marathon since the Breaking 330 tournament organized by the Chay365 club 2 years ago in Hanoi.
At that time, the marathon completion time of the couple "husband sub3, wife sub4" was 2:53:57 and 3:57:32, respectively. Sub3 (complete a marathon under 3 hours) and Sub4 (complete a marathon under 4 hours) are very difficult milestones for Vietnamese athletes in general and people over 40 years old in particular because it requires training. Practice persistently and seriously.
Earlier this year, the duo's performance continued to improve when both husband and wife had PR (personal records) at the Breaking3 event (2:45:45, 3:47:36). In addition, the 7X "superhero family" also stormed a series of other races such as VNE Quy Nhon 2019 (both husband and wife were second in age group), VPB Hanoi Marathon 2019 (both age group champions).. .
Inspired by their parents, both sons of the 7X couple are also passionate about sports and love to run. This family of 4 members once went to the podium to receive the award at an ekiden relay race held in Hanoi.
Practice jogging for … aggressive and to improve health
"I have been playing sports for a long time, but I don't focus on any sport, just aim to develop balance. Before coming to running, my husband and I practiced swimming, tennis, and gym together. In addition, I also practice aerobics, Group X, and Yoga.
I meditate before I run. When I was 38 years old, the doctor told me that I couldn't exercise much due to knee degeneration and disc bulging, but the more I ran, the stronger I became, so I have stuck with this simple sport until now", Ms. Trang, now is a fashion store owner, share.
Recalling the early days of running, Dinh did not seem to believe in the running results he had achieved in Con Dao. "About 4 years ago, a group of friends with the same passion for trekking invited us to run a trail at the Vietnam Jungle Marathon in Pu Luong (Thanh Hoa). At that time, I thought I was very strong, but when I ran to the top of the mountain "spear nose", I had to breathe and open my mouth, I was overtaken by the female athlete but couldn't follow, then I knew where my limit was, "said the champion. age group over 45 male happily said.
"Both husband and wife are aggressive, so they immediately started practicing kindness. Our house is near West Lake, so we often go out for a run. After that run, I felt like I was full of life and eager to run many major marathons and ultra trails abroad if the Covid epidemic did not come, "said Trang.
When he was still a "new mat", Mr. Dinh once missed the opportunity to receive a prize at the running race in Ho Chi Minh City in 2018 when he won 3rd place in the age group over 40. "At that time, I didn't know the concept of standing on the podium like that. Anyway, I was busy taking pictures with my wife, but didn't pay attention to the organizers calling my name to receive the award." After nearly 4 years of running, Dinh has lost up to 17kg and is currently maintaining at 65kg.
Run the Tien Phong prize to…remember your wedding day
In recent races, between Mr. Dinh and Ms. Trang, there is always an implicit competition for the title and final ranking. Two people often register for the same distance to compete high and low. The match at TPM Con Dao is no exception when witnessing the couple runner "eight pounds, half pounds" on the marathon track.
"We compete with each other to stay motivated to train. Running has brought us more joy than other sports. We run for our own pleasure, have spent a lot of time training hard and also look forward to playing this sport for a long time."
The 63rd National Marathon and Long Distance Championship took place as well as the "elite 7X" couple celebrating their 20th wedding anniversary. A habit of both has just formed since participating in Tien Phong Marathon.
"We often do not notice, forget the wedding day because for both, every day is an anniversary. Thanks to Tien Phong's reminder at the end of March every year, we are 'forced' to remember this date. Since we heard that TPM was held in Con Dao, we booked our flight tickets and hotel early so everything went smoothly. We had great days with Tien Phong Marathon and Con Dao", happily revealed Ms. Trang.
Source: https://tienphong.vn/cap-doi-7x-chay-marathon-nhanh-nhat-viet-nam-chay-giai-tien-phong-de-nho-ng…Source: https://tienphong.vn/cap-doi-7x-chay-marathon-nhanh-nhat-viet-nam-chay-giai-tien-phong-de-nho-ngay-cuoi-post1428746.tpo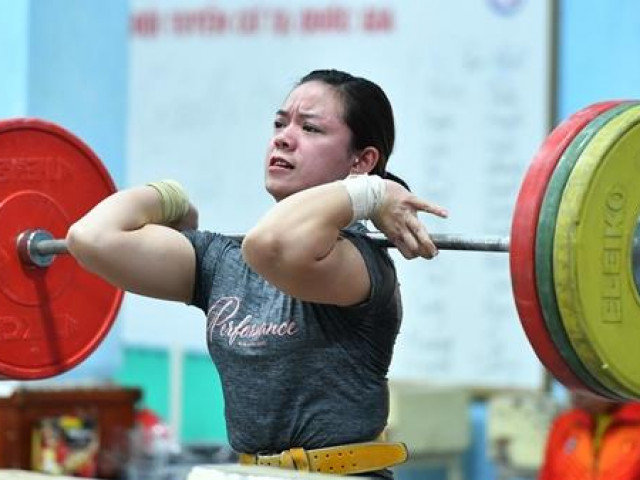 At the 30th SEA Games in the Philippines, Vietnamese weightlifting suddenly won first place in the whole team. But, to reproduce that at home will be an impossible task for the…
.