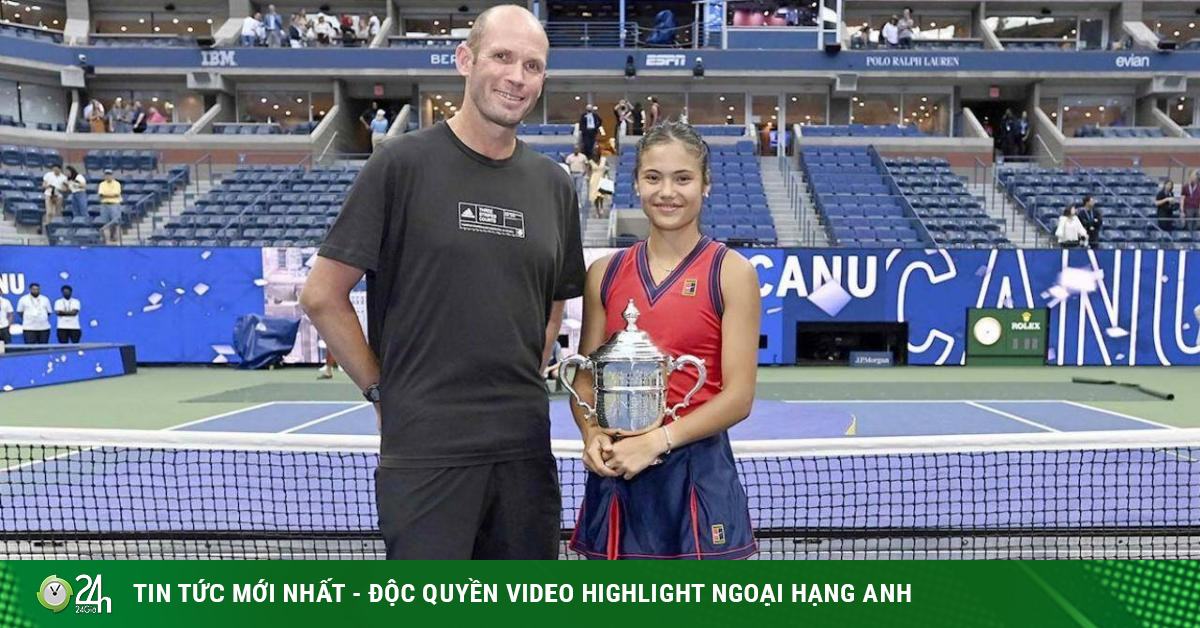 More than two weeks after winning the US Open 2021 (US Open), Emma Raducanu is making big changes in her life.

The 18-year-old young girl, with two Romanian and Chinese bloodlines, faces opportunities but also challenges in the near future.
Emma Raducanu and coach Andrew Richardson. Photo: USTA
Popular face
It has been more than 2 weeks since Emma Raducanu won the US Open 2021, she is still a very hot topic with the media. The first time a player starting from the first round won a Grand Slam in the US not only became a phenomenon in the tennis world, but it also resonated widely.
She also became the lowest ranked tennis player ever to win the US Open.
The prize for the US Open champion is $ 2.5 million, but if you include the prize money from the previous rounds, the 18-year-old girl pocketed a total of more than $ 4.2 million, a dream number. to wish.
However, according to experts, this is just the beginning, surely in the future, this talented girl will earn more than that.
"She is young, has millions of followers on social media, which increases her influence with the public. She has a multicultural background and she has enjoyed great success in the US, one of the most important consumer markets in the world. Undoubtedly, Raducanu must become a big brand to promote other brands. This girl can change the products," commented commentator Adrian Chiles of The Guardian newspaper.
In fact, right after taking the throne at the US Open, Raducanu was sought after by many brands.
"
What impressed me most was her message in Chinese to the Chinese audience. Language is the main problem that Western sports stars face when entering the Chinese market. Here, any global brand that wants to conquer this billion-populated country will look to Raducanu.
Director of Sports Marketing Company CSM
"
Most notably, she became the Ambassador for the world's most luxurious jewelry brand – Tiffany & Co.
The contract between the two parties was not disclosed, but the remuneration she received was certainly not less than 9 figures.
According to Elle, being managed by the famous Sports Marketing Company IMG, directly with Vice President Max Eisenbud, is a great advantage for the Romanian and Chinese girl to soon rise to become a powerful name. top commercial attraction.
Max Eisenbud is also behind, mapping out the strategy for the beautiful tennis player Maria Sharapova, a brand worth up to $ 320 million.
"Raducanu has many advantages over seniors. She is very young, owns a rising career and strangely attractive looks. If there are no surprises, she could make about $30 million over the next two years. Let's wait for Raducanu to bring great things both on and off the field," commented Elle.
Meanwhile, Mr. Liu Lingling, CEO of China Sports Business and Consulting Group, said that the US Open 2021 champion is on the right track, especially the move to approach the Chinese market, his homeland. of her mother.
"The US Open champion has been answering Chinese TV channels for the past few days. She also opened a Weibo account, communicated with her fans in Chinese, and received a very warm welcome. This is understandable because half of the color line in her body comes from this country. IMG has been doing business in China since the early 1990s and they certainly know how to turn her into a golden egg in the world's most potential market," Liu said on The I.
Tim Lopez, Director of Sports Marketing Company CSM, asserts that Raducanu's stunning gameplay and attractive personality will make Raducanu a golden brand: "She was the face of the cover of the October issue of the magazine. British Vogue. Big brands in everything from fashion to cars to healthcare are lined up in front of IMG, her management company. Born in Canada, with British citizenship but with Eastern European and Chinese roots, she will quickly become one of the most marketable athletes on the planet.
Towards the top career
Emma Raducanu has a lovely face. Photo: Getty
On October 4, Emma Raducanu will attend Indian Wells, the first tournament after winning the US Open 2021. However, right before this playground, she caused controversy by parting with coach Andrew Richardson, who accompany her in America.
Many comments criticize the "cowardly" 18-year-old girl, but listen to her talk about her teacher to see her respect.
"Andrew is a very good coach. He's very experienced, knows what to do in every game from a player's point of view. He conveyed the fundamentals to me, and I understood that getting them right would take a long time. But I need someone who has gone through, won the Grand Slams. I feel like everything is still very new."
About Emma Raducanu
Nationality: United Kingdom.
Current residence: London.
Born on November 13, 2002 in Toronto, Canada.
Career win rate: 75.82%.
Hand: Right hand.
World ranking: 22.
Notable titles: US Open 2021.
Analyst of the International Olympic Committee website Nick McCarvel emphasized that Raducanu's move is necessary if she wants to step up to the top of her career and continue to win.
"Emma needs a coach of the highest level, someone who can strategically plan for her. This is very normal and in line with the laws of development in sports. We shouldn't criticize her for this."
Mr. Nick McCarvel also appreciated the unhurried steps of the young British tennis player.
"After the US Open, she didn't go to other tournaments to show herself. She wasn't swept away by the aura and was in perfect control of herself. With good fitness and preparation, I believe Raducanu can win. If this scenario happens, at the same time she will probably be in the top 8 players of the year to attend the ATP Finals taking place in Guadalajara, Mexico (the tournament for the top 8 players in the world). Of course, everything is still ahead."
From a different perspective, the scandals after parting with coach Andrew Richardson or skipping the fourth round of Wimbledon 2021 (British Open) are putting the US Open champion under some pressure.
According to Euro Sports, Raducanu was forced to adapt to this, especially when fame and wealth came to her so quickly.
"The pitfalls in professional tennis are always numerous and it can destroy you. Sharapova is beautiful and talented, but her private life is always scrutinized. The immersion in wealth also caused her to lose herself on the field and gradually retreat. Naomi Osaka is also struggling to cope with the pressure from the public when the expectations for her in each tournament are always maximized, "Euro Sports cited.
"People need to give the girl who just made a miracle a chance to reinforce what she's already done and not put pressure on too soon. For her part, she has to focus on taking care of her mental health, then sports health. Only when she is really healthy both physically and mentally can she maintain her form. Everyone understands that everything the girl with two bloodlines is having is all thanks to her achievements on the field and to maintain her, she must have victories," Euro Sports analyzed.
Source: https://www.baogiothong.vn/co-gai-18-tuoi-doi-doi-sau-chuc-vo-dich-us-open-d526943.htmlSource: https://www.baogiothong.vn/co-gai-18-tuoi-doi-doi-sau-chuc-vo-dich-us-open-d526943.html
(Sports news, behind-the-scenes news) Emma Raducanu is the athlete with the fastest growing Instagram followers in 2021, and Ronaldo…
According to Thanh Ha (Traffic Newspaper)
.