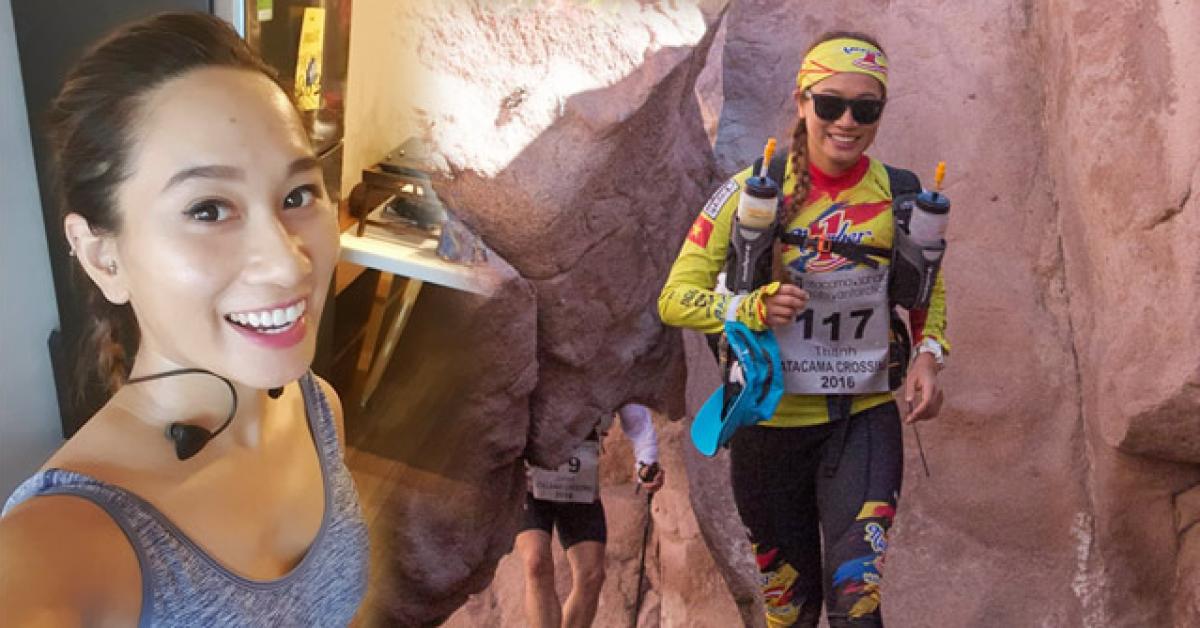 Referring to Thanh Vu, many people immediately think of the first Vietnamese girl in Asia to conquer 4 harsh deserts in the world. During the recent stressful epidemic prevention period, this 31-year-old "steel girl" continued to surprise everyone by her ability to swim continuously for 17 hours underwater.

Swim 31 km to celebrate 31st birthday
During the past two years, the complicated epidemic situation made walking and training difficult, swimming is a very good supplementary exercise method, helping Thanh Vu maintain endurance. Thanh also cherished the idea of ​​​​long distance swimming for many hours.
In early 2021, Thanh began to feel more familiar with long swimming distances, when the epidemic wave broke out again, training was also interrupted. After the city returned to normal, the girl born in 1990 felt the need for a break out of stagnation and the idea of ​​​​long-distance swimming resurfaced, the distance would be exactly the same as her age.
In mid-November, Thanh decided to do this distance in an apartment with a standard 50m swimming pool.
Thanh said this is simply a personal goal to push himself out of the stagnation, help regain his spirit and confidence to move towards a super endurance event that will take place in Switzerland. The deca-triathlon is a triathlon with distances 10 times higher than a regular Ironman and athletes need to complete 38km swimming, 1800km cycling and 422km jogging in 345 hours (14.4 days).
Not being a professional swimmer and swimming at a modest pace, Thanh has trained to be able to swim 4km at any time without feeling overwhelmed. To swim continuously 31km will certainly be much more difficult, but conquering challenges has been a part of this girl's life.
A journey of more than 17 hours in the swimming pool
Experiences from crossing hundreds of kilometers in hot, arid deserts or conquering snow-covered mountains with temperatures of minus tens of degrees Celsius have added confidence and determination to Thanh to complete his goal. this target.
Thanh is also very lucky to have his brothers and sisters play sports and many relatives support the idea of ​​​​swimming 31 km, which has made Thanh's experience more wonderful than imagined.
The day before swimming, Thanh prepared the necessary food and drink to help maintain fitness. A part of the pool is also supported to display a sign "Swimming lanes for training support" so that Thanh can focus on completing the distance. Even friends who are athletes who have won national and SEA Games in swimming also directly follow Thanh's swimming path.
Start swimming from 6:28 a.m. to 11:52 p.m. (17:24). To maintain fitness, Thanh always pays attention to the proper distribution of strength. According to the index from the smart watch, Thanh burned more than 400 calories per hour at first, but after the body began to adjust, it only burned more than 300 calories per hour.
To compensate for the calories consumed, after every hour of swimming, Thanh will refuel with prepared food and exercise drinks and this is also made the most of right on the swimming track so that time is not wasted. stretched out. In addition, during swimming, you can stop for a few minutes to use the toilet if needed.
Passing the first 20km was quite good, but when the time passed near midnight, Thanh felt that an hour in the pool was very long, it seemed like 2-3 hours. At the last 10km, Thanh said he only swam by inertia. However, with the enthusiastic support of friends and relatives, even though it was almost midnight, Thanh added motivation to complete 31km.
Immediately after disembarking, everyone gave flowers, happy birthday. Thanh said it was really a great encouragement for himself to continue training for the upcoming "giant" challenges.
Thanh Vu's interesting experiences have also inspired many people to practice sports to improve health and create joy in life.
The secret to exercising to be persistent
During the quarantine period, Thanh can only work out and maintain her endurance by cycling in place and doing HIIT exercises from Youtube in her apartment. Thanh and his group of friends update their workouts with each other daily to stay motivated and stay committed.
During the training process, Thanh always pays attention to the addition of water to keep the body in balance. Because when the body sweats a lot, it leads to dehydration, loss of minerals and electrolytes in the body. At that time, it is recommended to use exercise drinks to help rehydrate and rehydrate like Number 1 Active Lemon Salt to help the body replenish minerals and restore strength. This is also the sports drink that Thanh loves and has also accompanied Thanh for many years in even harsh races.
Thanh Vu shared that many people often mistakenly think that swimming does not sweat, but in fact, this activity takes a lot of sweat and especially when swimming and for a long time, it is also necessary to add water to exercise to compensate. water, remineralization to replace the salt content of the body lost when sweating. Electrolyte balance is the key to achieving the best training and competition results.
Because swimming is more difficult to recharge while running, Thanh decided to eat foods that suit his taste to reduce the effect on his stomach and help him feel more comfortable. During the swimming day, use 800g of mixed nuts such as almonds, cashews, 3 packs of Hammer Nutrition Perpetuem protein powder, Number 1 Active Sports Drink with salted lemon, sugarcane powder, and dried ginger powder mixed with water.
Thanh thinks that in the community of Vietnamese people who love endurance challenges to discover themselves and the world, there are many people who can absolutely do long swims like this, or even far away. much more.
In the coming time, Thanh hopes that life will return to normal after the pandemic and will continue to practice hard for the deca-triathlon to bring Vietnam's imprint to the world.
Source: http://danviet.vn/co-gai-thep-thanh-vu-17-tieng-boi-31km-de-mung-sinh-nhat-50202115127593963.htmSource: http://danviet.vn/co-gai-thep-thanh-vu-17-tieng-boi-31km-de-mung-sinh-nhat-50202115127593963.htm
.