(Sports news, Tennis news) Weekly tennis news from January 11-17: Novak Djokovic was sympathized with fellow football star Nemanja Matic when the MU midfielder harshly condemned those who criticized Nole. Meanwhile, with hot news about other stars, the beautiful Eugenie Bouchard showed off her sexy body in clothes.

STAR MU Matic supports Djokovic, despises Nole critics
Video of Novak Djokovic and his coaching staff at the Australian airport on the evening of January 16:
After Novak Djokovic had to leave Australia because of his deportation after 11 controversial days in the country of kangaroos, Nole's compatriot midfielder Nemanja Matic spoke out in defense of this tennis player and criticized the Australian government.
On his personal Instagram page, MU's football star posted a photo of Djokovic holding the trophy awarded by ATP when he won the world No. 1 position at the end of last year with a concise message: "Your glory and your shame they will live forever."
Djokovic was encouraged by MU Matic star after being expelled from Australia
This is not the first time Matic has supported Djokovic after the scandals of the Serbian tennis player. In 2020, when Djokovic and colleagues Grigor Dimitrov, Borna Coric and Viktor Troicki contracted Covid-19 after they attended the Adria Tour, a friendly tournament organized by Nole himself in the context of the pandemic still complicated, Matic defended Nole.
Australian Prime Minister leaves open the possibility of reducing Djokovic's 3-year entry ban
According to the AP news agency, early this morning (January 17), a flight with Novak Djokovic from Melbourne (Australia) landed in Dubai (UAE) after being deported by Australian authorities yesterday.
Meanwhile, the Australian government confirmed that Novak Djokovic may be barred from re-entering the country within the next three years after he was canceled by the Australian Immigration Minister Alex Hawke and Nole also lost his case in the hearing. January 16th.
However, recently, when speaking on 2GB radio this morning (January 17), Australian Prime Minister Scott Morrison left open the possibility that Djokovic could be considered to attend the Australian Open early next year.
Australian Prime Minister Scott Morrison leaves open the possibility that Djokovic will be reduced the ban from entering Australia for the next 3 years
"The duration of the entry ban (with Djokovic) can be for 3 years or more, but there is still a chance that a person can return soon in the appropriate amount of time and that will be seen by the authorities. at the time," Mr Morrison said.
Hot girl tennis Bouchard wears see-through clothes
Video of beautiful woman Eugenie Bouchard working out in the gym to stay in shape:
On January 12, on her personal Instagram page, which attracts more than 2.1 million subscribers "Follow", tennis beauty Eugenie Bouchard posted 3 photos of her wearing a brown lace bodysuit according to the "penetrating" style shows off her beautiful figure to fans. Accompanied by that, the former Wimbledon runner-up also captioned the photo with meaning when using only 2 icons, a brown heart and a teddy bear.
Beauty Bouchard wears sexy see-through clothes
After 5 days of posting these glamorous photos, Bouchard has received more than 60,669 "Likes" and 884 comments from her fans.
Legendary Christ Evert has ovarian cancer
Former American women's great tennis player Christ Evert has just revealed that she has ovarian cancer and has started chemotherapy.
"I wanted to share my diagnosis of stage 1 ovarian cancer and the story behind it as a way to help others. I feel very fortunate that it was discovered so early and I look forward to it. waiting for positive results from my chemotherapy treatment," the owner of 18 Grand Slam wrote on her Twitter page.
Christ Evert is optimistic about early detection of ovarian cancer
Quite shocking when before that, Chris Evert's sister, former tennis player Jeanne Evert Dubin, passed away at the age of 62 in February 2020 also from ovarian cancer.
Beauty Muguruza is afraid of the Chinese female tennis star's accusation of sexual assault forever "sinking"
In a press conference ahead of the 2022 Australian Open, former Spanish tennis player Garbine Muguruza expressed concern about the truth of the case that her colleague Peng Shuai accused a former senior Chinese official of coercing her. sex will never come to light.
"I think it will be difficult to find out the truth and she (Peng Shuai) is free to talk. I don't know what's going on, or what the problem is?" Muguruza said.
Garbine Muguruza worries that Peng Shuai's "heavenly" secret will never come to light
Source: https://tcdulichtphcm.vn/the-thao/sao-mu-ung-ho-djokovic-my-nhan-bouchard-dien-do-xuyen-thau-ten…Source: https://tcdulichtphcm.vn/the-thao/sao-mu-ung-ho-djokovic-my-nhan-bouchard-dien-do-xuyen-thau-tennis-24/7-c28a23945.html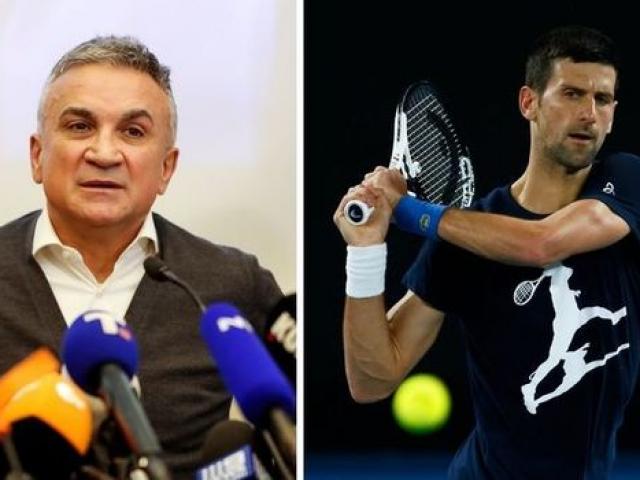 (Sports News, Tennis News) Losing the lawsuit and being deported from Australia makes the ambition to defend the Australian Open championship…
According to Dang Duc (Synthesis) (Ho Chi Minh City Tourism Magazine)
.