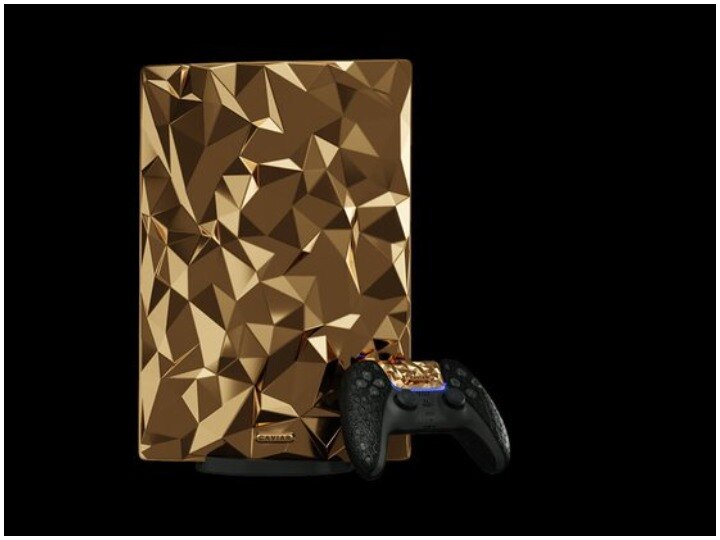 New Delhi Russian luxury brand Caviar is known for customizing limited edition smartphones and other gadgets. Caviar has often been customizing expensive brand gadgets with some of the most expensive luxury materials including gold, diamonds and crocodile leather.
18 carat gold cover
Currently, Caviar has released a list of its 4 new customized products for the year 2021 before the new year. Sony PlayStation 5 has also got a place in it. The Sony PS5 Golden Rock Edition being made by Caviar is a limited edition of the much-discussed console which will be covered with 18 carat gold. The PlayStation 5 DualSense Controller has been given a matching Golden Makeover.
Use of 20 Kg Pure Gold
Talking about the Sony PS5 Golden Rock Edition, there has been no tampering or modification with its specification. The Sony PS5 Golden Rock Edition will function similarly to the regular PS5. It is currently being told that 20 kg of pure gold will be used to make the design of the console of PS5 Golden Rock Edition.
Price can be up to 8 crores
At the same time, Grips prepared from crocodile leather will also be given in PS5 controller with matching golden inserts. At the same time, after such an expensive customization, this product is expected to be quite expensive. Currently, no pricing has been set for the Sony PS5 Golden Rock Edition gadget yet. At the same time, considering the gold used on the console, its value is being estimated more than Rs 8 crore.
Read also:
Vivo Y20 smartphone launched with 4 cameras, Redmi 9 Power will compete directly
To celebrate New Year at home, buy these 5 cheap speakers, the party will be doubly fun.
.