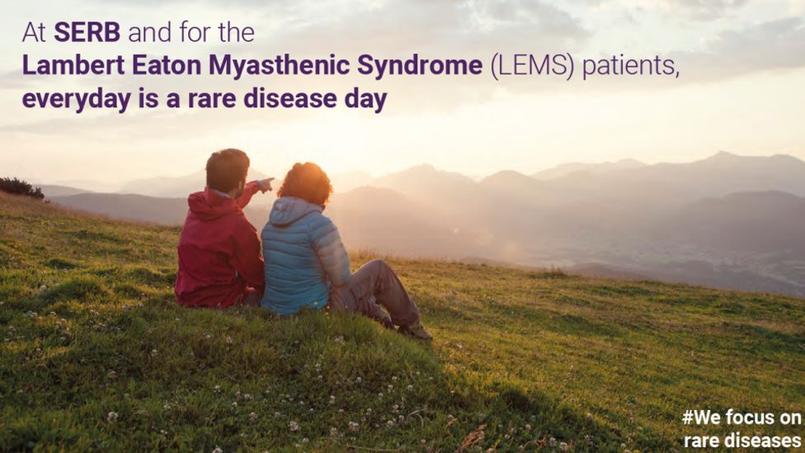 The SERB laboratory (Société d'Études et de Recherche Biologique) is an independent European pharmaceutical group. SERB specializes in emergency medicine and rare diseases. The laboratory has a portfolio of more than 50 drugs intended to meet the vital needs of patients around the world.
Rare diseases: treatments and screening
In France, it is estimated that 4 to 5% of the population is affected by a rare disease, i.e. around 3 million people and 30 million across the European continent.
We speak of a rare disease when it affects less than one in 2,000 people: it ranges from more frequent diseases such as cystic fibrosis, which affects one in 5,000 people, to so-called ultra rare diseases such as certain disorders of the cycle of the urea that affect less than 1 in 1 million people. These diseases are generally unrecognized, severe, chronic, disabling or even fatal. A total of around 7,000 different rare diseases are now listed.
These figures reveal the scale of the public health challenge for health professionals. Although considerable progress has been made over the past 20 years, only 5% of patients receive approved treatment and diagnosis often remains difficult and late.
SERB: a laboratory specializing in rare diseases
Created in France more than 30 years ago, SERB has developed while maintaining a human dimension that allows it to respect its DNA: to be at the service of health professionals, in particular by developing drugs and therapies that directly benefit to patients. Specializing in emergency medicine and rare diseases, the laboratory ensures the production and provision of essential drugs.
Within the specialties dedicated to emergency medicine that SERB makes available to the medical profession, there are many antidotes intended to combat different types of intoxication or poisoning. In terms of rare diseases, the laboratory provides healthcare professionals with treatments against neurological, neuromuscular and metabolic diseases, in particular in pediatrics.
Beyond even the question of the treatment of these rare diseases, SERB works actively to raise awareness about these complex diseases to be identified in order to improve their detection.
The laboratory is convinced that a better diagnosis requires a better knowledge of rare diseases and their specificities.
This is why the SERB laboratory is setting up awareness campaigns among health stakeholders to promote diagnosis, better understand rare diseases and offer treatments adapted to the daily reality of patients.
Myasthenia gravis: a rare chronic disease
Myasthenia gravis is a disease that affects one in 50,000 people, so it is rare but relatively common among the 7,000 rare diseases listed. It is estimated that 12,000 French people have myasthenia gravis in France today.
It is a chronic disease that causes severe fatigue and muscle weakness. Due to a dysfunction of our immune system leading it to attack certain normal constituents of the body (autoimmunity), this condition is rare and unrecognized. It cannot be cured but is treated with drugs that relieve symptoms of muscle and respiratory weakness, as well as those related to vision and speech.
Women over 40 are over-represented among the sick. Men, for their part, are generally affected around the age of 50.
Myasthenia gravis exists in three forms: rare myasthenia gravis, Lambert-Eaton myasthenic syndrome (SMLE) and finally congenital myasthenia gravis.
The diversity of forms that myasthenia gravis can take and the multitude of symptoms make its diagnosis long and complex: the time between the appearance of the first symptoms and the diagnosis of myasthenia gravis is on average 4 to 5 years but can peak at 20 years in the most complex cases.
This disease is particularly debilitating for patients because it directly impacts all daily activities and harms social and professional relationships. Almost invisible, the disease is difficult for those around them to understand, which is why patients seek comfort in dedicated associations.
AMIS: an association dedicated to myasthenics
AMIS, the Association des Myasthéniques Isolés et Solidaires, brings together 2,700 French speakers. It offers a space for sharing, meeting and discussion for patients. For Pierre Boulanger, its President and suffering from myasthenia gravis, this type of association allows patients to meet and discuss their daily issues, but also to access valuable sources of information.
Based on the sharing of experience and benevolence, AMIS offers an attentive ear to myasthenics and supports them in the complications of everyday life. (Visit their website https://www.myasthenie.fr)
SERB: expansion and mobilization
On the occasion of February 28, World Rare Disease Day, the laboratory reaffirms its commitment to better diagnosis of rare diseases and to the development of new drugs.
Over the past 20 years, the sector has made great progress even if a lot remains to be done. This is why SERB continues to mobilize in this direction by offering ever more innovative treatments and in more and more countries. It is in this logic that SERB is finalizing a major acquisition in the United States, still in the field of emergency medicine and rare diseases.
FIND SERB ON THEIR WEBSITE
FIND THE FRIENDS ASSOCIATION
---
Content designed and delivered by Delta Direct Live. The editorial staff of Le Figaro did not participate in the production of this article.
---
.