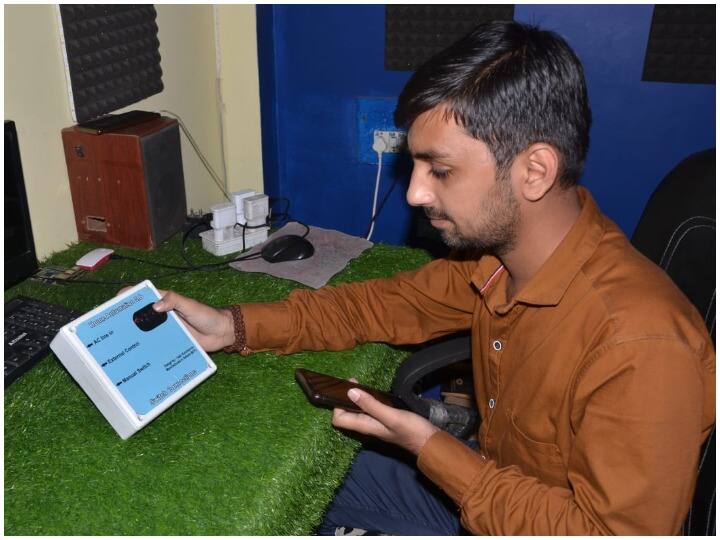 Sehore News: A youth of Sehore city is soon going to start a new startup. New startup is also the pursuit of youth. Actually the youth of the city has prepared a device. With its help, you will be able to operate all the electrical appliances of your house sitting thousands of km away. This allows devices to be switched on and off. Although many devices are already available in the market for this, but Wi-Fi is required to operate the devices. While this device can also be operated offline. The facility of manual operation has also been made available in the device. The other feature of the device is being economical. It is cheaper than all the devices available in the market.
Yash Kurchania, who lives in the HDFC Bank Englishpura area of ​​the city, will soon be using it as a business. He told that he has applied for the patent of the device. As soon as the patent is granted, the youth of the city will be able to use it commercially under self-reliant India. About the equipment Yash Kurchania told that my device will be used to operate electrical equipment. Through this, apart from turning on and off all the appliances in the house can also be controlled. He said that many devices are already in the market, but being very expensive and difficult to operate offline. Whereas through this all the devices can be run offline as well.
He claimed that it can also be operated with voice command through the Google Home app. This device is easy to operate computer, mobile and manual. Yash told another feature of this device. He told that there is no need to replace the old power button of the house to install the device. While the common buttons do not work when the devices of other companies are installed. There is no possibility of shock from the electric button from the device made by Yash because only five amps of current runs in the button of the device. Through this device, information about which equipment, how much electricity is being spent from which room, will also be available. Every minute, every hour, every day and every month, the information about electricity consumption will be known from the device without even looking at the meter. He claimed that with the completion of registration and patent work, the device would be available in the market and would be manufactured in Sehore itself.
Congress sent show cause notice to Amarinder Singh's wife, action will be taken if she does not respond
Andhra Pradesh Floods: Due to floods, public life in Andhra Pradesh is disturbed, Chief Minister Reddy is attacked by the opposition over the chaos
,