(Sports News) Most of the Gymers in Ho Chi Minh City are extremely enthusiastic, planning to exercise with high intensity to regain their measurements as well as muscles after a long time of having to maintain at home in conditions. lack of equipment and machinery.

Although only operating at 50% capacity with strict regulations in the prevention of epidemics, including that trainees must inject 2 full vaccines, many gyms in Ho Chi Minh City have begun to reopen since since October 1st. This brings excitement to Gym enthusiasts, especially beauties who are professional Gymers who have been with this subject for many years.
Giang Tien is happy when the gym reopens so that she can practice intensely with full machines and equipment.
"When the gym was closed, many of my friends were severely affected in terms of measurements. Most of them lost muscle but gained fat, a few gained weight. This mainly comes from the lack of tools, machinery and equipment when before, the body is used to high intensity training.
Even if we maintain exercise at home, for professional Gymers, this is only for maintenance, even just for giving, but it cannot meet the needs of intensity and weight like at the gym." , female Gymer Nguyen Giang Tien said.
Having owned three extremely "terrible" measurements of 88-63-100 cm, the hot girl with more than 5 years of experience said that her index has also been changed due to the lack of necessary machines. That's why as soon as the gym reopened, she made a plan to exercise to regain her desired measurements.
The hot girl who has three extremely "terrible" measurements of 88-63-100 cm shares her long-term home workouts, causing her and her colleagues to be affected in terms of muscles and physique.
"I am very surprised and delighted that the Gym is reopened so soon. The new gym is fully equipped to meet the intensity of my workouts. Some people are afraid to go out to practice, but I am extremely excited. I am confident in my resistance.
Because the gym limits the training time to 60 minutes, I advise everyone to just disinfect thoroughly, focus on practicing and then return to stay safe. Personally, I have a plan to work out 2 days a day, 6 days a week to get my measurements back," said 25-year-old Gymer with nearly 210,000 followers.
Similar to Giang Tien, female Gymer who used to have a waist measurement of 105 cm Pham Ngoc My said that she is very eager to go to the gym to practice to regain her "hot" measurements.
Pham Ngoc My (nicknamed "My West") also plans to "refine" her beautiful body
"The atmosphere at the gym is completely different from that at home, giving you a more "burning" feeling. Practicing alone at home can easily make people lazy.
Personally, I can only try to keep myself from gaining weight, but staying in shape during the pandemic is too difficult without machines to support intense workouts. I am very eager to be able to "calibrate" my body measurements and return to intense training," Ngoc My shared.
As a professional bodybuilder as well as a famous coach who has been with the Gym for more than 8 years, "Vietnamese beach bodybuilding king 2019" Mai Ho Minh Man said that the gym was reopened to help him and learn. members can interact more effectively.
"The gym is open to help people who work as personal fitness coaches like me return to work and financially support their lives. In particular, being able to directly guide the academy makes it easier for us to impart training techniques and correct errors to them. We strictly implement epidemic prevention and control measures to ensure safety," said coach Minh Man.
"Vietnamese beach bodybuilding king 2019" Mai Ho Minh Man
Like many of his colleagues, Minh Man's muscle condition is no longer as good as before after the epidemic break. Right after the gym opened, Minh Man was one of the earliest people to go to the gym with the hope of regaining muscle soon with intense training. However, he shared that this is not easy when you have to start at a lower level to get your body used to the rhythm of training from the beginning.
However, Minh Man does not force people to flock to the gym at this time: "For professional Gymers, the machines in the gym are indispensable. For those of you who want to maintain health and lose weight but don't want to go to the gym, you can do push-ups, do some cardio exercises at home, wait a little longer and then go to the gym.
Source: https://tcdulichtphcm.vn/the-thao/dan-nguoi-dep-so-do-3-vong-quyen-ru-sot-sang-khi-phong-gym-mo-…Source: https://tcdulichtphcm.vn/the-thao/dan-nguoi-dep-so-do-3-vong-quyen-ru-sot-sang-khi-phong-gym-mo-cua-tro-lai- c28a17032.html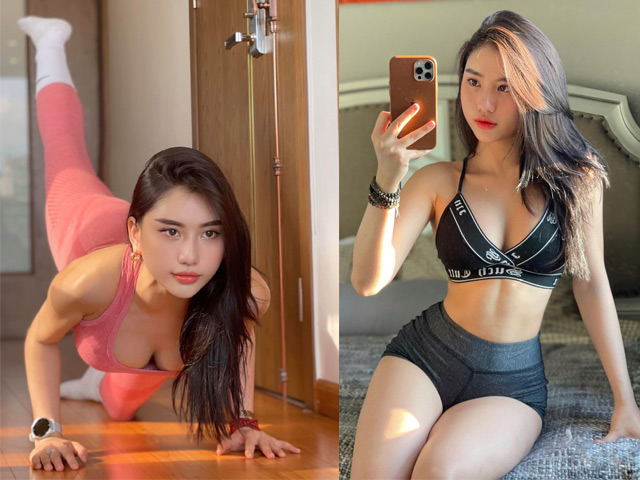 (Sports news) The famous hot girl of the Gym village, Trang Le posted a rather unique video, instructing abs to exercise…
According to Le Phong (Ho Chi Minh City Tourism Magazine)
.