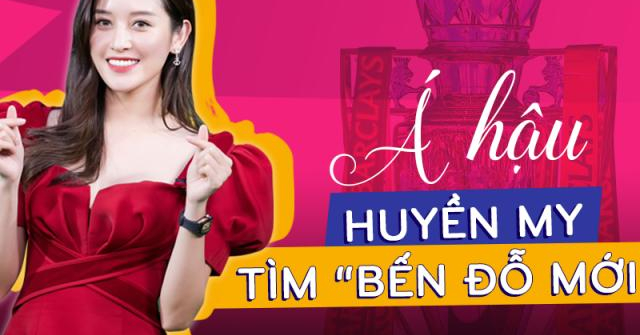 Saturday, August 21, 2021 14:00 PM (GMT+7)
The online community is excited to pass on a series of behind-the-scenes photos of runner-up Huyen My's sports show. Notably, her radiant visual and professional demeanor when performing this new role. The 26-year-old beauty calls this her "landing place", where she builds a versatile image when combining her passion for football with professional work. Connect with Huyen My immediately to hear her reveal the behind-the-scenes story.
Runner-up Huyen My officially debuted in a new position, she excitedly shared on her Facebook page
* Hello Huyen My! How are your days at home against the epidemic?
Hi! Is everyone okay? My is fine, still working out at the gym, running and taking care of my skin at home regularly (laugh). Covid-19 really turned life upside down, not only My but also everyone. In the past few days, My has read many heartbreaking stories and knows many difficult situations in society. My is aware that I am very lucky, so I want to spend this time with my family and myself. Positively, the pandemic gives My the opportunity to discover many new things, such as the challenge of being a sports program host.
* What fate brought you to this job?
I believe that everything in life is predestined. My inherited the passion for football from my father. When I was a child, My father often took me to watch football, sometimes while watching football, I ate flour (laugh). Later, My luckily participated in predicting scores of many matches.
Most recently, in May, My was a guest commentator on the Chelsea – Man City match in the European Cup. After that, K+ Television gave My the opportunity to lead "Premier League – My Club", one of the companion shows for the 2021/2022 Premier League season.
In the past, My love of football stopped at watching the match live, or via TV. My has never had the opportunity to interact or work more deeply about football. My has been an MC a few times, but this is the first time I host a sports show, there are many surprises and things to learn. But for My, doing work associated with passion, going through the epidemic season every day with my passion is a happiness instead of pressure.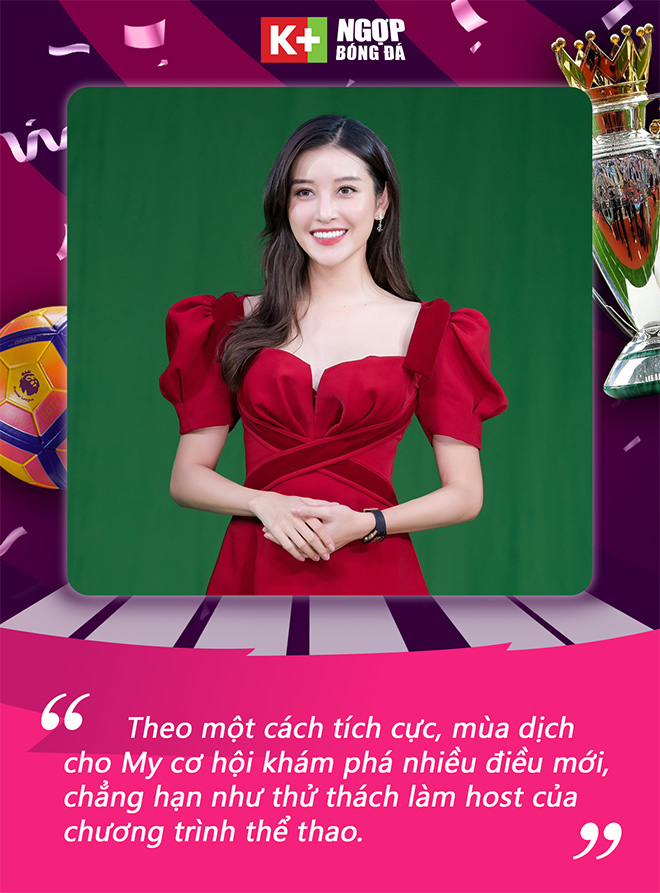 * What challenges does this "new stop" create for Huyen My?
The biggest challenge is the weekly broadcast, the filming schedule takes place continuously. Before the official broadcast, My had a practice time with the brothers and sisters at the studio. Filming during the pandemic also caused some difficulties. Normally, when I go to work, My is supported with costumes from close designers, but now, I take care of myself from A to Z. My is quite worried that I will not dress up according to the requirements of the editor, but I will try my best. fix every day. This is a memorable experience in My work.
My is honored to join the exclusive MC team of the K+ family, mentored by seniors in the profession. My hopes that the "new stop" will help me grow up and live the way I am – active, love to explore.
* What do your parents and younger brother Huyen My say about your new job?
From the past until now, any decision of My has been supported by the whole family. My father and brother give me a lot of knowledge about football. Every time I practice, My shows the whole family a clip for everyone to comment.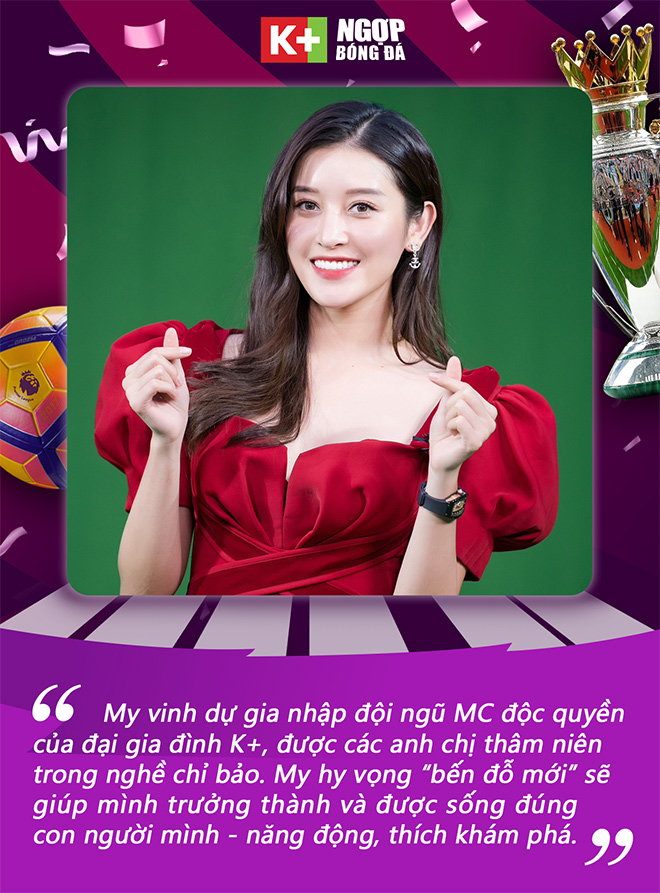 * As an avid football fan, what do Huyen My feel most inspired by when hosting "Premier League – My Club"?
My show is for Premier League lovers. Each issue is about a club with its history, strengths and weaknesses and achievements. My favorite thing about this show is interacting with the fandom of each club in Vietnam. The show is light and entertaining. Football fans remember to watch and chat with My at 8pm every Wednesday!
* What do you expect in the Premier League 2021/2022 season?
The biggest expectation is for Chelsea to win (laugh out loud). My has been a Chelsea fan since having Petr Cech. The club has gone through a lot of ups and downs, but My still has one love intact. Now, Lukaku has returned to Chelsea, promising to bring top performances.
For many years now, the English Premier League is the number one tournament on the planet that deserves to be waited by global football fans. In the opening matches, the stadiums were open to the audience. My was very emotional when I saw the fans covering the field. This image has not appeared for a long time and it will become a motivation for the players to sublimate.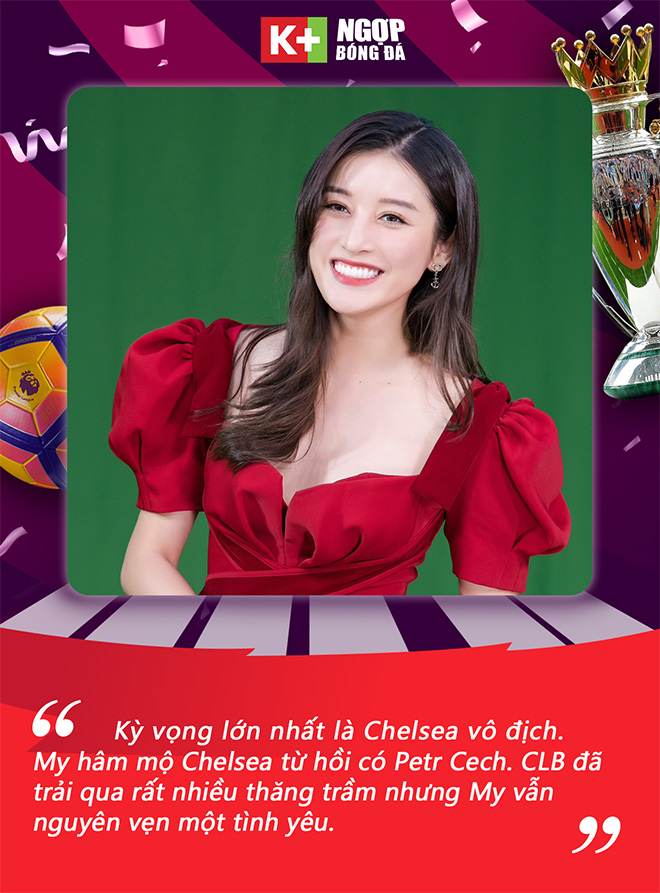 * During the pandemic, how does Huyen My think Covid-19 affects the spirit of the fans?
I believe the spirit of the fans will not be affected. Looking at the recent matches, My felt the enthusiasm from the stands. In the Chelsea fan groups in Vietnam, I see that people are still talking very excitedly.
Moreover, My thinks football is an option you can consider to make your days at home less boring. I hope everyone stays healthy so that they don't miss the matches of their favorite club on K+ TV.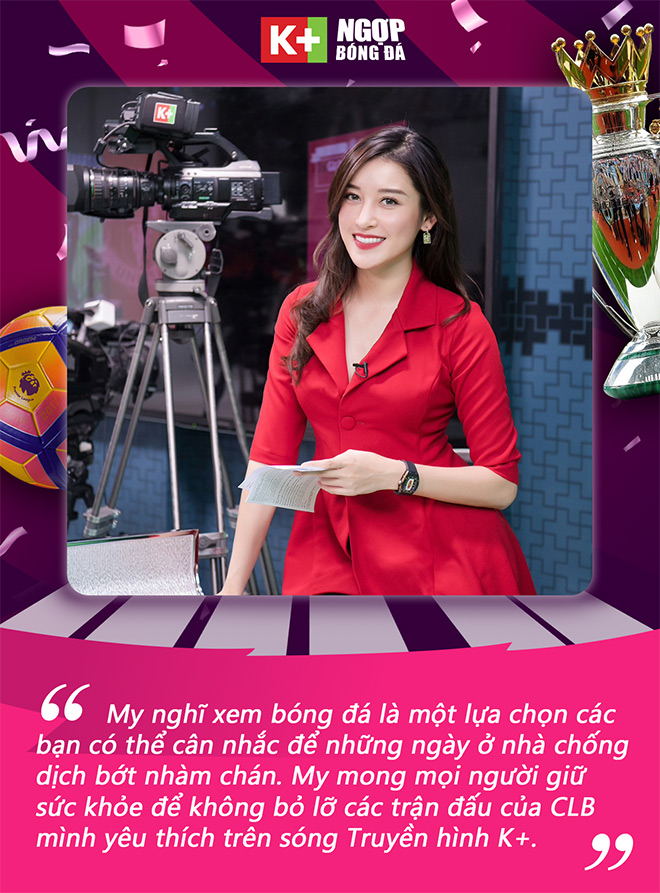 * Thank you Huyen My for these interesting sharing, hope that the "new stop" is K + will help you perform well as MC – TV editor!
For audiences who do not yet own K+, even during the holiday season, K+ accompanies you through the program "Pre-order, receive special offers":
– From now until the end of August 31, just need to deposit 75,000 VND in advance, customers can activate within 24 hours the "Complete" package on App K+ (145,000 VND) to watch thousands of content from sports to movies. monopoly.
– After the end of the gap, K+ will complete the installation as soon as possible and give customers the following shock incentives: Free K+ HD equipment or K+ TV Box (VND 1,200,000) and a month's rental Free subscription for new 10 month subscription. Customers can also choose to enjoy the price of 395,000 VND for a full set of K+ HD equipment or K+ TV Box, plus a free one-month subscription when registering for a new 4-month term.
– App K+ subscribers also get up to 50% off when they sign up for the "Sports" package (60,000 VND/month) or the "Full" package (73,000 VND/month), applied from now until August 31 for customers online payment. Sign up here.
Source: http://danviet.vn/a-hau-huyen-my-tim-ben-do-moi-van-nguyen-ven-tinh-yeu-chelsea-5020212181358172…Source: http://danviet.vn/a-hau-huyen-my-tim-ben-do-moi-van-nguyen-ven-tinh-yeu-chelsea-50202121813581728.htm
.