Sunday, May 16, 2021 06:07 AM (GMT+7)
(Sports news, Tennis news, 10pm, 16/5, Rome Masters final) Rafael Nadal is trying to win the 10th Rome Masters and equalize the record of 36 ATP Masters 1000 titles with Novak Djokovic. However, "Gaur" must be very vigilant when Nole is looking for the first title on clay this year to defend the throne in the Italian capital.
Video of the last time Rafael Nadal and Novak Djokovic met at the Roland Garros final last year:
We will be reporting this match live. Please pay attention to watch!
1st seed Novak Djokovic (Serbia) – 2nd seed Rafael Nadal (Spain): 10pm, 16/5, Rome Masters men's singles final, Center court
True to the expectations of many tennis worlds, the dream final at the Rome Masters this year became a reality when "Clay King" Rafael Nadal faced defending champion Novak Djokovic.
Djokovic won 3 and lost 5 out of 8 times against Nadal at the Rome Masters
To create this classic competition, they all had to go through extremely difficult times and seemed to have been eliminated at some point.
Nadal had to save 2 match points in the match against the host country player Jannik Sinner in the 3rd round. Meanwhile, Djokovic had to "strive" in misery yesterday (May 15) when he continued to fight the quarter-finals interrupted by rain several times with Stefanos Tsitsipas and just a few hours later, he had to go through a tough 3-set "fitness marathon" with the 1.91m-tall player of the host country Lorenzo Sonego.
The super battle on the Center Court at 10pm tonight (May 16, Vietnam time) will be the 9th time Nadal and Djokovic compete in the Rome Masters framework. In the previous 8 times, Rafa had a slight advantage with 5 victories and 3 defeats against the great Serbian enemy.
Nadal holds the record of 9 times to win the Rome Masters. The "clay king" is also hoping to beat Djokovic tonight to equal the Serbian's record of 36 ATP Masters 1000 titles.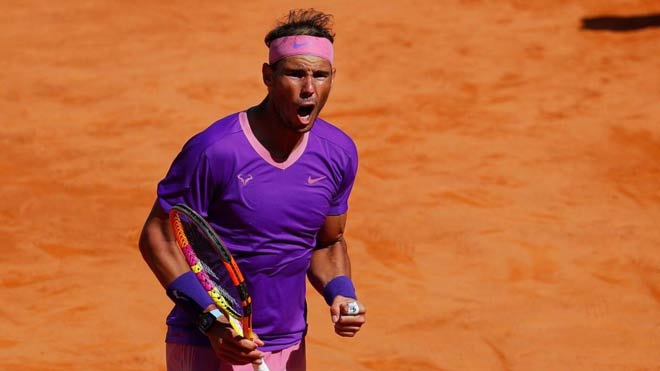 Rafael Nadal aims for his 10th Rome Masters title and equals Novak Djokovic's record of 36 ATP Masters 1000 titles
But on the other side of the line, Nole is also eager to successfully defend the Rome Masters throne he once won after defeating Diego Schwartzman 7-5, 6-3 in the final last year.
After being knocked out at both the Monte Carlo Masters and the Serbian Open, Djokovic is determined to win the Rome Masters 2021 to get his first clay-court title this season and run perfect momentum for Roland Garros.
Notably, the last time Nadal and Djokovic met on clay was in the final of Roland Garros last year.
On the main court Philippe Chatrier in Paris (France) on October 11, last year, "Gaur" Nadal beat Djokovic 6-0, 6-2, 7-5 with unexpected ease, making the fans of the club very The Spaniard was also surprised.
Speaking ahead of his 57th match with Nadal, Djokovic shared his concerns about his fitness: "First of all, I need to recover my fitness. I don't have much time left and hope to have a good footwork in the finals. That's for sure what I'm going to need if I want to play against Rafa."
"He also had some tough games. I myself had some trouble from the rains causing my matches to be interrupted, but that's over. I will do my best in the next match," Djokovic said.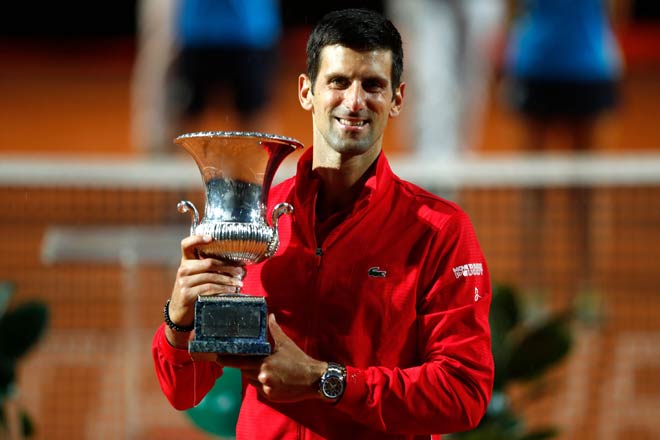 Djokovic is the defending champion of Rome Masters
Meanwhile, Nadal said after the match against the 2.11m player Reilly Opelka: "I think I did what I needed to do. Of course, it wasn't an easy or pretty game when I had to play against Opelka. You don't know the tempo of the game and you have very little choice when it comes to returning serve. He was very aggressive at the baseline and had a lot of good shots."
"The important thing is that my confidence is back before going to a final as important as this one. I'm sure I'll have a tough opponent in front of me (Djokovic), but I need to be ready and play my best tennis," said Nadal.
Source: https://tcdulichtphcm.vn/the-thao/chung-ket-rome-masters-djokovic-nadal-dai-chien-nha-vua-co-giu…Source: https://tcdulichtphcm.vn/the-thao/chung-ket-rome-masters-djokovic-nadal-dai-chien-nha-vua-co-giu-noi-ngoi-bau-c28a6657.html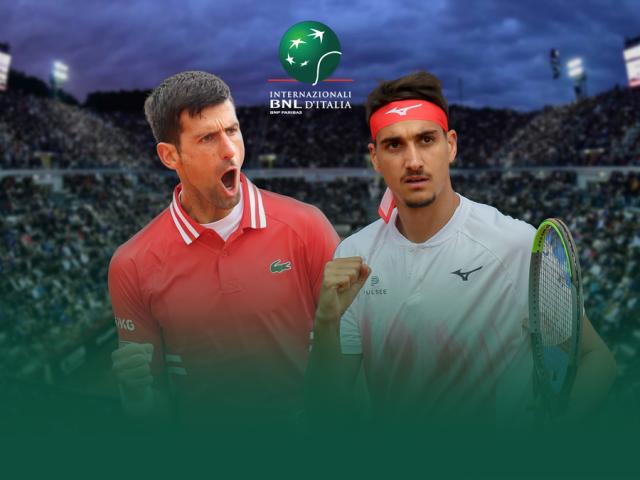 (Tennis video, tennis results, Novak Djokovic – Lorenzo Sonego, Rome Masters semi-finals) Reuniting with an annoying opponent who won me this season…
.