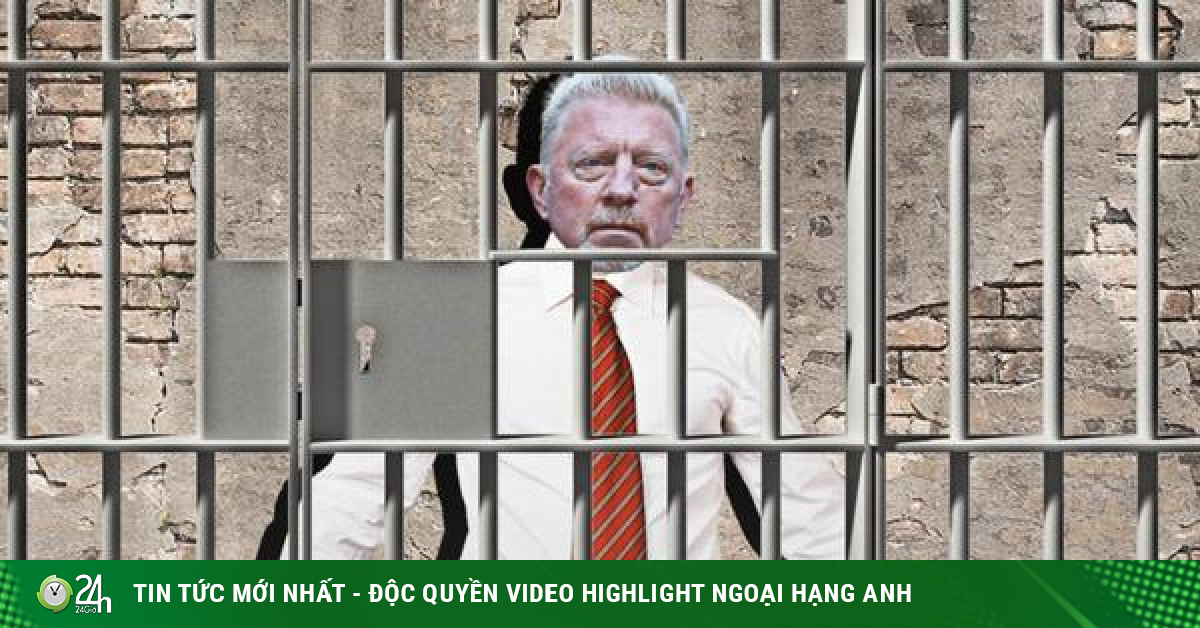 Boris Becker has been in prison for more than a month. Will the tennis legend, who won a Grand Slam at the age of 17 and lives in luxury, can adapt to life in bars?

In July 1985 at Wimbledon, Boris Becker introduced himself to the world when he defeated Kevin Curren in four sets, becoming the youngest player to win a Grand Slam. At that time Becker, the little Prince of Wimbledon was only 17 years old, had no beard to shave, still had to meet the coach to ask for pocket money and did not know how big the £130,000 bonus was.
37 years later, the owner of 6 Grand Slam titles and 49 other titles, entered Wandsworth, which is just a few kilometers from Wimbledon. It has medieval castle-like architecture with arched windows, but Wandsworth is the prison and Becker will introduce himself as the new prisoner.
On April 29, the former world number one tennis player was sentenced to two and a half years in prison from Southwark Crown Court in London for hiding £2.5 million to avoid debt. From his luxury apartment in Wimbledon, Becker headed straight to Wandsworth Prison in a van, then was taken to a cell of just 6m2. There was no king-size bed covered with silk sheets, just a narrow single bed with a blue plastic mattress for Becker.
Boris Becker lifted the Wimbledon Cup in 1985 at the age of 17. (Image: Getty Images)
Romanian billionaire and Becker advisor Ion Tiriac told L'Équipe newspaper that "Becker's early days in prison were very miserable, and the security in the prison was so tight that everything became difficult more difficult". This makes the rumor about Becker regularly complaining about prison food and disturbing other inmates. A member of the Becker family said, "Becker struggled with the new environment, especially when surrounded by notorious criminals."
Becker did not easily adapt to a life of confinement and deprivation. Famous early on, Becker was used to luxury. He once told British journalist Neil Harman "about the Porsche 959 he bought right after his first Wimbledon championship, and then drove it around the streets of Monaco", and "about a night of gambling at the Hotel de Paris that if he lost 500 francs in his pocket, which was huge at the time, didn't mind."
Becker arrived in court on April 29, hours before being sentenced to two and a half years in prison. (Image: Getty Images)
Expensive divorces, fans turned away, sponsors abandonment and a series of failed investments left Becker deeply in debt. Declared bankruptcy in 2017, Becker always thought he was still rich and maintained the flashy image of a legend. He still travels to luxury places by jet, comments on Wimbledon on Eurosport or the BBC and enjoys vacations in Ibiza.
It all led to the investigation of the British Justice, why a bankrupt person still has so much money as a successful businessman. In 2020, Becker made a spectacular escape. Instead of being held behind bars, he was only given a two-year suspended prison sentence by the Munich Court and a fine of 300,000 euros for tax evasion. Now the luck is over. The fraud was exposed and Becker went to jail.
The scene inside Wandsworth prison, where Becker has been held for the past 1 month. (Image: Getty Images)
According to billionaire Tiriac, after more than a month, Becker's prison life is gradually improving for the better. In addition, at the end of May, Becker was also transferred to Huntercombe prison 70 km northwest of London. It is a lower security prison than Wandsworth and is exclusively for foreigners.
"According to what Becker told me, the government offered him a job as a math and English teacher. This job keeps him busy all day. Back in his cell, Becker played sports, watched TV and read a lot," a relative of the former world number one told L'Équipe.
Under the law, Becker will serve at least 10 months in prison before being re-examined. Then there will be a new chapter of the legend of felt ball village? No one knew, and Becker's own attorney didn't dare to think too far ahead. "The first thing is to get out of prison," he said.
Source: https://tienphong.vn/he-lo-cuoc-song-trong-tu-cua-huyen-thoai-quan-vot-boris-becker-post1446864….Source: https://tienphong.vn/he-lo-cuoc-song-trong-tu-cua-huyen-thoai-quan-vot-boris-becker-post1446864.tpo
German legend Boris Becker cheated in his declaration after declaring bankruptcy…
According to Thanh Hai (Tien Phong)
.