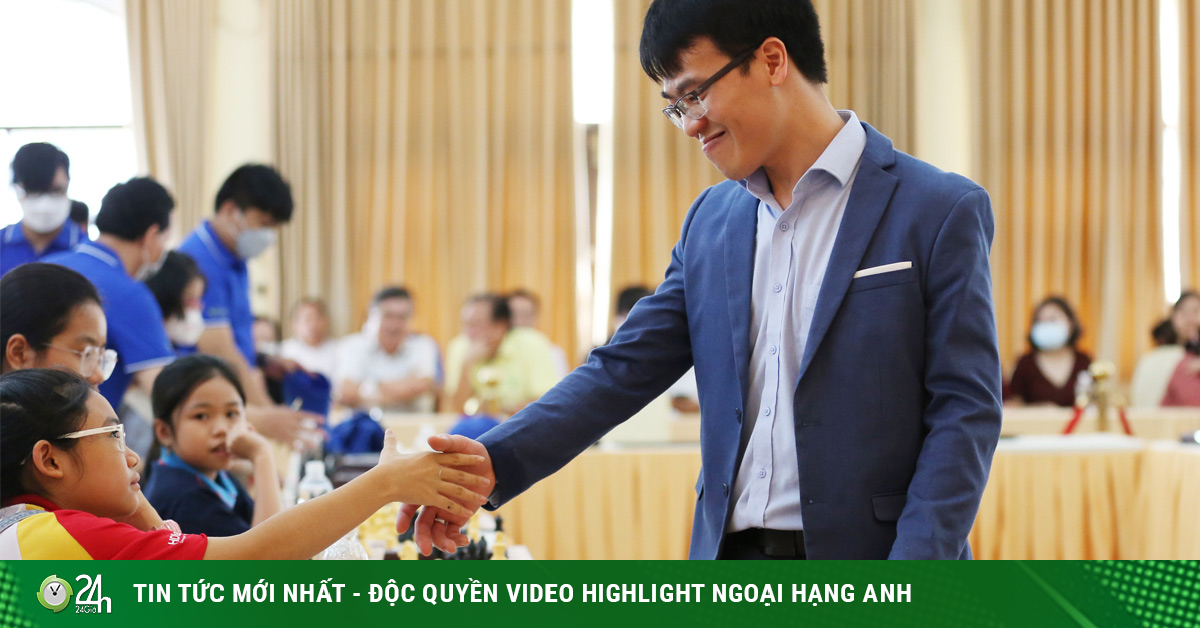 (Sports news) Super grandmaster Le Quang Liem was held to a draw by 2 young players during an exchange match in Ho Chi Minh City. Besides, he also shared the secret to winning the previous "chess king" Carlsen.

After winning 2 gold and 1 silver, thereby helping the Vietnamese chess team win the first place at the 31st SEA Games with a total of 7 golds, 2 silvers and 3 bronzes, international super grandmaster Le Quang Liem had an exchange and played a friendly match in Ho Chi Minh City on the morning of May 28.
Quang Liem competes with 20 young players at the same time
Opening the exchange, Quang Liem played at the same time with 20 players of the young chess team in Ho Chi Minh City. These are all players who have won high achievements in the Asian and world arenas.
After more than 1 hour of competition, Quang Liem has 18 wins and 2 draws. The two players holding a draw with the super grandmaster are Nguyen Quang Minh (11 years old, 2018 Asian bronze medal) and Huynh Phuc Minh Phuong (12 years old, 2017 Asian gold medal).
"The young people played very well, were enthusiastic and showed their passion for chess. Although I live more in the US, I still follow the chess of my country. We have many young talents and many quality tournaments. Hopefully, we will discover and develop more young talents, train them to reach the world level," Quang Liem shared after the match.
Quang Liem happily shook hands with Nguyen Quang Minh (11 years old)
Quang Liem said that after a long time of playing online due to the impact of the Covid-19 epidemic, he is very eager to prepare for two live tournaments in Europe in June and July.
At the end of April this year, Quang Liem caused a "fever" when he defeated the world "chess king" Magnus Carlsen at the Oslo Esports Cup online fast chess tournament, where Vietnamese chess players won runner-up with 13 points, while Magnus Carlsen ranked 3rd with 12 points.
Super grandmaster took a picture with 20 young players who competed with him
Sharing his feelings when he first defeated the world's greatest chess player, Quang Liem humbly said: "Carlsen is considered the strongest player in history, so defeating him is very difficult. . I think he wasn't in his best form last tournament. However, to win against Carlsen, I had to prepare very carefully both tactically and psychologically. I have won most of the strong players in the world but never against Carlsen, so winning for the first time was fun."
Quang Liem is currently both the coach of the chess team at Webster University (USA) and the director of the SPICE chess academy, as well as alternately going to competitions. Sharing about his schedule arrangement, Quang Liem said: "During the week, I work from morning to afternoon at school and academia. In the evening I spend time studying the position of the game, the technique as well as the big opponents. Weekends often participate in online tournaments.
Quang Liem shares secrets on the way to pursue chess
I think I'm not too busy, mainly you just need to try to arrange a reasonable schedule and maintain all tasks according to that schedule, "said the chess player born in 1991.
Also in the exchange with young players, Quang Liem revealed that the secret to becoming a good player is to practice hard work, concentration and discipline. In addition, fitness is also an important factor for long-term matches. Quang Liem shared that he often walks, jogs or does gym in his spare time.
When asked by a young chess player how to become a super grandmaster like himself, Quang Liem advised that young people should not set too high goals for themselves, but should aim for near-term goals. then strive gradually, it is important to keep perseverance and passion.
Source: https://tcdulichtphcm.vn/the-thao/quang-liem-bi-ky-thu-11-tuoi-cam-hoa-tiet-lo-bi-quyet-thang-vu…Source: https://tcdulichtphcm.vn/the-thao/quang-liem-bi-ky-thu-11-tuoi-cam-hoa-tiet-lo-bi-quyet-thang-vua-co-carlsen-c28a32526. html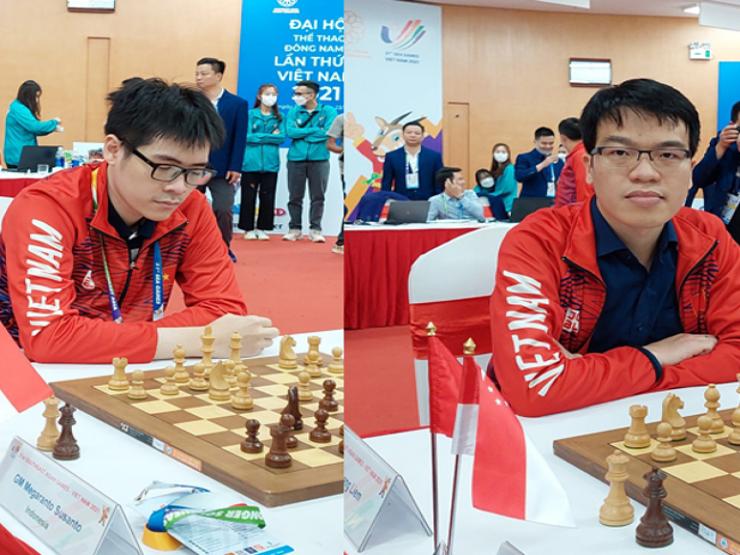 (Sports news, SEA Games news) It seems that Le Quang Liem did not reach the best performance score in SEA Games 31.
According to Le Phong (Ho Chi Minh City Tourism Magazine)
.