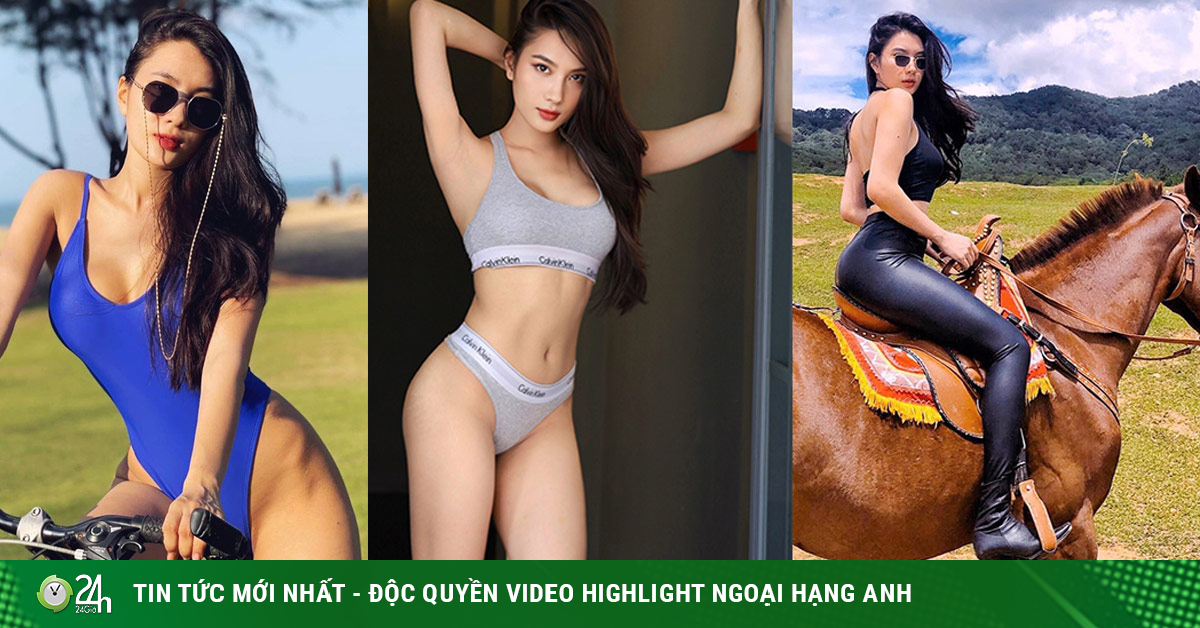 (Sports news) Having a burning love for sports, hot girl Phuong Lien increased by 5 cm in her third round to own an extremely "eye-catching" body.

Hot girl Phuong Lien plays impressive sports:
Dinh Thi Lien (stage name Phuong Lien) is one of the notable contestants at the Miss Sports Vietnam 2022 contest.
The beauty of Hai Phong not only has a cinematic face, a height of 1m67, but also an attractive body with three measurements of 86-62-90 cm, respectively.
To get this "thousands of people" body, Phuong Lien has an endless passion for sports. She plays well in many subjects such as badminton, swimming, horseback riding, archery, etc. In which, Gym is the subject that she has been attached to the longest for about 4 years.
"In 2018, a friend of mine had a stroke. I began to realize the importance of sports to health and life. Practicing sports is about appreciating your life. Since then, I have worked hard to exercise more regularly," Phuong Lien said.
Looking at Phuong Lien's attractive body now, few people can imagine that the former beauty was very thin and had bad health.
"Before, I was quite thin and prone to minor illnesses. This prevents me from participating in physical activities with my friends. I was very shy to show off my body curves or wear sexy clothes, a lot of my favorite clothes could not be worn", recalled Phuong Lien,
Looking to the gym with the goal of changing her body and health, the girl from Hai Phong shared that her biggest difficulty when starting to practice was being afraid to go to the gym because of muscle pain.
"Every training session with me is an intense ideological struggle. Fortunately, I was encouraged by many friends, looking at their hot bodies, thinking about wearing my favorite clothes gave me the motivation to work hard every day," the beauty said.
From having to fight mentally to go to the gym, Phuong Lien now says she is "addicted" to this subject. Gym becomes an indispensable part of a young girl's life. In addition, Phuong Lien also participates in other sports.
In particular, from a thin body 47 kg, a belly full of excess fat, Phuong Lien increased to 51 kg, a standard body, a hotter body. In it, her third round increased by 5 cm, becoming attractive and attracting many eyes.
She is extremely active when participating in many physical activities such as horseback riding, archery, swimming and badminton: "I think strong sports like horseback riding and archery are not just for men. The feeling of riding a horse on a green hill, enjoying the fresh air makes me feel very comfortable and relaxed."
Phuong Lien shared that no matter how busy she is, she spends 5-6 times a week going to the gym.
"Gym is now not only a sport for me but also a place I go to whenever I feel stressed and pressured in life. Being exercised, releasing energy helps me feel comfortable, regaining my spirit. Every time I lift weights, I feel strong and brave enough to overcome all challenges", Phuong Lien confided.
Although passionate about sports a lot, but Miss Sports Vietnam 2022 is the first sports program that this beauty participates in. Phuong Lien is one of the contestants with an impressive physical exam with Plank exercises.
"I like the dynamic and energetic lifestyle of the girls participating in Miss Sports Vietnam 2022 as well as spreading their spirit and life energy to everyone. The contest gave me an extremely meaningful experience. Hopefully in the future, I can continue to spread more sports spirit to the community," the beauty added.
Source: https://tcdulichtphcm.vn/the-thao/nguoi-dep-phuong-lien-thich-cuoi-ngua-ban-cung-3-vong-chuan-de…Source: https://tcdulichtphcm.vn/the-thao/nguoi-dep-phuong-lien-thich-cuoi-ngua-ban-cung-3-vong-chuan-dep-nho-tap-gym-c28a35705.html
(Sports News) Once criticized for her appearance because her body was too thin, Thu Tam "makeovers" with an extremely hot body and a beautiful body thanks to her perseverance in playing sports and exercising.
According to Le Phong (Ho Chi Minh City Tourism Magazine)
.