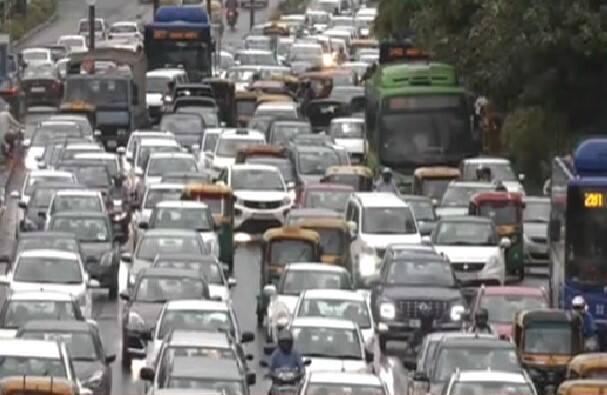 Delhi Traffic Management System: Officials said that the new system working on machine learning and artificial intelligence will also play an important role in providing quick passage to emergency vehicles like ambulances and fire engines. In addition, a command center will also be set up at the Delhi Police Headquarters to handle operations and monitor programming.
The system will tell where is the vacant parking space:
According to the traffic police, the objective of the project is to synchronize all traffic signals and control the signal lights automatically. ITMS will caution motorists against diversion in case of any further congestion. This system will be integrated with the parking lots operated by all the municipal bodies so that motorists can be alerted about the availability of vacant places before reaching the venue. Deputy commissioner of police (traffic headquarters-second) SK Singh said, "They will see the update on the mobile application of the Municipal Corporation of Delhi, which will give a pop-up message. It will also be linked to Google Map."
The Delhi Traffic Police signed a memorandum for an integrated traffic system with the Center for Development of Advanced Computing (C-DAC), which has further assigned the task to a consulting firm. Singh said that at present this project is in its initial phase.
Report to be submitted in 8 months:
We have been given eight months for the project and the first detail project report is to be prepared after surveying the traffic at 42 junctions covering 1,200 signals and 600 blinkers. It has to be submitted by November this year." A few days ago, a massive fire broke out in a building in Outer Delhi's Mundka and claimed 27 lives. It was alleged that the traffic congestion caused some fire engines to stop. Delay in arrival and their early arrival would have reduced the casualties.
To this, Singh said that the new ITMS will also include a green corridor to facilitate hassle-free movement of emergency vehicles.
Accident hotspot will be identified:
"At many junctions, it has also been observed that even if there is no traffic, the red light remains on. Therefore, having an adaptive system it will detect and change the timing of heavy traffic. This will reduce the stoppage time at the junction, Meanwhile, as part of the project, traffic officers have identified accident hotspots and they are currently looking for congested places in Delhi, Singh said. The construction department and the concerned civic agencies have been involved. After that it will be integrated with the Safe City Project.
read this also:
Sidhu Moose Wala: Who was Punjabi singer Sidhu Moosewala? Who was shot dead in broad daylight
Edava Basheer Dies: Malayalam singer dies amid live concert, shocking video surfaced
,