(Sports news, volleyball news) It is not Tran Thi Thanh Thuy but old general Nguyen Thi Ngoc Hoa who is the "trump card" that VTV Binh Dien Long An launched to counter foreign soldiers in the 2022 National Championship.

Nguyen Thi Ngoc Hoa is one of the most impressive players in VTV Binh Dien Long An's 3-0 victory over Geleximco Thai Binh in the opening match of Group A, the 2022 National Volleyball Championship taking place on the evening of the 3rd. /7 in Ninh Binh.
Ngoc Hoa was called back to play to help VTV Binh Dien Long An overcome foreign soldiers
Despite winning in the first half, the Southwestern team still faced many difficulties before the powerful ball from Polina Rahimova. But since the second half, when coach Luong Nguyen Ngoc Hien threw Ngoc Hoa into the field, the 1m83 tall female assistant had many successful cases of catching a 1m98 high foreign soldier.
After being successfully blocked by Ngoc Hoa, along with bad passes from her teammates, Ponina could no longer keep the high kicks, but often chose the small option.
In the opposite direction, Ngoc Hoa continued to shine with effective defensive situations, standard phase 1 captures and also scored many points from exemplary attacks.
Ngoc Hoa's experienced clinging phase made super foreign soldiers like Polina "turn off the power" many times.
Besides, it is her rich experience, having successfully competed in many major international tournaments, that helps Ngoc Hoa have enough confidence and bravery to hold on to the hands of foreign smashers. She became a "trump card" to help VTV Binh Dien Long An overcome foreign soldiers of other teams when coach Ngoc Hien's army said no to foreign soldiers this season.
"In 2021, we lost to Thai Binh 0-3. After that game, we learned deeply and practiced blocking and lining a lot. When we knew that Thai Binh had very good foreign soldiers, we focused on blocking, especially bringing Ngoc Hoa back to control the potential from Thai Binh's foreign soldiers and Ngoc Hoa did a great job. good task assigned.
Ngoc Hoa contributes to the whole offensive front
Thanks to Ngoc Hoa's good defense, we are more confident in counter-attack situations. Ngoc Hoa is the ideal addition to our team. Because VTV Binh Dien Long An is a young team, it needs the maturity of Ngoc Hoa to make up for it," coach Ngoc Hien shared.
Commenting on the foreign soldiers of Geleximco Thai Binh, head coach VTV Binh Dien Long An said: "Polina bounced well, hit the ball very hard but did not have a good connection with her teammates. Besides, Thai Binh athletes have not created good conditions for her to promote her forte. If these two points can be overcome, Thai Binh will be extremely formidable."
Some pictures of Ngoc Hoa's competition on July 3:
Ngoc Hoa's experience and maturity complement Long An's youth
Ngoc Hoa's connection with other players, especially Thanh Thuy is very good
The 34-year-old retaining wall is difficult to overcome in the Long An team
Ngoc Hoa is a monument of Western volleyball and Vietnamese women's volleyball
Source: https://tcdulichtphcm.vn/the-thao/ngoc-hoa-tai-xuat-bong-chuyen-nu-chan-bong-than-sau-khien-sao-…Source: https://tcdulichtphcm.vn/the-thao/ngoc-hoa-tai-xuat-bong-chuyen-nu-chan-bong-than-sau-khien-sao-ngoa-om-han-c28a34529.html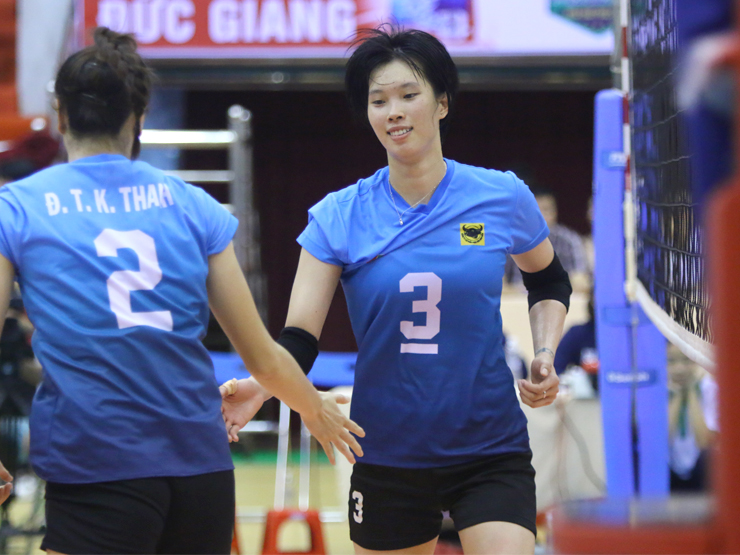 (Sports news, volleyball news) Tran Thi Thanh Thuy's excellent performance helped VTV Binh Dien Long An to win an impressive victory against a Geleximco Thai Binh with super…
According to Le Phong (Ho Chi Minh City Tourism Magazine)
.