(Sports news) Shocking the bodybuilding community with the gold medal of the prestigious tournament of the International Federation of Bodybuilding and Fitness (IFBB), many people were surprised to know that Mr. Nhon Ly's main job is a craftsman. manicure (manicure).

Impressive training sessions of the old general Nhon Ly
"Actually, my main job was as a nail technician (manicurist) for about 30 years. I only exercise after the store is closed, so I sometimes do not come home until 1-2 am. Most people when entering the salon are very surprised, even startled to see a muscular nail technician like me. But gradually this became familiar and also a special feature of my shop," Mr. Nhon Ly said.
Although he is famous in the world bodybuilding community, Mr. Nhon Ly has been with the nail business for 30 years
Although he started coming to bodybuilding at the age of 20, Mr. Nhon Ly has only started participating in professional bodybuilding competitions since 2010.
"When I first started pursuing professional bodybuilding, I usually started working out at 9 pm every day and at least 5 days a week. When preparing to compete, I increase to practice 7 days a week, 2 sessions a day. On average, each session, the total weight in all my exercises can be more than 10 tons," Mr. Nhon Ly recalled.
Perseverance in pursuing his passion has helped the skilled nail technician become famous in the world bodybuilding arena. Since 2000, he has won nearly 60 major and minor titles in international professional bodybuilding tournaments, including the 2010 INBA (International Bodybuilding Association) championship and the NPC crown ( American Bodybuilding Federation) in 2013.
The total weight of the 57-year-old general can be lifted up to 10 tons in one training session
He is also the first Vietnamese to compete in the Arnold Tournament – the most prestigious tournament in the world. Most recently, the 57-year-old old man from An Giang continued to shock the bodybuilding community when he won 1 gold and 1 bronze at the prestigious IFBB tournament held in Nevada (USA).
The image of an athlete at the age of U60 who still retains strong, toned muscles, winning many athletes younger than 20 years old has made many people admire.
"For bodybuilders, the amount of weight lifted is not important, but the feeling of the muscles, the balance, the beautiful development of the muscles. At first, when I saw that I went to practice for more than 1 a.m. before coming home, my family did not agree because I was afraid that I would suffer, many people thought it was torture. But for me it's passion. Being able to stand on stage and show off my beautiful muscles makes me proud," said Mr. Nhon Ly.
He has won nearly 60 titles at international professional bodybuilding competitions
Currently, in order to focus on pursuing fitness as well as spending time with his family, Mr. Nhon Ly has quit his nail job. He shared that he feels very happy to be able to become an inspiration, directing young people to a good, healthy life and away from social evils.
Impressive muscular image of old general Nhon Ly:
Mr. Nhon Ly's 57-year-old admirably billowing muscles
The athlete from An Giang is a great inspiration for young people who love bodybuilding
Source: https://tcdulichtphcm.vn/the-thao/ong-nhon-ly-tho-lam-nail-57-tuoi-vo-dich-the-gioi-nang-10-tan-…Source: https://tcdulichtphcm.vn/the-thao/ong-nhon-ly-tho-lam-nail-57-tuoi-vo-dich-the-gioi-nang-10-tan-ta/buoi-tap- c28a18740.html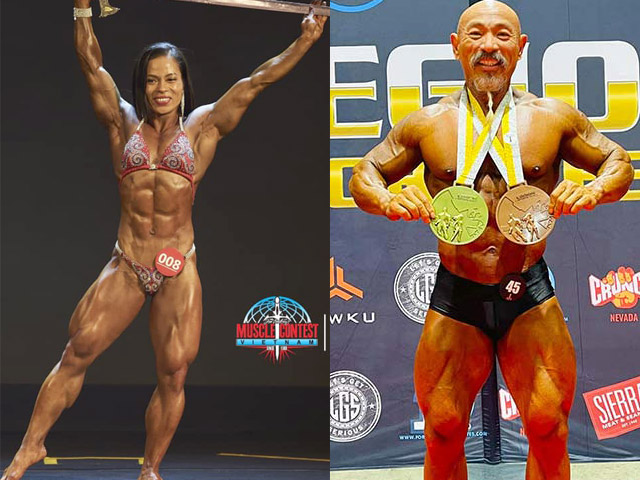 (Sports news) The old general Nhon Ly caused a "fever" when he won the gold medal at the professional bodybuilding tournament organized by the Gymnastics Federation…
According to Le Phong (Ho Chi Minh City Tourism Magazine)
.