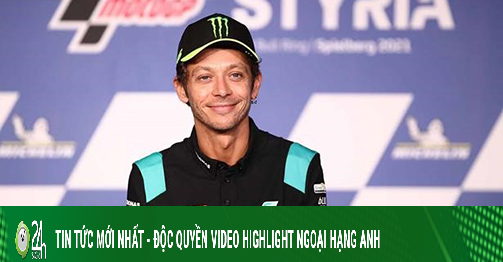 Wednesday, August 11, 2021 02:10 AM (GMT+7)
(Sports news – MotoGP racing news) The boy Valentino Rossi – 16 years old – from the city of Tavullia in Central Italy, "toed" joined the world MotoGP village in the 125cc format in 1996. 25 years later, The legendary driver with the nickname "The Doctor" has officially retired from his career and said goodbye to the biggest passion of his life, on the second phase of the 2021 season.
Throughout nearly 26 seasons of his career, Valentino Rossi is one of the greatest drivers in world racing, he has won 7 world championships in the highest form of MotoGP and 9 titles in total. in all 3 MotoGP formats, 250cc and 125cc, is the 3rd most successful in history after Giacomo Agostini (15 times champion) and Angel Nieto (13). He is the only driver to date to have competed in more than 400 career Grand Prix.
Rossi won the 125cc format with Aprilia in 1997
In 423 starts, Rossi has 115 race wins (2nd most in history, behind compatriot Agostini – 122 wins), with 89 of those going to the highest level and a total of 235 podiums. until the end of the Dutch TT 2021.
During his illustrious career, "The Doctor" VR46 has joined many racing teams. Aprilia is the racing team that Rossi debuted in the 125cc format and was the "launcher" that helped him get the 125cc title in 1997 and the 250cc title in 1999, respectively.
He switched to Honda when he stepped up to the top form when it was 500cc/MotoGP in 2000, having his first win at Donnington Park, He finished the season in runner-up position, just behind Suzuki's driver, Kenny. Roberts Jr. (America).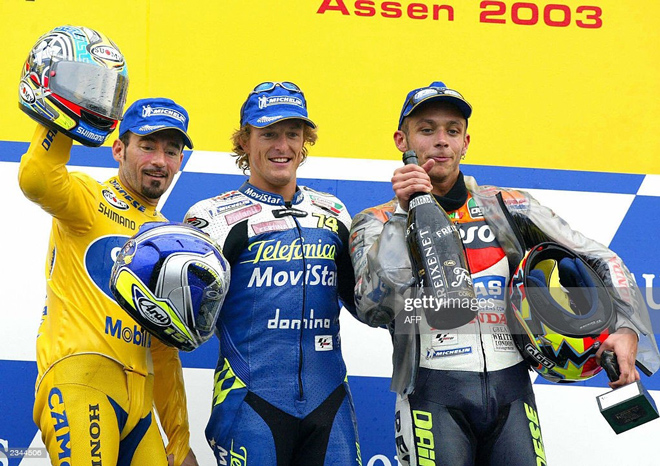 Biaggi (left) and Gibernau (centre) were the two big rivals in the early 2000s
Since then, Rossi spent 5 consecutive dominant seasons from 2001 to 2005, with 3 championships with Honda and 2 remaining titles when he switched to Yamaha in 2004. During this period, there were many racers. emerged as Max Biaggi or Sete Gibernau, but no one can stop a young driver who is excited and has a strong desire to win.
However, since 2006 until now, Rossi has only won 2 more championships in 2008 and 2009, 4 times in 2006 and 2014-2016, and 3 times in 3rd place (2007, 2010 and 2018). due to the rise of younger drivers like Casey Stoner, Jorge Lorenzo or Marc Marquez.
2016 is probably the last peak competitive season of "The Doctor" with full ability to compete for the championship. He won the runner-up with 2 wins, 10 podiums and 249 points, 49 points behind the champion Marquez.
After that, Rossi has only got 1 more win and 14 other podiums over 4+ years of competition and it will be very difficult to win another podium result until the end of the year. True to his word, the decision will be based on his performance this season. With the best result of 10th place at Mugello, he said goodbye to the tournament to everyone's regret.
2009 was Rossi's last championship
Here is Valentino Rossi's speech at the conference before the Styrian GP 2021 stage:
"Hello everyone, I feel touched and a little embarrassed to be here… As I said, I will make a decision about my future after the end of the summer break. I have decided that I will stop at the end of this season and this will be my last season as a MotoGP racer. This is indeed a very difficult decision, a sad moment because it is hard to think that next year I will not be racing on two-wheelers anymore.
I have been in racing for about 30 years so next year my life will change dramatically. But anyway, my long MotoGP journey has been amazing and very enjoyable. During my 26 seasons here, I have had great times and unforgettable memories with the team, colleagues and people who have worked with me. So I can't express my feelings right now."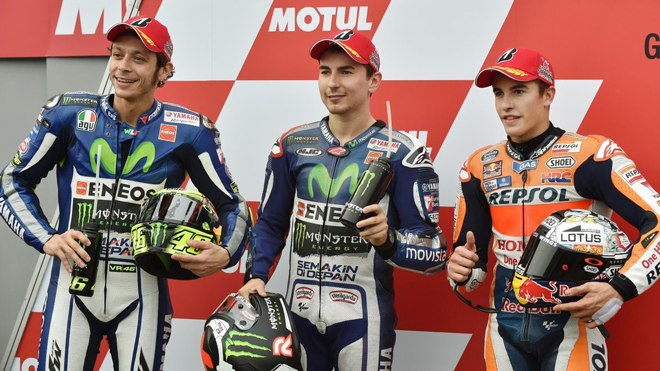 Lorenzo (centre) and Marquez are also formidable opponents of Rossi
During the summer break, there were rumors that Rossi would join his own racing team – VR46 on a Ducati in 2022 with the participation of sponsor Aramco in Saudi Arabia. The Prince of Saudi Arabia has called on him to continue his career alongside his younger brother Luca Marini at the new 2022 racing team.
However, he considers it a risk to have to adapt to a new bike within a year (he struggled at Ducati between 2011-2012), so he decided to end his career in year 2021.
After the above information was announced, many current MotoGP riders also expressed their gratitude to the Italian number 46 legend, in which, defending champion Joan Mir likened Rossi to "Michael Jordan of the racing world".
"It will be very difficult to have another Valentino Rossi in history. I wish him the best of luck and hope to see him often in the future at MotoGP." Mir shared.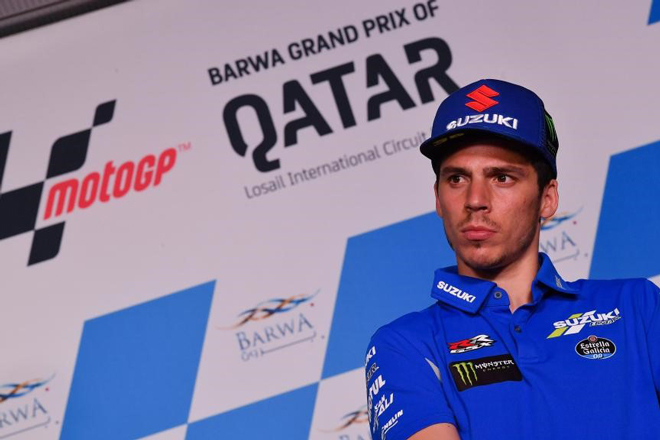 Mir rates Rossi as the Michael Jordan of racing
"It's hard to believe. Rossi was twice crowned champion before I was born and the thought that he won't be racing here next season is sad. Valentino is the racer that made me want to go to MotoGP, I waited for hours at the track to get his autograph as a kid and he is still my idol, a legend." (Quartararo)
"I have watched him since I was a kid and I always enjoy watching him race. Racing with Rossi is an unforgettable experience, when you go around the world and say you're a motocross racer but they don't know you, just mentioning Valentino's name makes a difference. Everyone loves him and his efforts are amazing… Rossi is a role model for all riders to follow." (Cal Crutchlow)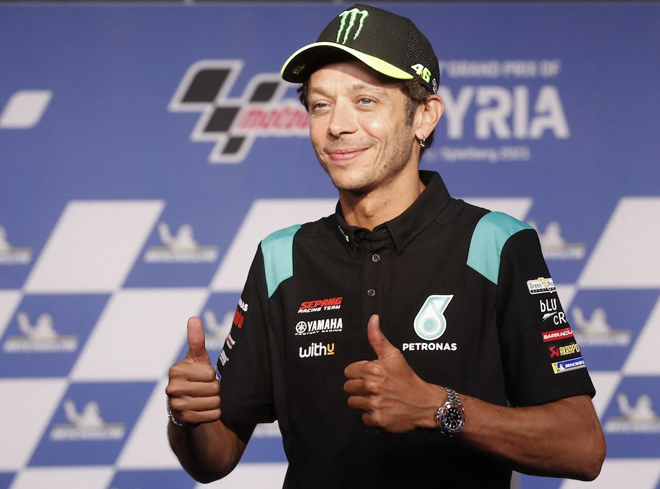 Rossi will finish his 26-year journey in MotoGP later this year
"…as Rossi's teammate gives me the opportunity to learn, he has always been a role model for me to improve myself since I was little. We need to thank Rossi for what he did for MotoGP, being an inspiration and motivation to pursue this career. Off the track, he's a great guy, he's the best racer of all time…" (Maverick Vinales).
Source: https://tcdulichtphcm.vn/the-thao/huyen-thoai-motogp-valentino-rossi-giai-nghe-hoi-ket-cua-hanh-…Source: https://tcdulichtphcm.vn/the-thao/huyen-thoai-motogp-valentino-rossi-giai-nghe-hoi-ket-cua-hanh-trinh-huy-hoang-c28a12863.html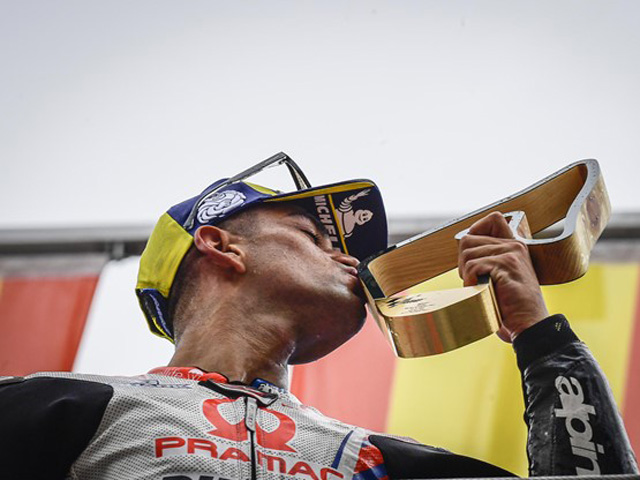 (Sports news, MotoGP racing news) After a 5-week break, the MotoGP 2021 rotation is back at Red Bull Ring, Austria with many…
.