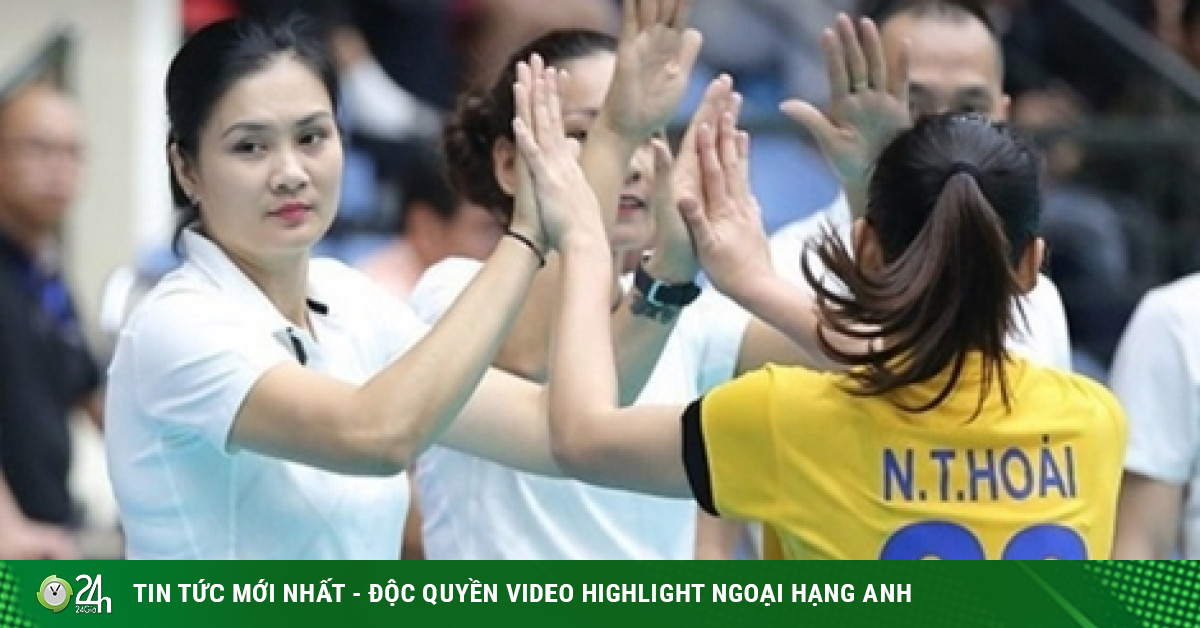 Wednesday, May 19, 2021 00:06 AM (GMT+7)
The fact that the Vietnam Volleyball Federation (VFV) struggled to fix the outdated regulations after the failed transfer of Kim Hue and her students was like losing a cow to build a barn. But, at least, the spacious new "cage" promises to open a completely different chapter for Vietnamese professional volleyball.
Outdated Regulations
Until now, the scandal surrounding Kim Hue's missed transfer to Bamboo Airways Vinh Phuc is still a news story of the sports village. VFV, after tough moves, resolutely punished the coach (coach) Pham Thi Kim Hue and 3 athletes (athletes) of the Bank of Industry and Trade (NHCT) Ninh Anh, Phuong Anh, and Thu Hoai. thin, review the disciplinary sentence.
In fact, Kim Hue and her students did not break the rules when negotiating with Bamboo Airways Vinh Phuc. Because according to the transfer regulation… 5 pages long, with a total of 1,647 words circulating on the VFV homepage, there are no regulations that prohibit coaches and volleyball players from negotiating to another club while under contract. with the current club.
Kim Hue and his students became victims of lax regulations.
As for the transfer of coaches, which is not in the regulations of VFV. With the characteristics of volleyball, when the coaches are often attached to their profession, the change of club rarely happens, if at all, it will follow the change of the coach's job, not a transfer. mere concession.
For athletes, the regulations released by VFV 11 years ago have too many holes, even though there is a separate chapter regulating this. Notably, most of the chapter "Transfer of athletes" is the regulations for… clubs.
There is only one thing (Article 5) – divided into 2 sub-categories that are mandatory for volleyball players. One, while athletes have a training contract (under 18 years old) with the club, they cannot be transferred (unless otherwise agreed by the parties). Second, athletes according to the provisions of Clause 1 of this Article, after signing a labor contract with the training club, shall not transfer and play for another club for a period of 4 years (unless otherwise agreed by the parties). from the time the athlete turns 18 years old.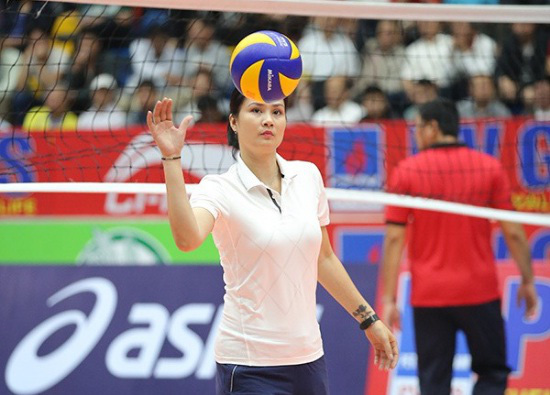 The ball from Kim Hue's hand was hit to VFV.
In this regulation, there is absolutely no mention of what athletes must do or cannot do if they want to transfer, after being "old enough" to leave the club – ie 22 years old or older like Thu Hoai. The case of athletes under 22 years old but the mandatory contract with a training club like Vi Thi Nhu Quynh expires is also ignored. Unlike Nhu Quynh who was reconciled because she broke up with NHCT early and accepted not to play since the end of last season, 3 Kim Hue and her students received enough because of VFV's loose regulations.
According to volleyball enthusiasts, VFV has applied … unwritten rules to issue disciplinary sentences. Sharing with the press, VFV President Le Van Thanh stated: "We have enough grounds to sanction Kim Hue and the athletes for affecting the image of volleyball." However, the regulations show that Kim Hue and her students did nothing wrong, because there is no law that prohibits them from doing so.
Not stopping there, Mr. Thanh also had personal offensive words when he said that Kim Hue and the athletes were indecent and unethical when "going out at night" with Bamboo Airways Vinh Phuc and received billions of dong. . He added: "If the two parties transfer a deposit of 100 or 200 million to the transfer transaction, it is still accepted because the amount is not large. But, the amount up to billions of dong, the story is different. Ethically, no coach, no athlete does that."
Nguyen Huu Ha (smashing the ball) is a historical witness of volleyball transfer regulations.
This is another big problem in the implicit transfer regulations of Vietnamese volleyball. The deals can be arranged if the compensation is low – several hundred million and vice versa, it will become "illegal" if it is up to billions of dong without a mutual agreement between the two clubs.
The regulations of VFV even specify how to calculate the transfer fee of athletes in case the two clubs cannot find a common voice. According to Article 14.2, the total cost of training athletes = 45,000,000 VND x 5 years of training x the coefficient of the club that the athlete is currently competing in. For clubs in the national championship, the coefficient is 6. In addition, for national players, the transfer fee will be 30% more than the training fee.
That means for a normal campaign, the maximum transfer fee – unilaterally terminating the contract with the host club is only 1.35 billion VND. For national players, that amount is VND 1,755 billion. These numbers are not even equal to the "deposit" money that Bamboo Airways Vinh Phuc sent to Kim Hue. According to Kim Hue herself, she received 2 billion VND, equal to Ninh Anh and Phuong Anh, while Thu Hoai received 3 billion VND.
Better late than never
Because of the gap in the transfer regulations, VFV could not "submit" to Kim Hue and the athletes. The incident became noisy and out of control of VFV when the Ministry of Culture, Sports and Tourism got involved. At this time, VFV is like an old man who lost his cow to build a barn.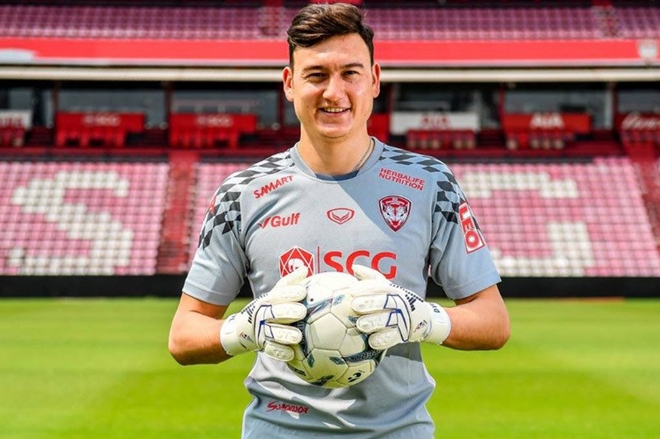 Goalkeeper Dang Van Lam radiantly debuted Muangthong United.
From now until October, the General Department of Physical Education and Sports will work with VFV to study and change the transfer regulation that has not been updated for the past 11 years to avoid repeating the mistake of Kim Hue's unsuccessful transfer. It is possible that volleyball, not football, will be the first sport to be operated on international commercial principles, by repealing the youth training compensation law and replacing it with a contract release fee, creating a civil transactions between clubs – an unprecedented precedent in the history of Vietnamese sports.
Only then will the cash flow really circulate between the clubs and create a new impetus for training. Clubs that are strong for rice, bold for money can recruit stars of their choice, while clubs that sell these athletes have large enough budgets to reinvest in youth training, increasing their chances of discovering new players. new talent for the nation.
In other words, even though VFV has been asleep for too long in controlling the development of professional volleyball, the Kim Hue "case precedent" will be the premise to create a major turning point for not only this sport but many others. other sports, especially football. That is the most awaited positive point after everything.
If European football and many major tournaments in Asia have turned transfers into a "specialty" for fans, the unique player trading mechanism in the V-League deprives them of this "delicious". No matter how closely watching Vietnamese football, an ordinary person cannot know who their favorite club wants to buy or sell until the transfer is "considered".
In the history of the V-League, only one transfer took place in accordance with world standards, which was Dang Van Lam's departure from Hai Phong to Muangthong United in 2019. At that time, Hai Phong negotiated the transfer fee with Muangthong, co. allowed Dang Van Lam to seek personal agreements with the Thai club. As a result, Hai Phong Club received $500,000 from a partner, while Van Lam had a contract with a salary of $10,000/month, given a house, a car and many other binding terms – including permission terms. he unilaterally agreed to terminate the contract if he did not receive enough salary and bonus as he activated earlier this year.
After the Van Lam case, the V-League did not have any strong enough sanctions to force the clubs and players into a real professional framework. However, after another sports federation issued a new, more complete and "world" regulation.
The reason why Vietnam's volleyball transfer regulations have many loopholes and inadequacies is because it was built in a hurry after another unprecedented case. Such was the case of the leading employer in Vietnam more than 10 years ago, Nguyen Huu Ha.
In 2009, Nguyen Huu Ha decided to leave Trang An Ninh Binh to move to the newly rich club Duc Long Gia Lai. This athlete born in 1981 and the Pho Nui football team silently agreed with each other in the right way of "going out at night" which made Trang An Ninh Binh angry and applied the strongest possible discipline, from Party discipline, public to ban the competition nationwide.
However, all did not prevent Huu Ha from coming to Gia Lai. After 1 year of sitting and drinking and losing his place in the national team, Huu Ha was content to mourn when Trang An Ninh Binh entered the country, accepted to negotiate with Duc Long Gia Lai and received 1.35 billion VND in compensation.
At that time, under the pressure of the public and the clubs, VFV issued a regulation with only 5 pages long, including 5 chapters, 15 articles, with a total of 1,647 words to protect the interests of the parties. In fact, that hastily drafted regulation of VFV does not have much effect. After Huu Ha, a series of other controversial transfers occurred, from Nguyen Van Hanh, Le Quang Khanh, Dinh Thi Thuy or the latest Vi Thi Nhu Quynh. Therefore, many fans fear that VFV will go downhill if it hastily changed its regulations after the Kim Hue incident.
Source: http://cand.com.vn/ Kinh-te-Van-hoa-The-Thao/Mat-bo-moi-lo-lam-chuong-cung-tot-641048/Source: http://cand.com.vn/ Kinh-te-Van-hoa-The-Thao/Mat-bo-moi-lo-lam-chuong-cung-tot-641048/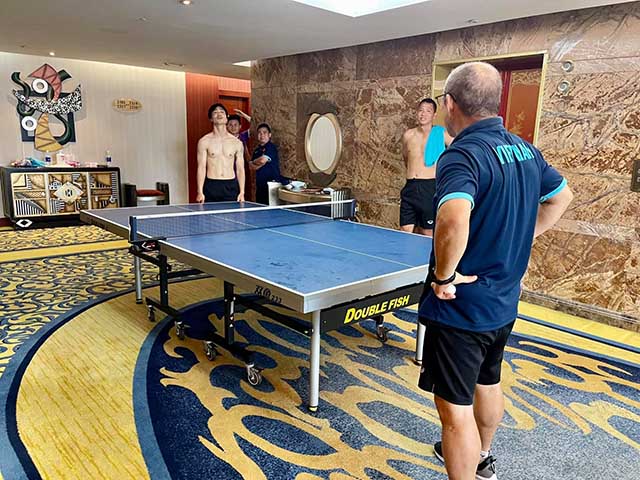 Striker Nguyen Cong Phuong attracted attention with the image of showing off his muscles while playing table tennis with Coach Park Hang Seo in the stadium.
.