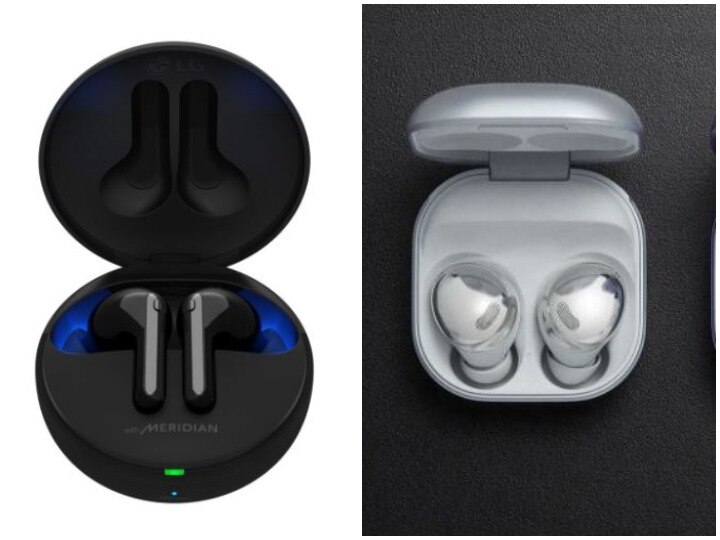 Nowadays people talk on the phone for hours, watch movies and serials. In such a situation, keeping in mind the need of users, the smartphone manufacturer is also launching its headphones and buds in the market. Recently, Samsung launched its Samsung Galaxy Buds Pro. Now LG company has launched two powerful bacteria free earbuds in India. LG's LG FN6 and LG FN7 ear buds will get great sound quality and all the latest features. The special thing is that these are the first bacteria free earbuds of India, launched with nanotechnology. In these earphones you get noise cancellation feature and strong sound support. Let's know their specifications.
Specifications of LG Tone Free HBS-FN6 and LG FN7
Both of LG's earphones have very good features. LG Tone Free HBS-FN7 has noise-cancellation feature and 3 microphones. Earphones have been supported for Bluetooth version 5.1, SBC and AAC Bluetooth codecs for connectivity. Its battery gives 5 hours of single charge and 15 hours backup with charging case. Talking about other features, its charging case also has UV light with wireless charging, it sanitizes earbuds and kills 99.9 bacteria. LG Tone Free HBS-FN6 earbuds support SBC and AAC Bluetooth codecs. It has been given an IPX4 rating, meaning it is a water-resistant earphone. Talking about the price, you can buy LG FN7 earbuds for Rs 18,990 and LG FN6 earbuds for Rs 13,290.
Specifications of Samsung Galaxy Buds Pro
The charging cover and metallic design of Galaxy Buds Pro is very similar to Samsung's old earbuds. Two-way speaker is used in this bud. The company says that it has 11mm woofer for bass and 6.5mm for tweeter pitch. Active noise cancellation is also very good due to full covering of the ear. During the conversation, Galaxy Buds Pro will automatically increase the ambient sound and reduce the volume of the music. In such earbuds, this technology is very less. You will get three microphones and a voice pick-off unit, so that the voice is heard very well in front of voice and video calls.
The Galaxy Buds Pro uses wind shield technology. It has 360 audio Dolby Head Tracking technology. A battery backup of 5 hours is available when noise canceling is turned on and an 8-hour battery will be available after turning off noise canceling. IPX7 rental has been given for water. The price of Samsung Galaxy Buds Pro is Rs 15,990.
.