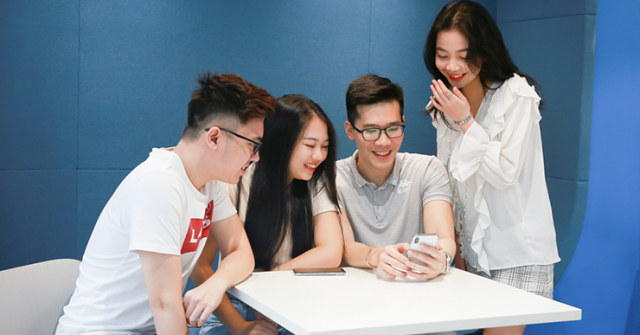 Tell you the secret to "hunt" football tickets quickly, conveniently and even get a discount of up to 50% in the V.League 2022 season.

To get a ticket to watch football, in the past, spectators often had to choose the traditional form of waiting in line to buy at the ticket counter outside the stadium. On the eve of each major tournament, it is not difficult to see the image of hundreds of snake dragon fans lining up from early morning to wait for their turn to buy tickets.
In addition to having to wait, it can be seen that when choosing the above method, it is difficult for fans to avoid risks such as losing tickets, torn tickets… Therefore, the cases of "bad crying and laughing" because are not allowed to enter the field right before the regular match.
So what are you waiting for, learn the trick below to "hunt" convenient and economical football tickets, especially in this V.League 2022 season!
Download VNPAY e-wallet application
Recently, VNPAY Wallet officially cooperated with clubs to deploy the feature of booking football tickets right on the application, so with just a few taps on the phone, the audience can own a ticket to watch a football game. easy way.
Moreover, when booking football tickets on VNPAY Wallet, the audience can also actively choose seats and ticket prices. Regarding the ordering and payment procedures, the audience can perform very simple and fast operations right on the application.
Therefore, the first thing you need to do is immediately download the VNPAY Wallet application, select the "Sports – entertainment" section to buy tickets to your favorite match.
Booking tickets to watch V.League on VNPAY Wallet helps the audience save time, no need to wait in line like before.
Apply discount code to get up to 50% off
During the V.League 2022 season, to encourage the audience to experience buying e-tickets, from now until the end of August 31, VNPAY Wallet also offers a 50% discount on ticket prices, up to VND 30,000 when entering code BONGDA50 on the app. Thus, the audience can both enjoy the "extremely good" moments on the pitch, while minimizing costs.
4 steps to book tickets to watch the fiery match of V.League 2022 right on VNPAY Wallet:
Step 1: Login to VNPAY Wallet, select Sports – Entertainment
Step 2: Select "Football"
Step 3: Choose tournament, match, seat
Step 4: Pay and receive e-tickets
Steps to book tickets to watch V.League 2022 on VNPAY
Currently, VNPAY Wallet has deployed ticket sales with 8 clubs including Hanoi, Hai Phong, Hoang Anh Gia Lai, Binh Dinh, Ho Chi Minh, Saigon, Thanh Hoa and Da Nang, and will continue to expand to the remaining teams. of V.League 1 and V.League 2 (First Division).
In addition to the Vietnam National Football Championship (V.League 1), Wallet VNPAY also sells tickets for the Vietnam National First Football League (V.League 2) and the Vietnam National Cup Football Tournament (V.League 1). National Cup).
In addition to the football ticket booking feature, the VNPAY Wallet application also owns a diverse shopping payment ecosystem such as phone card top-ups, payment of all living expenses (electricity, water, internet, tuition fees, etc.) , VNPAY-QR payment, VnShop online shopping, booking air tickets, train tickets, passenger cars, hotel bookings, calling taxis, delivering goods, ordering fresh flowers… helping users save time and money power with just a few simple touches.
Download VNPAY Wallet on Google Play or App Store to experience Book football tickets for the V.League 2022 season today!
Source: http://danviet.vn/hoc-ngay-tuyet-chieu-san-ve-xem-vleague-2022-gia-hoi-den-50-50202215713592976….Source: http://danviet.vn/hoc-ngay-tuyet-chieu-san-ve-xem-vleague-2022-gia-hoi-den-50-50202215713592976.htm
.