(Sports news, tennis news) Djokvic's current condition during his "arrest" in Australia is partly revealed through clips, photos, and news in the media.

Video of Djokovic waving to fans from the hotel
Revealing the clip of Djokovic waving to fans from the hotel
Novak Djokovic is becoming the focus of the tennis industry because of the scandal related to the cancellation of his visa and inability to enter Australia on the night of January 5, when the Australian Open 2022 is about to start (January 17).
Previously, the world No. 1 tennis player announced that he had received a medical exemption to enter Australia without a certificate of vaccination against Covid-19. But the medical exemption for Nole is just a decision from the organizers and has not been approved by this national government or the Victorian government.
The tennis village anxiously watched Djokovic's situation in Australia
It is known that Djokovic has filed a lawsuit in the Federal Court of Australia and is allowed to stay in Melbourne until next Monday (January 10), instead of being deported immediately. In the meantime, he is temporarily under house arrest at the Park Hotel in the suburbs of Carlton (Melbourne, Australia).
Upon hearing the news, many fans brought banners and the Serbian national flag gathered in front of Djokovic's residence to show their support for the world No. These people believe that Nole has been treated unfairly, and call for his release.
In the video posted by a Twitter account late on the evening of January 6 (Vietnam time), Djokovic is seen standing in front of a hotel room window, kissing and making a "heart" symbol to express his understanding. Thanks to my supporters.
Djokovic refused request to change accommodation
In the media, Serbian President Aleksandar Vucic revealed that Djokovic had requested to be transferred from the Park hotel to the apartment rented by his coaching team. However, the Australian and Victorian governments flatly refused this request.
'I spoke to Djokovic twice, in accordance with the agreement with the Australian authorities. Ana Brnabic (Serbian Prime Minister) also requested that Novak be allowed to leave the notorious hotel and move into the house he rented before a final decision from the court on Monday. That's what Novak demands from our country, and we have an obligation to protect our citizens."
Djokovic's father called the hotel "a prison"
According to research, Park, Djokovic's current residence is a 4.5-star hotel. Since 2020, the Australian Government has used this place to house more than 30 refugees. The media revealed that the hotel had two fires in December last year and a Covid-19 outbreak in October, in which at least 22 refugees tested positive.
The refugees called Park by many names such as "Park Hotel Prison", even found that the food provided by the hotel contained maggots and mold, which was not hygienic. food.
"We were kept in a completely isolated place, with no sunlight, fresh air, unable to move, spending 23 hours a day in a room with no windows, not knowing where we would live. We've been sick both physically and mentally," one refugee revealed about life at the Park Hotel.
During a press conference in his hometown of Belgrade (Serbia), Djokovic's family expressed outrage at the world No. 1 tennis player's house arrest. Nole's father, Mr. Srdjan, said: "My son is not under house arrest, but in prison.
They took all my belongings, even my wallet, leaving only my son with a phone and no clothes to change, no place to wash his face. My son is in prison, our pride is being a prisoner of these guys."
Djokovic's mother, Dijana, also confirmed that Nole revealed her condition over the phone: "My son's place is terrible. It's just a small hotel for refugees, if you call it a hotel."
Source: https://tcdulichtphcm.vn/the-thao/tin-moi-nhat-djokovic-o-australia-lo-clip-vay-chao-fan-bit-tu-c…Source: https://tcdulichtphcm.vn/the-thao/tin-moi-nhat-djokovic-o-australia-lo-clip-vay-chao-fan-bit-tu-choi-yeu-cau-doi-cho- o-c28a23313.html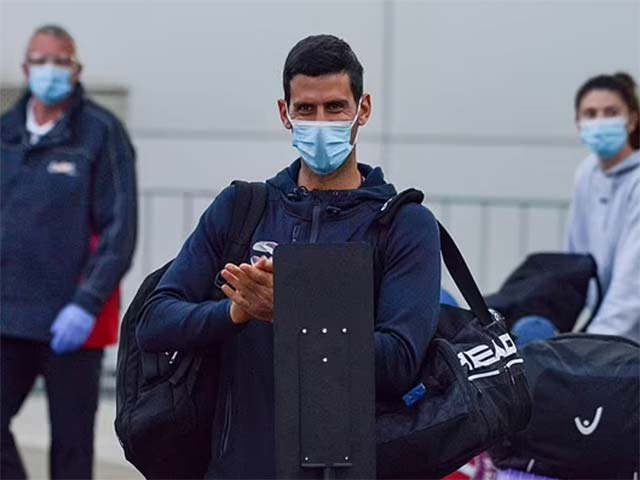 (Tennis news) Djokovic after the Australian Open may not be able to play 2 more Grand Slam tournaments in the year.
According to Do Anh (Ho Chi Minh City Tourism Magazine)
.